Hi my name is Marc Ankenbauer and I jump into freezing cold lakes for charity. I'd like to personally thank you very much for visiting my website, Glacier Explorer.
My Story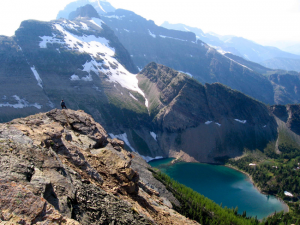 For the last 10+ years I've been attempting to be the first person ever to jump into all of the 168 named lakes in the Waterton-Glacier International Peace Park (more commonly know as Glacier National Park in Montana, and Waterton National Park in Alberta, Canada). This is the wild mountainous area where the Rocky Mountains run over the U.S./Canadian border.  It is over a million acres of enormous mountains, dense forests and abundant wildlife which includes the king of the forest, the grizzly bear.   Luckily for me, the glaciers and snow melt have created hundreds of frigid, crystalline lakes for me to jump into. I've been doing this to raise money for childhood cancer. As of spring 2013, I only have 10 lakes left to accomplish my goal!
Why am I doing this?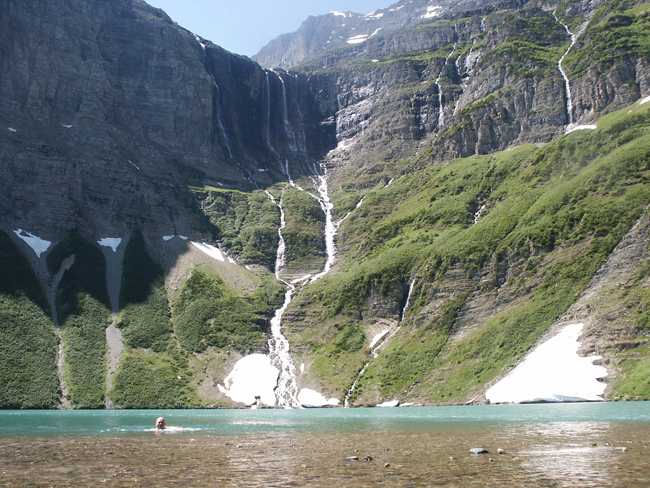 As a young person, I had a brief bout with cancer.  Although no time with cancer is exactly brief, it is something you think of often and drives your actions throughout life.  This has instilled a powerful drive in me to experience life and its spectacular opportunities to the fullest.  This ideology was the catalyst in attempting my project.
I have often asked myself why am I doing this? Now that its getting close, it is almost why did I do this?
Sir Edmund Hillary climbed Everest "because it was there".
I did this because I said I would.
And, because I'm alive and my body is willing.
Because I can and so many others can't.
Because I too someday won't be able to.
Because there are so many ways in which my life could be completely different and I'm still smitten by my luck.
Because I want to test out the carriage to see how it handles.
Because we all are sitting around with time on our hands and waiting this whole thing out, best amuse ourselves while we are waiting.
To give my friends and I somewhere amazing and new to go to on our weekends.
Because I have always been enamored by the idea of setting a goal that is almost out of the realm of possibilities, will demand all my attention for a decade and has absolutely no real purpose.
To stake my momentary claim to being an Explorer.
To amuse while inspiring, because inspiration alone doesn't get much airtime these days.
Because I've always admired the guy who tied a bunch of weather balloons to a lawn chair and brought a bee bee gun to shoot them out when he rose too high into the sky.
I'm in love with the randomness of life.
Gotta do something, right?
To the Madmen!!
That's why I'm doing this. While I'm at it though, I wanted to raise money for those that can't do this…
My want to give back has connected me with Camp Mak-A-Dream. They are an organization in western Montana that provides medically supervised, cost-free programs for children, teens, young adults and families affected by cancer. You can learn more about this worthy cause at: www.campdream.org