Hello all,
I left the U.S. on the 18th of October and flew from Missoula to Salt Lake, Los Angeles, Sydney, Christchurch NZ and eventually to McMurdo Research Station on Ross Island off the coast of Antarctica.
It is spring in New Zealand, so the mountains were still covered in snow as we flew overhead.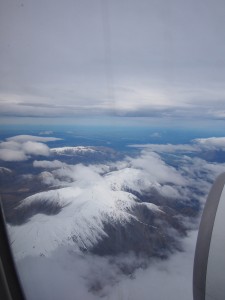 Christchurch is the home base of the Antarctic Program and a very lovely city.
Two years ago it was hammered by a very major earthquake so the downtown portion was fenced off and essentially ruined.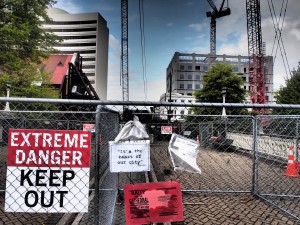 The people of the city are trying their best to keep their heads up and recreate their world.
We got delayed on our flight out to McMurdo so I used my free day to roam the city in the rain and check out the botanical garden.
It was without question the most amazing garden I have ever seen in my life.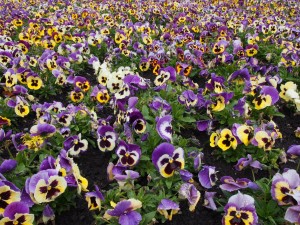 Most of my time was spent being given my ECW (Extreme Cold Weather Gear) and going through orientation.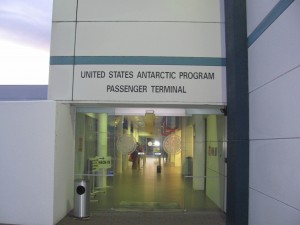 When we finally left we boarded a C-17.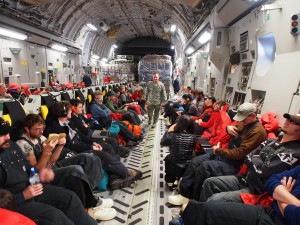 The U.S. Airforce does most all the flying around Antarctica so these military planes are very common.
Maybe it was because it was my first time down on the ICE but it was a pretty surreal experience to be flying in a huge military plane.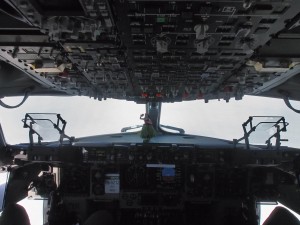 The pilots let us go up into the cockpit and all you could see was clouds and dials.
I'm sure glad they know what they are doing.
Once we finally got visual of the continent I took a few pictures out of the small porthole windows.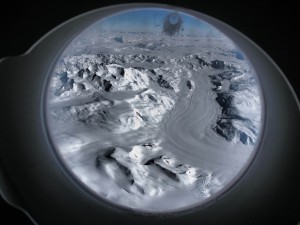 As far as you could see was expansive, unending white.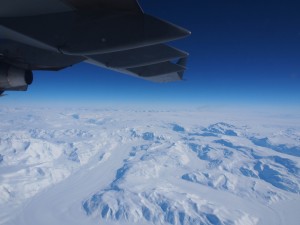 We landed on the sea ice just outside of the station which will eventually melt to be open water as summer progresses.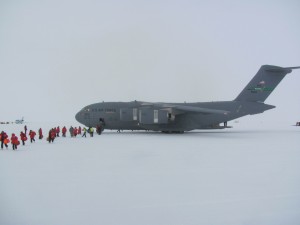 When we got off the plane we boarded a bus which like every other vehicle down here is humongous.
My dorm while I'm in McMurdo is called the Mammoth Mountain Inn.  It is the middle building just below the small mountain in the back that's called Observation or OB Hill.
My dorm is right next to a pavilion that flies the flags from all the countries that fund research in Antarctica.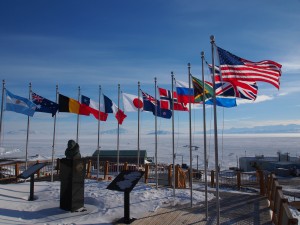 Antarctica is a continent but its not a country.
It's no ones.
It is all of ours, a mutually held science laboratory for the entire world.
It really is an amazing place.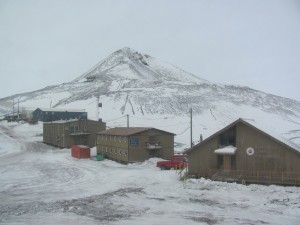 There are multiple surrounding buildings but the main building is painted blue.
It houses all kinds of offices but most importantly it's the dining hall.
So no matter how turned around you get…you always know where the food is.
Just go to the blue building.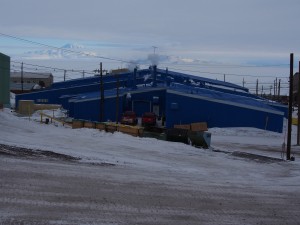 There are most basic things here; there is a post office, two bars and even a non-denominational church.
Its set right up against the expansive sea ice and makes a pretty cool backdrop.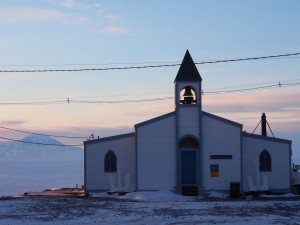 My life has been basically focused on training and preparation for going out into the field next month.
While much of it has been inside learning, everyone has to go through something called Happy Camper training.
For many it is to learn how to spend a night out if something has gone terribly wrong.  For me, it's to help me get a feel of what it will be like out at the AGO camps.
Although in all reality it wasn't a good showing because the weather was nice and only got down to 1F while the AGO camps will be -50F.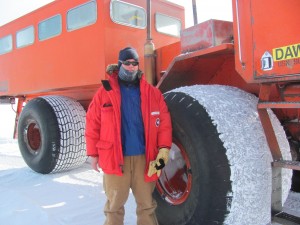 Nineteen of us gathered our supplies and hopped into another enormous vehicle.
It drove over a pass and out on to the Ross Ice Shelf which is about 500' thick.
It is flat like sea ice but it's really where the main continental ice comes spilling off into the ocean.
This is still nothing compared to the often 5000' thick ice around the South Pole.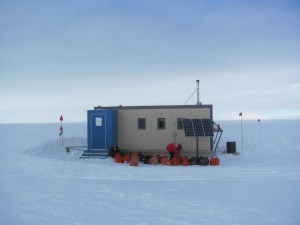 We were dropped off next to a building that we used as a classroom.
In all directions was flat ice which butted up to huge mountains off in the distance dwarfing the various buildings on the ice shelf.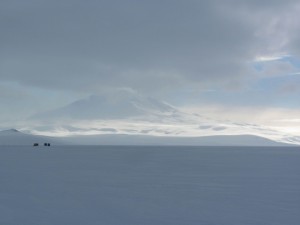 We were camping out right below a mountain called Mt. Erebus which is the southern most active volcano on earth.
It has a lake of lava in the bottom of the summit crater.
When the clouds parted we could see smoke plumes wafting up from the interior.
We headed inside for more training, but soon it was out for the night.
We erected two Scott tents and 7 mountaineering tents.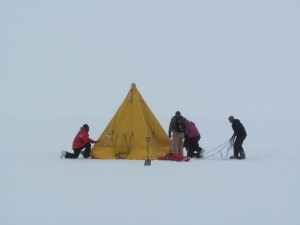 The company that makes these tents is from my beloved Missoula, Montana.
I've never heard of Bluestar, but they must be cool.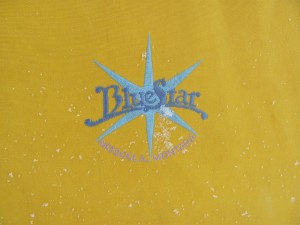 To block the wind we created a wall out of snow blocks.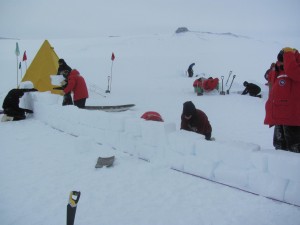 Now this really was one of the coolest things I've ever experienced.
I tried to make an igloo at Lolo Pass a few years ago and making blocks stay intact is hard.
This stuff was like heavy Styrofoam.
You can literally cut blocks with hand saws.  Whatever shape you cut them, they stay.
If they are not exactly how you want them, you trim them.
It was like perfect cartoon igloo snow.  WILD!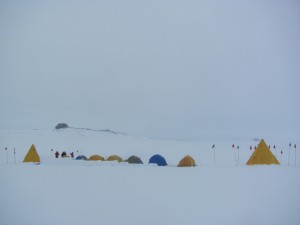 Once camp was finished we melted blocks of snow to get boiling water.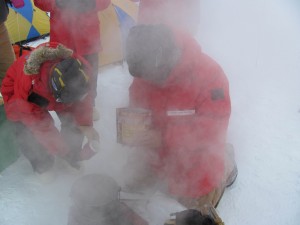 Bundled up, with a mug of hot chocolate and a freeze dried meal…I was warm.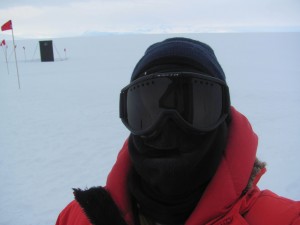 In the morning it was crystal clear.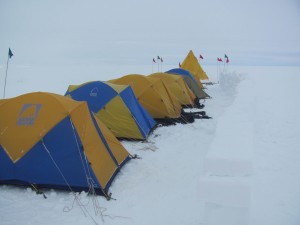 You could see where one of the main ice sheets rolls down into the ocean creating the ice shelf.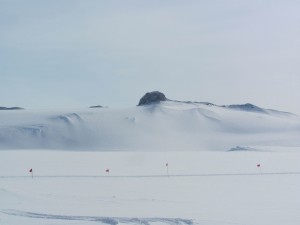 I can't even explain how huge this landscape is.
I have no comparison.
None.
Beyond amazing.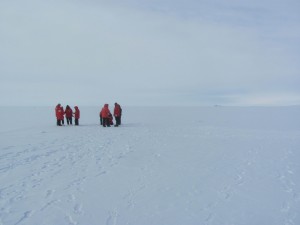 We broke down camp, and did some more training.
One scenario was the famous buckethead drill.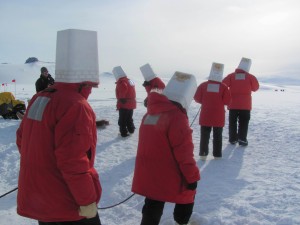 We all had to put plastic buckets on our heads and try to find our teacher.
It is to simulate what it's like to communicate and functionally find someone lost in a whiteout.
Basically impossible.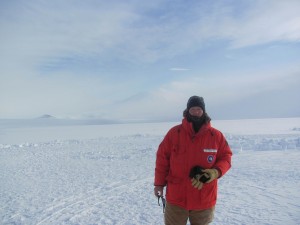 The same enormous vehicle came to pick us up and bring us back to the station.
Later that evening was our Halloween celebration.
Everyone works six days a week and has Sunday off, so Saturday night is when organized holidays are held.
So, like it or not…Saturday was Halloween.
We ate like kings and hit the "town".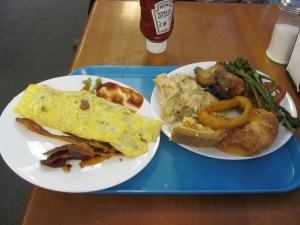 It was the first time I have been up late enough to see what counts for sunset down here.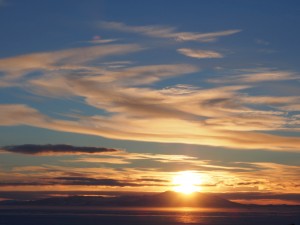 The sun does not actually fall below the horizon these days.  A week ago I think it still did slightly, but as of a few days ago it stopped fully setting.
It still gets real close and creates a few hour sunset color fest and then rises up again.
Since I've been here I have been asleep when this happens, but thanks to a few drinks and a Halloween party I was still awake to take part.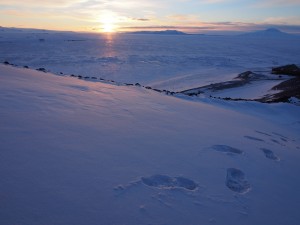 So, I went home and got bundled up, grabbed my camera and went for a walk to a place called Hut Point.
It is a hut that Robert Scott's expedition made in 1901.  They were trying to be the first group to ever reach the South Pole.
It's so dry and cold down here that the hut is still in perfect shape.  Pretty wild.
It was the first time I saw McMurdo Station from a far.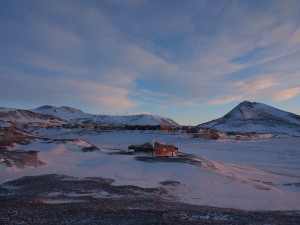 I've seen countless sunsets in my life, but none set against a backdrop like this.
I'm still having trouble comprehending that I'm in Antarctica.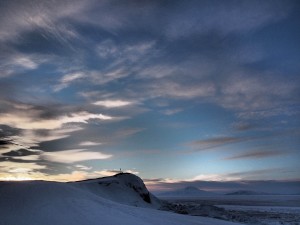 I am so happy that I got a chance at some photographs while the sun was right.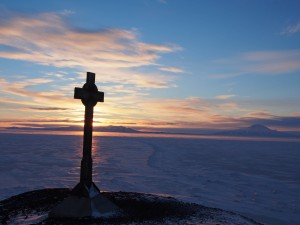 In a few weeks I'll be in the middle of the flat expanses of the interior plateau.
A few weeks from now the sun will not set at all.
But tonight, at 2:30am I roamed around with a wig in my pocket and whiskey on my breath and took photos of Antarctica at Sunset.
TO LIFE!