Now, sit right down there and let me tell you about the Banff Mountain Film and Book Festival.
The festival is "The Event" for mountain culture authors, film makers and the adventurers that create the stories.
It's the venue that artists, athletes  and researchers dream of having a book or film in.
And, it happens each fall in Banff, Alberta.
If a meeting of the mountain elite wasn't enough, the location is world class!
Banff the town is inside of Banff the National Park, and both are known for some of earths most jaw dropping mountain scenery.
So, it's a class situation, all the way around. 🙂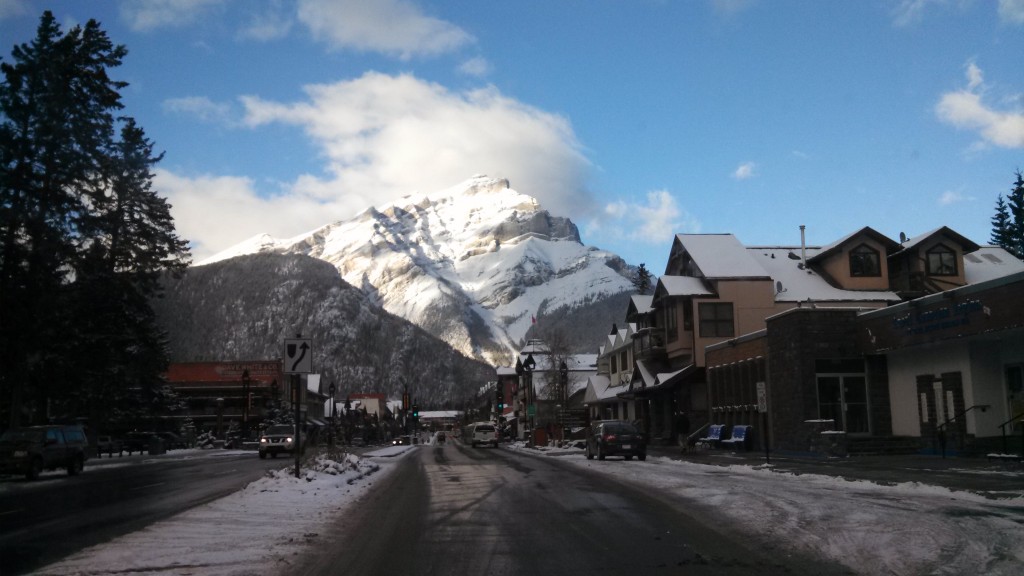 But, November in the Rockies isn't the nicest weather month.
It is perfect movie weather, if you get my drift.
This year it dumped 6 inches over the festival weekend,…in early November.
And, I know I read something about a low of 8 degrees at night.
This presents little dilemma to anyone, but me.
I sleep in my car.
Mom,…Not always, just during this event.
The hotels are WAY out of my price range, so I rely on my mobile hotel room
A mobile hotel room that is covered in snow and filled with three sleeping bags and cooler of food.
It's nice to have my home just down the road from the festival.
It certainly makes having lunch easier.
So, welcome to the Banff Film festival.
I go dirtbag style.
But, I go.
And it's awesome!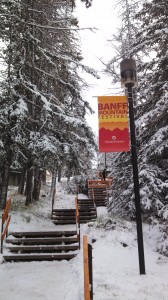 I volunteer to be specific.
Its fun to be a part of the festival, even in such a basic way.
I also figured it couldn't hurt to talk with people that sell books, if you are looking to make one.
Ya Dig?
Friday and Saturday nights, I ushered at the main theater.
Norwegian Aleksander Gomme and Jonesy  of the Austrailian duo Cas and Joney spoke on Friday.
Cecilie Skog, a Norwegian mountaineer and polar skier spoke on Saturday.
Both evenings were human firsts.
Both large scale, unsupported crossings of Antarctica.
Alright, now don't fret, the festival is coming to city near you soon.
And you don't even have to sleep in a car!
Sweet deal!
Banff picks many of the years best films and sends them out into the world on a 13 month traveling film festival.
It is shown on all seven continents, in countless countries and in almost all U.S. States.
Would you believe I watched it in McMurdo Station in Antarctica, last year?
I was obviously jacked!
So, check the calendar for a showing near you..
NOTE: It's coming to Montana first.  
November 10th in Missoula, November 12th in Kalispell.  
Click here to check your state or country.  
I always leave the film festival inspired.
So many stories of human beings, just blowing open the perimeters of possibility.
The options are limitless and the festival tells the taleas.
Here's a couple highlight presenters and movies from the festival.
Gomme – Jonesy – First time on stage together! Friday Nov 1st, 2013
The festival brings at least one thing to your attention.
That there are way more people than you think, throwing down epic global odysseys every year.
Blasting open the boundaries of human possibility and world exploration.
How about going from the Antarctic coast to the South Pole and return but completely unaided?
Skiing 1400 miles across the worlds highest, coldest, driest and windiest continent.
89 days hauling a 350lb sled across an otherworldly, frozen expanse.
Alexander Gomme did it solo.
It is also a very historic, human first.
This video shows how excited a man can get when he gets to a cache of food and finds Cheesy Poofs. 
But there's a catch.
At the same time, there was randomly an Australian duo that go by Cas and Jonesy that were trying for the same record.
A Norweigain against two guys from the British Commenwealth.
A bit Amundson/Scott, now isn't it?
The three had become friends over the length of the trip.
Gommes had led the whole time, and it was his to win at this point.
Then, like the cool guy he is, Gomme stops and waits for them so they can finish together.
That my friends…
That is a classy move.
This film is about a 67 year old Ecuadorian man who is the last of a long, proud profession.
For generations, men would climb up to the glacial ice high up on Mt. Chimborazo.
They would pry off huge chunks, wrap them in grass and carry them down to the town on mules.
This ancient profession is dying out since the area got electricity and an ice machine.
That doesn't stop him from going up for his daily haul, but the profession is dead.
Oh, how things change in a generation.
Side Note:
Chimborazo is a behemoth volcano on the equator which is famous for being the mountain that is closest to the sun or furthest from the center of the earth.
Some think of it as the largest mountain on earth and not Everest.
Valhalla
If the snowfall didn't get the attendees excited for ski season, the newest production from Sweetgrass Films sewed the winter vibe.
Valhalla is the best ski movie I've ever seen.
I recognize that is a big statement.
But, most good "ski porn" is just that; amazing footage of professional athletes.
OK, AWESOME FOOTAGE, of VERY TALENTED professional skiers and boarders, but…
They often lack a plot or much emotional connection other than getting you excited to ski.
Valhalla tells the fictional story of a man headed north to find something.
He's seeking that freedom and pure, impressionable awe of his childhood.
Along the way, he finds a Valhalla.
Plus it has the first real naked ski scene I've ever seen…and it's Classy.
But naked…
 35
This is my favorite film of the festival and it's only a few minutes long.
It captures the ideology of capturing the moments of your life
Carpe Diem at its greatest.
35 hard rock climbs in honor of professional climber Derek Craig's 35th birthday.
This movie packs more wisdom than it's 5 minutes can hold.
Plus I'm a huge fan of Fitz Cahall and his Dirt Bag Diary's Podcast.
35 is the first short film I've seen from his new production company "Duct Tape Then Beer".  
One last note.
I mentioned on Facebook that I was hoping to meet and hike with Conrad Anker…
And it happened!
On a terrible morning.
I woke in a frosted up car that was covered in three inches of new snow/rain/slush/stuff.
Conrad was meeting people and stating a hike to the top of Tunnel Mountain, at 7:30am, outside the festival building.
It would have been so much easier to just role over and go back to bed in a warm sleeping bag, and surrounded by a very cold, wet world.
But, I forced my eyes open and met the group.
It was nice to meet him.
W chatted about Montana.
He lives in Bozeman when he is not out scaling the highest, scariest, most remote mountains on earth.  .
He is a nice, approachable guy for a mountaineering god.
Way to be Conrad and thanks for the hike.
Thanks, Banff Film Festival for another spectacular experience.
And thanks to Steve and Rachael for letting me crash at their place on the second night.
Great french toast.
Does anyone have any good experiences going to the Banff Film Festival shows in their areas?
Leave it in the comments.
Now,
GO SEE THE BANFF FILM FESTIVAL WHEN IT SHOWS NEAR YOU THIS YEAR!
And Happy November!
To Life,
Marc Ankenbauer