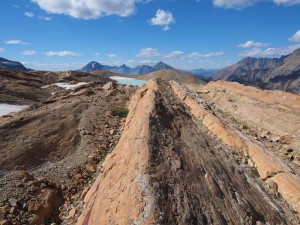 This is Part 2 of the Floral Park Saga. Check out Part 1, if you haven't already.
Sperry Glacier Basin is unlike anywhere I have found myself on the planet. It's like being on an island. It's alien, removed and high above the rest of the surrounding world.
Although, if you are familiar with the park…you find yourself surrounded by strangely familiar things.
Directly below you is a sheer cliff down to Avalanche Lake which is probably the most visited hike in the whole park. People staring up at these cliffs from below don't even know you're up there. It's like it's a secret, like you're hiding.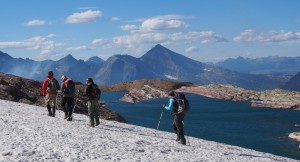 The mountains you look off at are Stanton, Vaught and McPartland which are the main landscape at Lake McDonald Lodge on the Going to the Sun Road.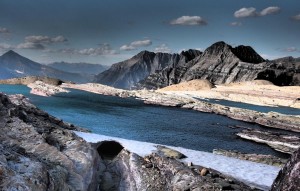 Off in the distance are the familiar mountains that you see from Logan Pass and the highline trail which is the absolute center; the heart and soul of Glacier.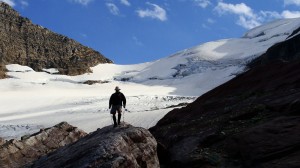 Behind us was Sperry Glacier which we have all heard of but few seldom see and certainly not this intimately.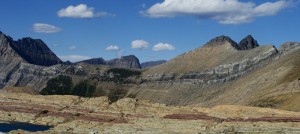 By this point in the trip you are looking back at gargantuan efforts that happened early enough in the trip that they seem like a different day.
The whole experience is simultaneously alien and warmly familiar to those who know.
After lunch we headed into the depths of the Glacier Basin.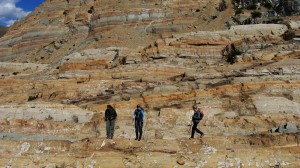 It is made up of countless ribs of bedrock that lead directly towards the open expanse of familiar mountains at odd angles and eventually the epic drop into the Avalanche Lake headwall.
The basin is made of bedrock ribs that were scoured clean from by the glacier through the last eternity.
When you look closely there are striations on the all the ribs from the glacier scraping against the rock. This exotic landscape has only become visible over the last century.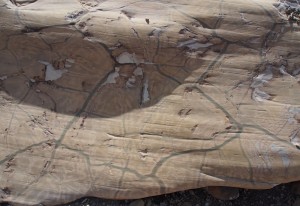 The area is a washboard of ups and downs that present a unique obstacle course.
Each time you get to the top of a rib there could be anything on the other side.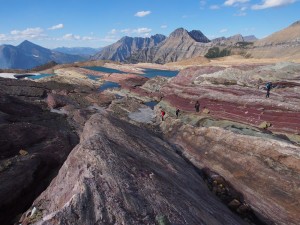 There could be a perfect little scramble down or an expanse of snow completely filling the gap between ribs.
There could be a stream to cross or a melt pond that forces you to walk ten minutes around to the other side.
Countless options, over and over and over again.
It's really the strangest landscape I have ever traveled in.
Every time I looked for my partners I found them lit up against the most improbable of backdrops.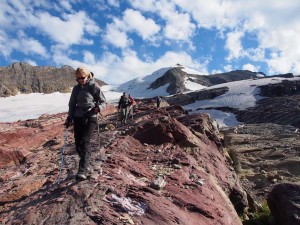 This is the part of the trip that deserved our time, our attention and our camera lens the most.
The moment in time meter went through the roof.
Getting closer to Comeau Pass we had to make a decision that I believe is a no brainer.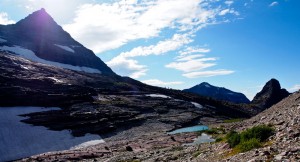 Either we were forced to hike up the Sperry Glacier which is a terrible plan while un-roped.
Or there is a well better option.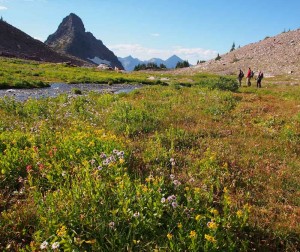 Instead we hiked downhill past the last melt pond and towards a mountain called The Little Matterhorn.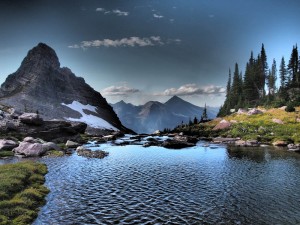 This little wonderland is filled with wildflowers and a braided stream whose destiny is to become Avalanche Lake.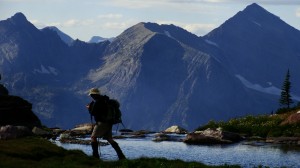 We accessed an amazing ramp of rock slabs, wild flowers and marmots that led us directly towards Comeau Pass.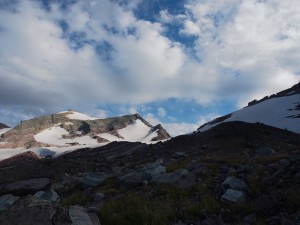 Our marmot friends were sunning themselves on a huge rock.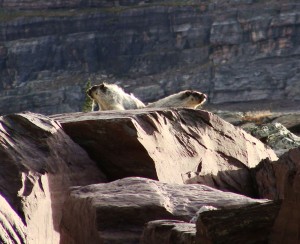 I feel this is the best way to gain the pass.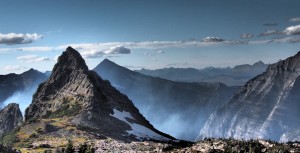 Not only is it safe and as straight forward as possible but totally AWESOME!!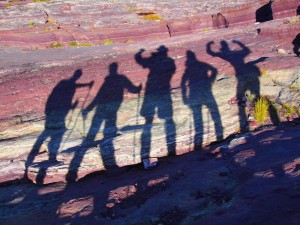 We even took a moment and took the best shadow picture ever!!!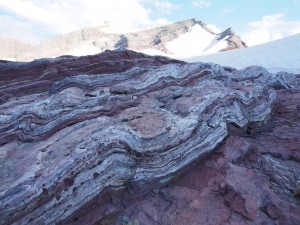 The layers of rock started looking like candy cane spirals.

We couldn't handle how crazy this landscape is!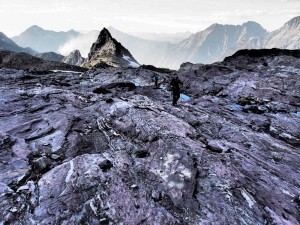 Depending on when Floral Park is done, the route has more or less snow.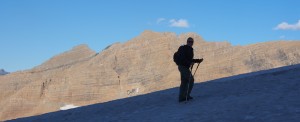 On this day only one snow field stood between us and the pass…and in my case.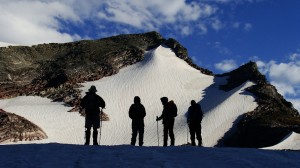 GEM LAKE.
By this time I was double timing it.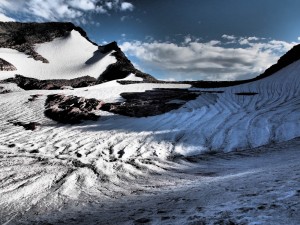 I was hoping to get to the lake while there was still sun on it.
It's cold enough to climb into a lake on top of a huge mountain pass right next to a snow field in the middle of a wind warning.
But, the sun is imperative.
Thankfully I got there with literally minutes of sun left.
I tossed on swimming trunks and flip flops that I had carried for hours and hours, waiting for this moment.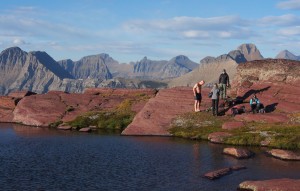 I had to toss rocks on my other clothes so they did not fly away in the wind.
The outlet of Gem Lake is a waterfall that flows west towards Lake McDonald.
The wind was blowing so hard that it was picking up the waterfall and blowing it up into the air and landing back in the lake.
PERFECT SWIMMING WEATHER!!
The fact is, I got it done.
The lake is just deep enough to submerge my body in, certainly no laps being swam.
Just some screams as I waited for a picture or two to be taken by my wife who asked me to stay in for two pictures. She wanted to get it right…Yeah…
It was very cold, but I'm over the idea that these lakes are cold.
I just needed to hop in and get my clothes back on.
I bounced around, doing jumping jacks to warm back up. Everyone else pumped water, ate some food and helped me with whatever tasks my cold digits were having trouble with.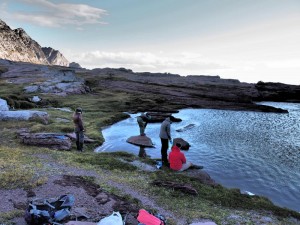 We were still in a rush, no matter if the dip into the lake was done or not.
Once at the pass, we still had 10 miles and 5000 feet of elevation loss to take care of on trail.
Let's keep in mind that the sun was still starting to set.
A group picture was in order as this place, this moment was truly epic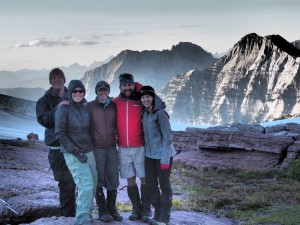 Before I left the top I grabbed a shot of the heavily weathered sign that marks the pass.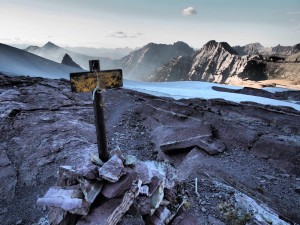 The trail down from Comeau Pass starts by dropping through a crack in the headwall that was made in the early days of the park.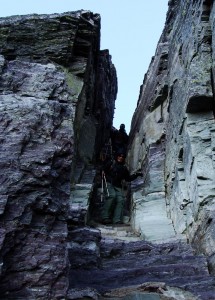 There is a cable to hold on to as you climb down. It would be bad to lose your footing since its steep enough to cause some serious damage.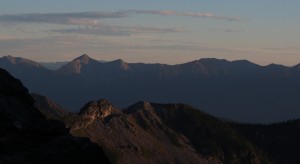 We saw about 10 mountain goats as we zoomed past alpine lakes and waterfalls.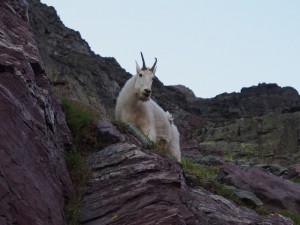 We were able to get down to the Sperry Chalet trail intersection before dark fell.
But,…then it fell. And boy did it fall…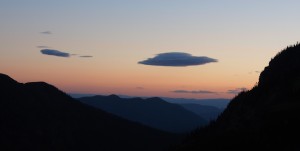 From this point we still had six miles and 3000 feet of elevation loss to do in the pitch black. YES!!
We spooked a bighorn sheep as we slowly picked our footing in the dark.
It's good to make noise in Griz country anyway, but in the black of night you get pretty inventive.
I'm sure every animal in the woods enjoyed our conversations, games and most off all the show tunes.
It took what felt like forever as we walked in the dark. I think we fell asleep walking a few times. I swear!
But, eventually we popped out at Lake McDonald Lodge.
Car shuttles to Logan Pass commenced.
As we got towards St. Mary there were slight traces of Northern Lights.
I had never seen them through the years and even minor ones are pretty spectacular!
All in all an amazing day!
Even deserved a two part Saga!
To Life!!!