Early May in the Northern Rocky Mountains is a time of reemergence.
A time when every creature big and small is going through changes and coming back to life.
The first flowers of the year, called Glacier Lilies, will cover an area that two days ago was covered in snow!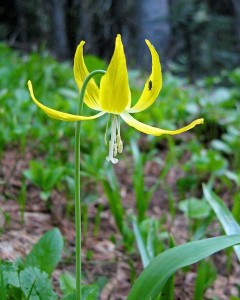 All the while, the upper reaches of the peaks are still in the throes of winter, still weighted down with a thick blanket of snow.
This is why the low elevation lakes of the Northwestern corner of the park are a perfect spring playground.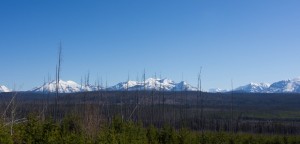 My good friend Clay called me while I was sitting on my couch in Missoula one evening, and tossed out a plan.
He was planning a trip into the Logging Lake valley and wanted to know if I felt like coming with.
He knew Grace Lake was at the head of the valley and that I was eyeing it for an early season dip.
I was seriously excited by the potential of knocking off a lake earlier than ever before.
I instantly started throwing gear in my car and driving north.
Montana had been enjoying a stretch of unseasonable 70 degree days with blue bird skies.  You don't look a weather pattern like that, or a gift horse in the mouth.  You know…
I stared off towards the continental divide gleaming white in the distance as we cruised north on the Camas Road towards Polebridge.
We passed a group of 30 elk grazing in a tree ringed meadow.
The famous Polebridge Mercantile and Bakery had just recently opened for the season and was in full swing by the time we got there.
The always friendly girl staffing the counter handed over my breakfast of a cinnamon roll and bear claw.  It was gone by the time I got back to the truck, but thankfully I had the will power to stash my cookies in my pack.
They would prove an exciting snack later the next day.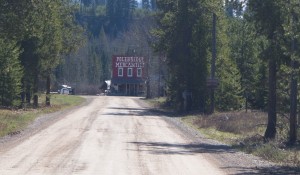 Another a few miles down the Inside North Fork Road brought us to the Logging Lake Trailhead.
It had been months since I last went on a real hike, so nothing was going quickly.
Clay, ever the pal…only pointed out my disorganization a few times.
While the foot of Logging Lake was only five miles from the trailhead, our real destination Grace Lake was 13 miles.
Almost the entire trail is board flat, but 13 miles is 13 miles.  We had to get moving.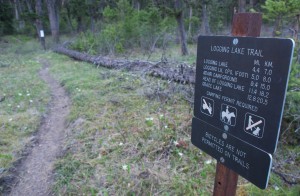 As I mentioned before, early May in Glacier is as wild as it gets.
On top of that, the Logging Lake valley is seldom hiked in mid-August, much less now.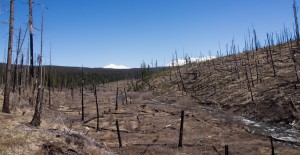 The entire trail was one big, muddy track trap.  The only prints we didn't see were human.
Pretty sure we were the first people up the trail since the snow melted.
We made terrible time, stopping to examine prints and scat along the way.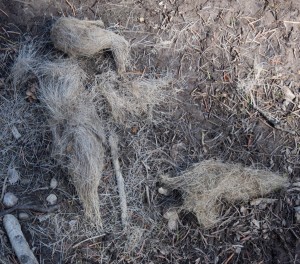 We easily saw over 300 Grizzly bear and Black Bear prints.
It is no surprise, but Logging Lake valley must have an exceptionally healthy bear population judging by what we saw.
Mountain Lion prints were sprinkled throughout.
In all my time running around in the mountains, I've still never gotten to see one in the wild.
Although, I'm positive I've been seen by more cats than I care to ponder.
It's a bit spooky but extremely true.
This area of the park has always been a hot bed of wolf activity since they reintroduced themselves from neighboring packs in Canada.
Their prints were very abundant, but again no sightings.
Wild animal prints are like the seasoning to the great steak that is a good hike.
They are the suspense in a drama film.
You know that you're surrounded on all sides by animals that remove you from the top of the food chain.
You just don't get to see them.
It's like when horror movies were still art, you know?
You are never more engrossed in the moment, than when you are surrounded by large carnivore prints.
We stopped periodically along the lake shore to soak in every ounce of this perfect day.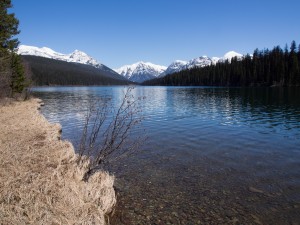 Clay scanned the hillsides and kept track of everything that flew by.
We even got a serenade from the local Loon population.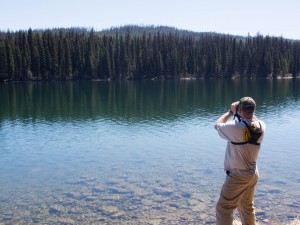 We pounded feet to the head of Logging Lake where we were to make camp.
When we arrived, a Bald Eagle stood perched in a tall dead snag, welcoming our arrival.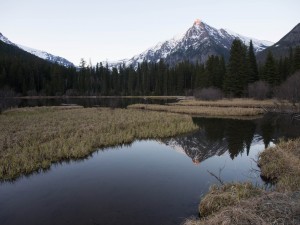 The lake was as calm as you could ever ask for.
The reflections were surreal they were so reflective.
We stared across a huge lake of glass as the sun set into the western horizon.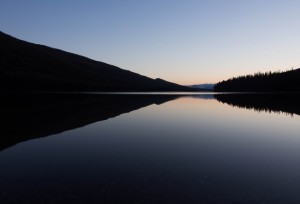 In the morning we passed the Upper Logging Lake Cabin and saw a rare sight.
Come to find out that Grizzly Bears not only walk in the same trails year in and year out…but in the same foot prints.
Over the years the pattern of foot prints that they use over and over became 3" deep depressions into the ground.
I can't imagine how many times a bear has to step in the same place to make a divot in the ground that deep.
There was a trail of deep prints walking from the shore of Logging Lake, directly towards the cabin, under the front porch overhang and all the way around the cabin.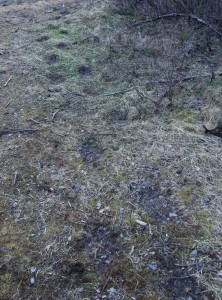 The cabin was also covered in scratch marks from decades of visits.
I can't even imagine staying there… The bears own that cabin!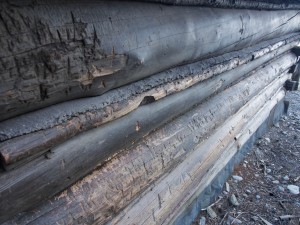 The trail meandered through dense west side forest.  The sun warmed the pines up creating one of my favorite smells on earth.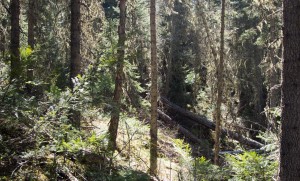 We continued on for another mile and a half until we got to the shore of Grace Lake.
The winds had changed dramatically and were ripping up waves across the whole lake.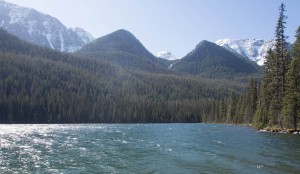 Clay was a real trooper to accompany me into the water.
Many others would have been content to simply take the pictures.
I set the camera on timer and we waded out into the frigid spring waters.
A split second before the camera clicked he was so kind as to shove me further out into the lake.
What are buddies for?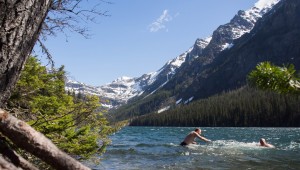 Any lake that has made it this far into the project, I've obviously obsessed over.
I've looked down from near Gyrfalcon Lake and wondered when I would finally bob around in these waters.
Never would I guess it would have been seven years later and on a perfect, 70 degree day in early May.
I'll take it.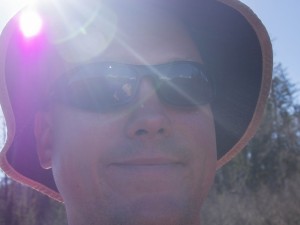 We had to make our way all the way back to the trailhead before dark and that was going to take some doing.
We cruised along, stopping on the side of the lake to take in the scenery and do some logistics planning.  Soon there will be a mission to Lilly Lake which is tucked into Adair Ridge, just south of Logging Lake.   That is going to be thankless schwack, making this wonderful trail hike a luxury.
In the first days of the 2004 season I jumped into Logging Lake with my good friend Anna.
I had known her then for about a week.
It was also my first purposeful "lake jump" not more than a few days after dreaming up this project.
I hadn't been back since.
Ten years later, I wanted to new pic of me hopping in.
So, while in a rush, I plopped my being in there for good measure.
Clay rejoiced in the fact that I totally lost my balance as I floundered my way back out of the lake.
That kept us laughing for the last five mile stretch back towards the truck.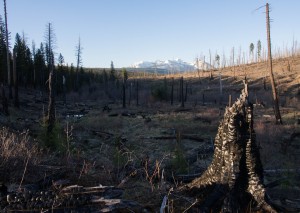 This was a spectacular way to start my last season of the project.
Good friends, good times, great weather and a whole bunch of suspenseful prints.
Can't ask for much more than that!
To Life!
Marc Ankenbauer
Anyone have any great animal track stories.  Been followed and not known it?  Had the hair raise on the back of their neck but never seen the animals?  Let me hear about it in the comments!
Happy Summer Folks!