About six years ago I began to investigate the specifics of the lake project a bit deeper.
I knew there were 132 name lakes in Glacier National Park.
Most of them are very obviously labeled on the park topographical map.
At the time I had so much on my plate that it didn't much matter what made up those 132.
I could throw a dart at the map and find a lake that needed a little swimming done.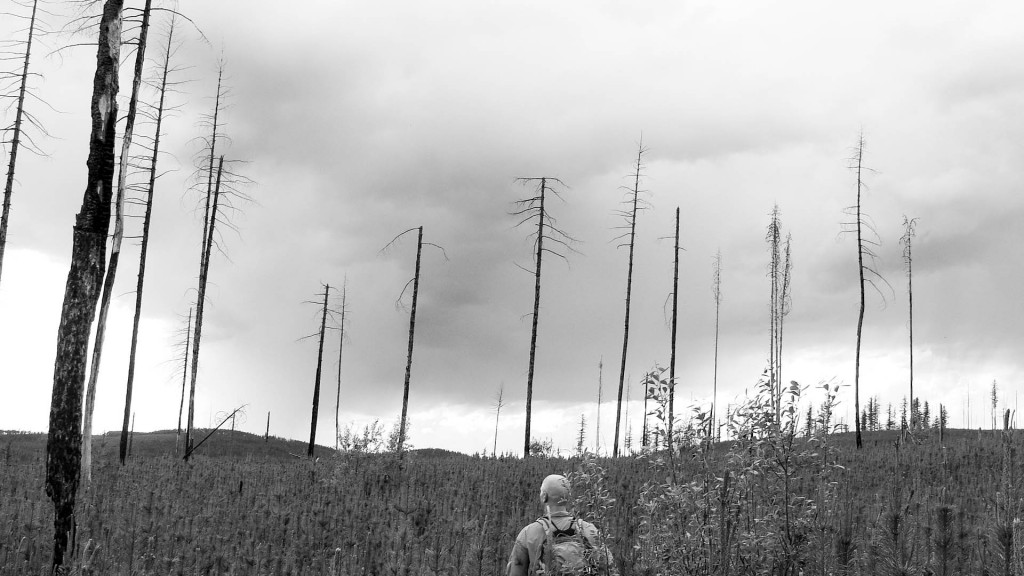 Then one day I wrote the park mapping expert to request the official USGS named lakes list.
As I scanned down the predictable and by then very familiar list, I came across the words "Lilly Lake".
Where is that?
Has anyone heard of Lilly Lake?
No matter who I asked, no one had any knowledge of this remote puddle.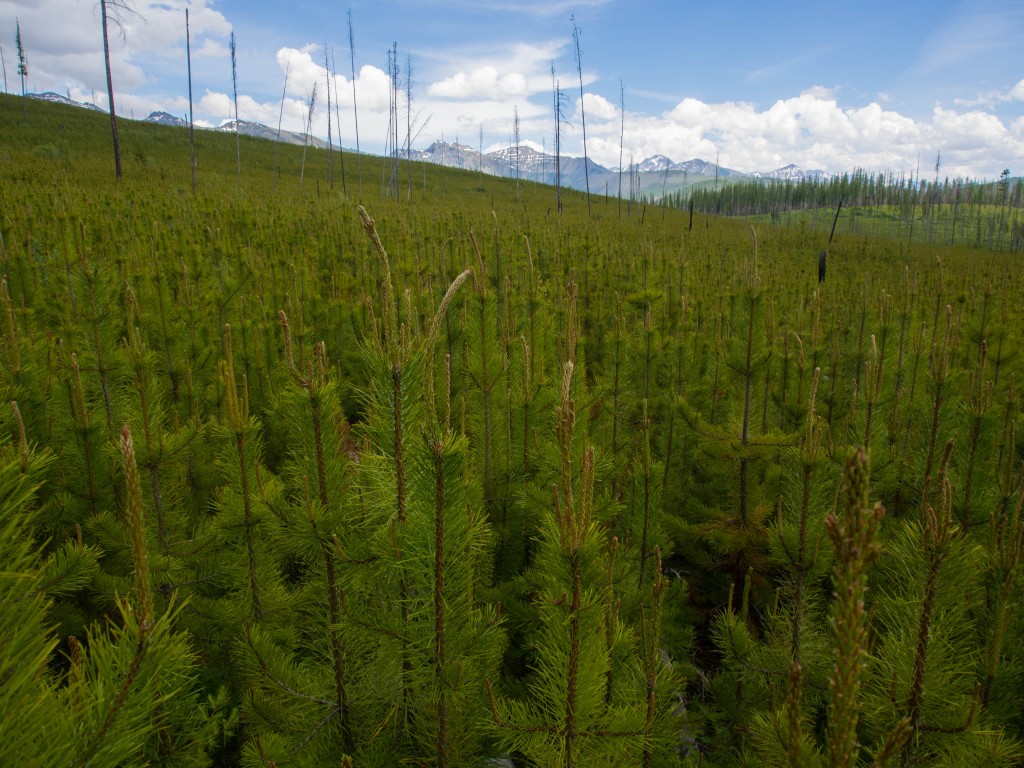 There has long been a trail that leads along the western boundary of the park called the West Lakes Trail.
About 25 years ago the section leading through the Logging, Anaconda and Dutch Valleys was let go to be reclaimed by the vegitation.
That old trail also passed by a non-descript, mucky leech filled pool in the Anaconda Creek valley.
We are here today people, because some evil, mean spirited surveyor named it Lilly Lake.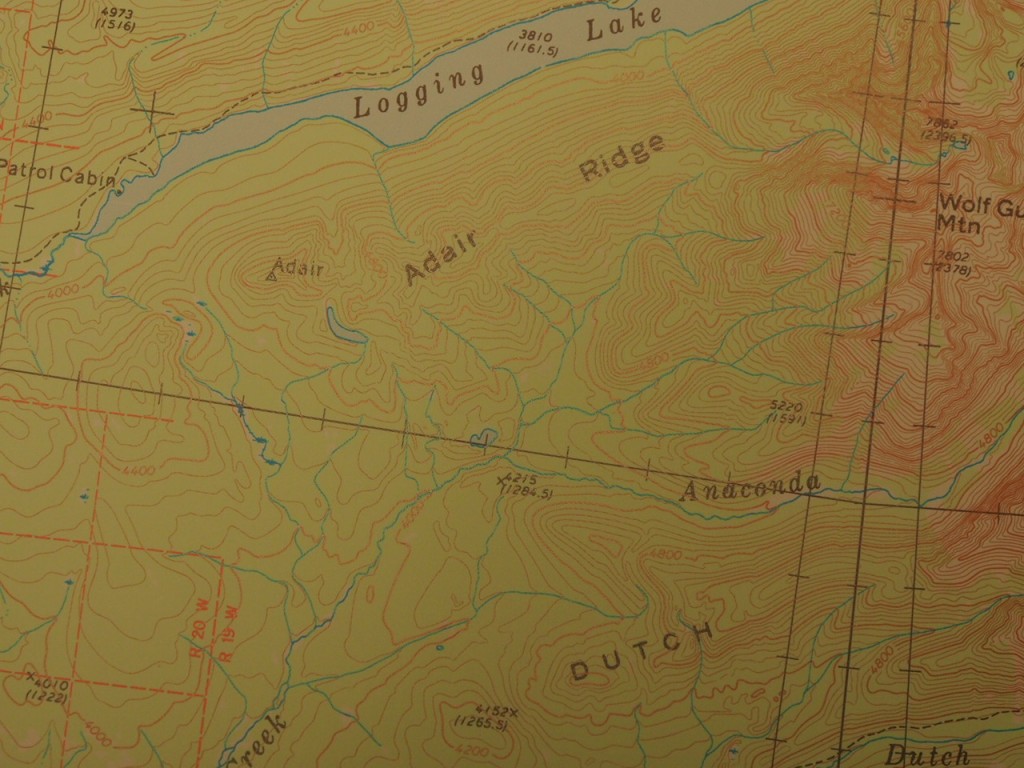 Lilly is the kidney bean shaped thing in the middle…
Fast forward to 2013 and that trail is nonexistent.
The park vegetation reclaims trails as if they were never there to start with.
Then toss in the fact that most of the route burnt in the major 2003 fire season.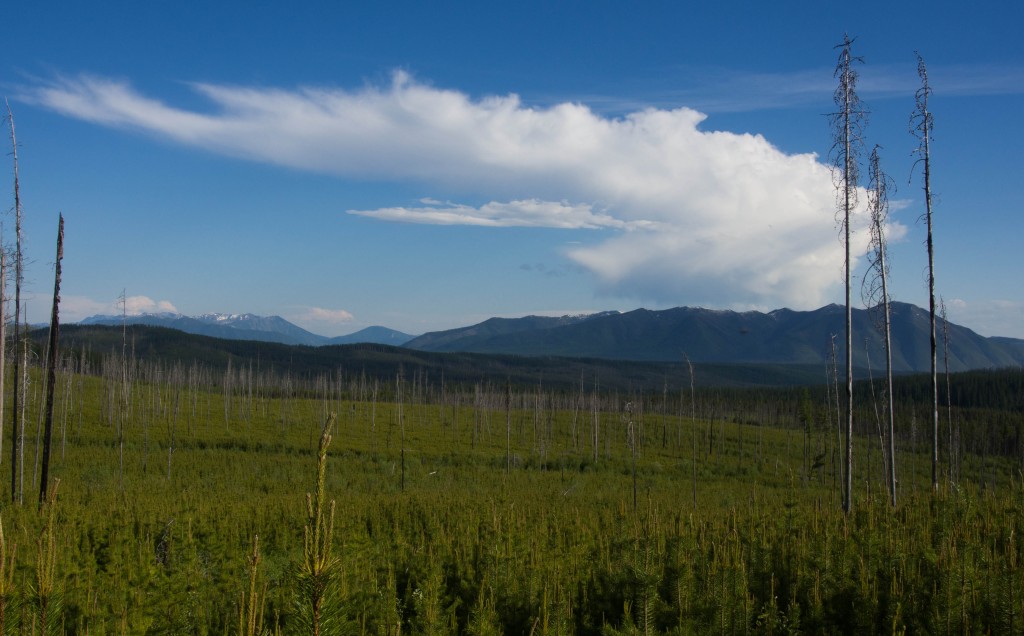 For years now, people have literally laughed in my face when I pointed at this lake.
It's a tiny dot on the map surrounded by a huge expanse of trail less west side forest.
No one and I mean no one actually WANTS to go there.
I ran through the list of companions and between different days off, logistics and a simple want for personal enjoyment…no one could or would go.
Thank you to everyone who at least tried to help.
But when the the chips are down…
In walks Mr. Pat Cattelino.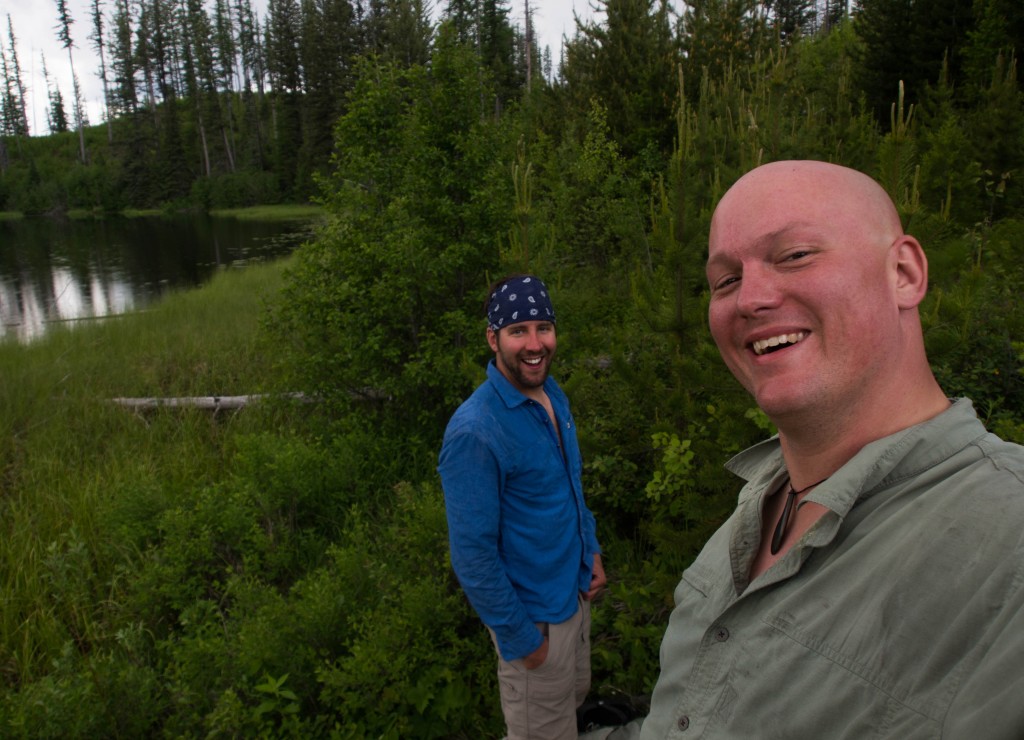 While he still didn't really WANT to go.
He's far enough into this whole project, that this had him intrigued.
I think he long ago figured that he would get stuck going anyway to make sure that I was able to finish.
And so I didn't come up missing in the middle of the west side jungle by myself.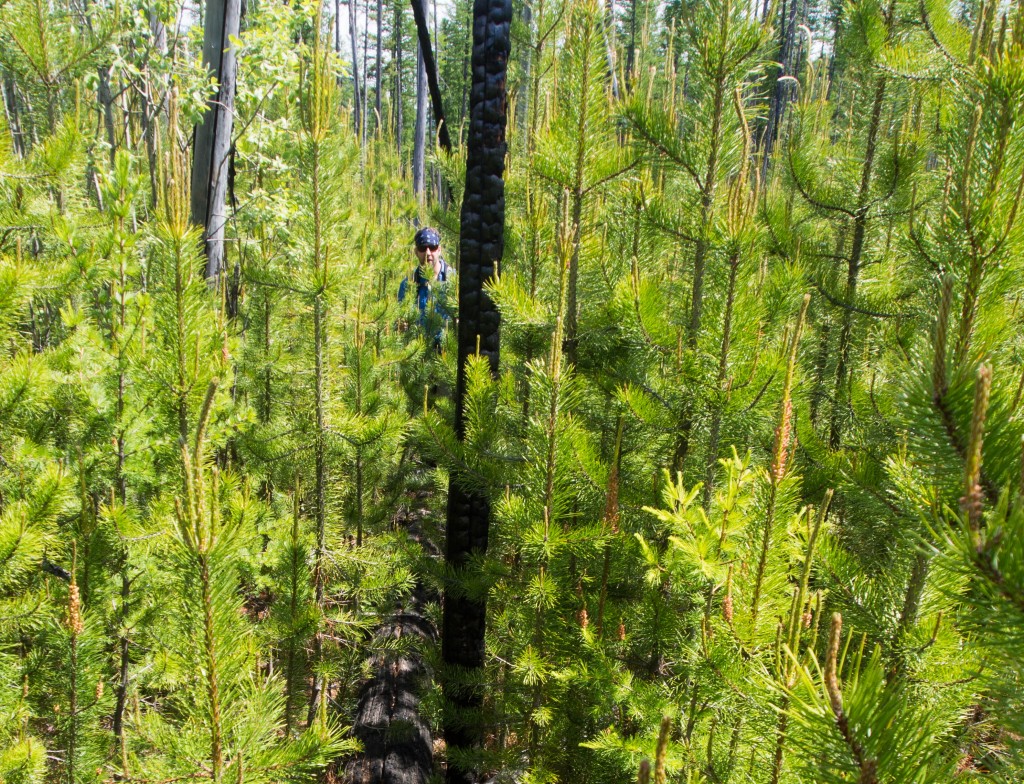 So, last week me and my buddy went on an EPIC.
Possibly THE EPIC of the whole damn ten year run.
Not including driving time, we spent 16 hours trailhead to trailhead.
12.5 hours completely off trail, constantly moving through dense forest following a GPS coordinate.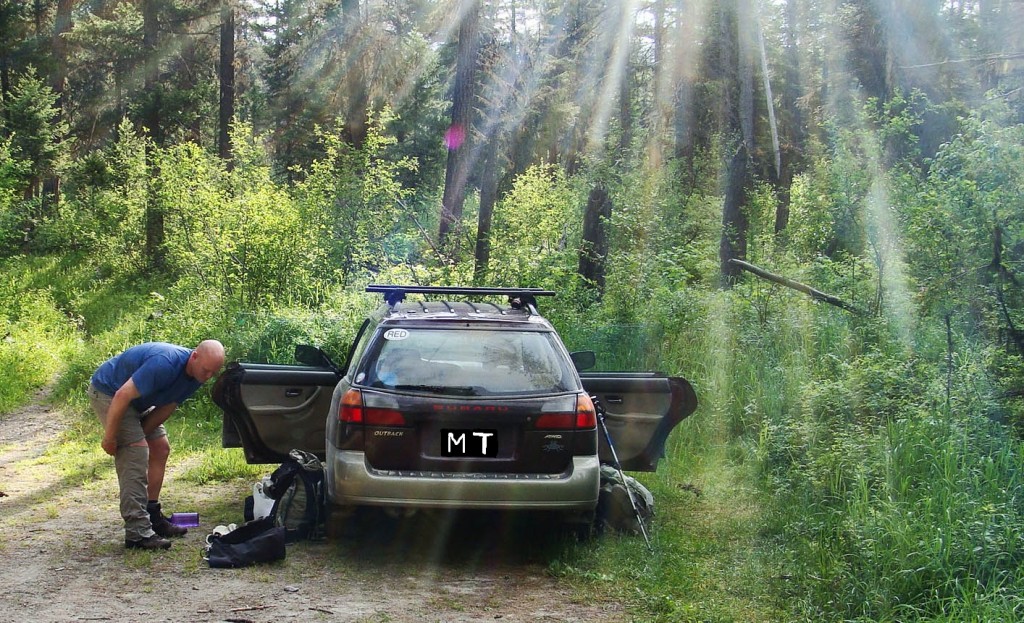 We started driving from Whitefish at 6am and hit the Logging Lake trail at 8am.
About a month earlier I was on this seldom traveled trail when Clay and I had headed up to Grace Lake.
It's starting to become familiar territory.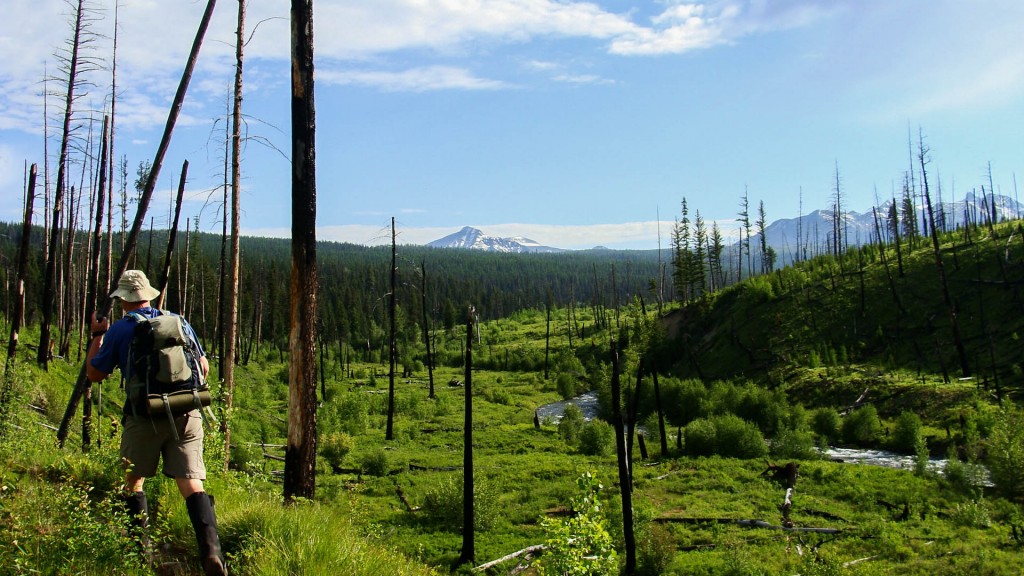 By 9:30 we had ticked off the five miles to the foot of Logging Lake and we were seeking a nice place to cross the creek below the outlet.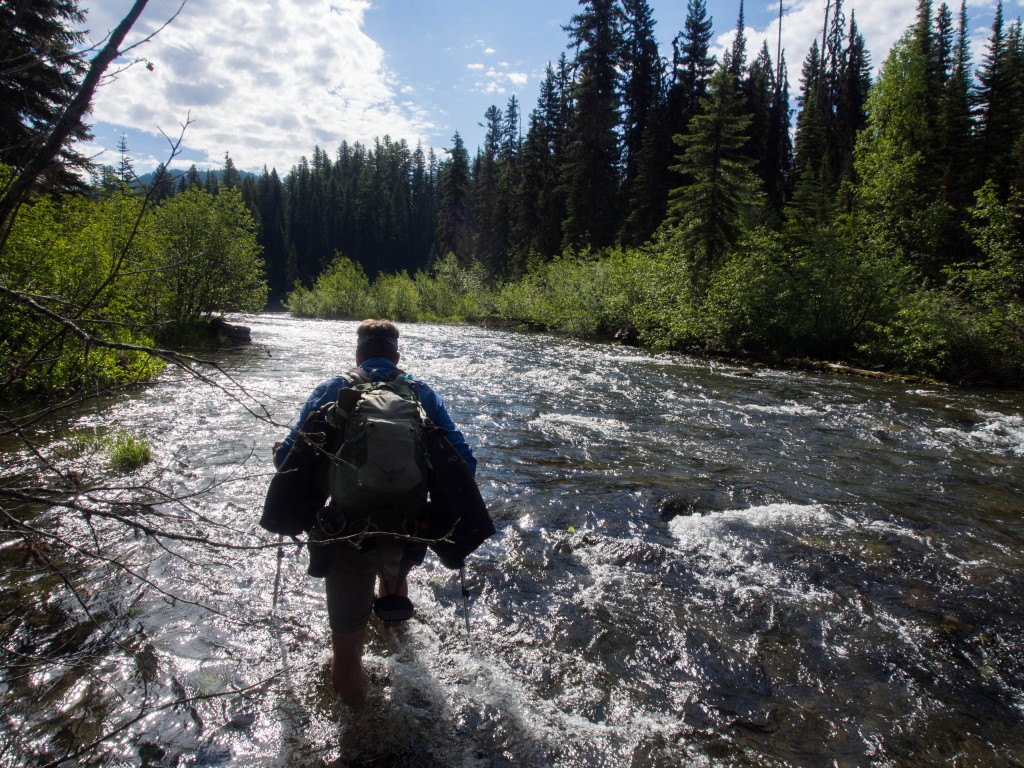 We happened upon the spot where the old West Lakes Trail Bridge used to cross Logging creek.
We even found the old bridge supports still mostly intact.
I love finding parts of the parks history that have been left to fall apart in their remote peace.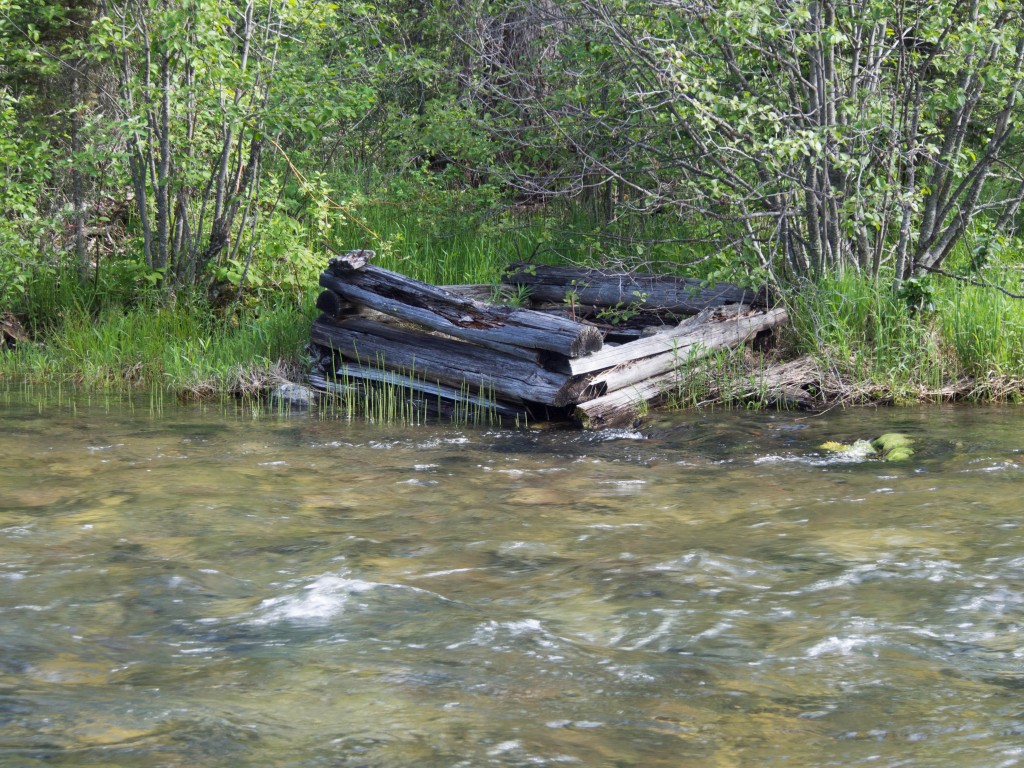 I wonder how many people crossed that bridge back in the day?
Now it leads to nowhere.
This might be the West Lakes Trail Bridge, but beyond that there is ABSOLUTLY NO SIGN OF THE OLD TRAIL!
NADA!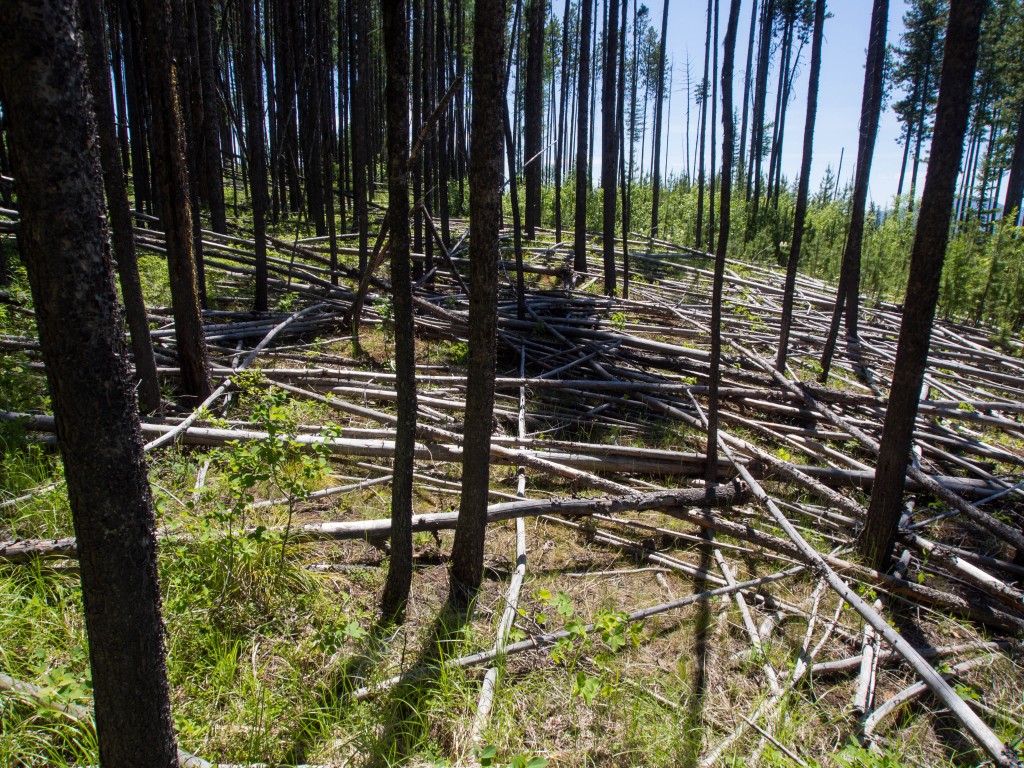 Shortly after crossing the bridge, we spooked a moose, which in turn SPOOKED us!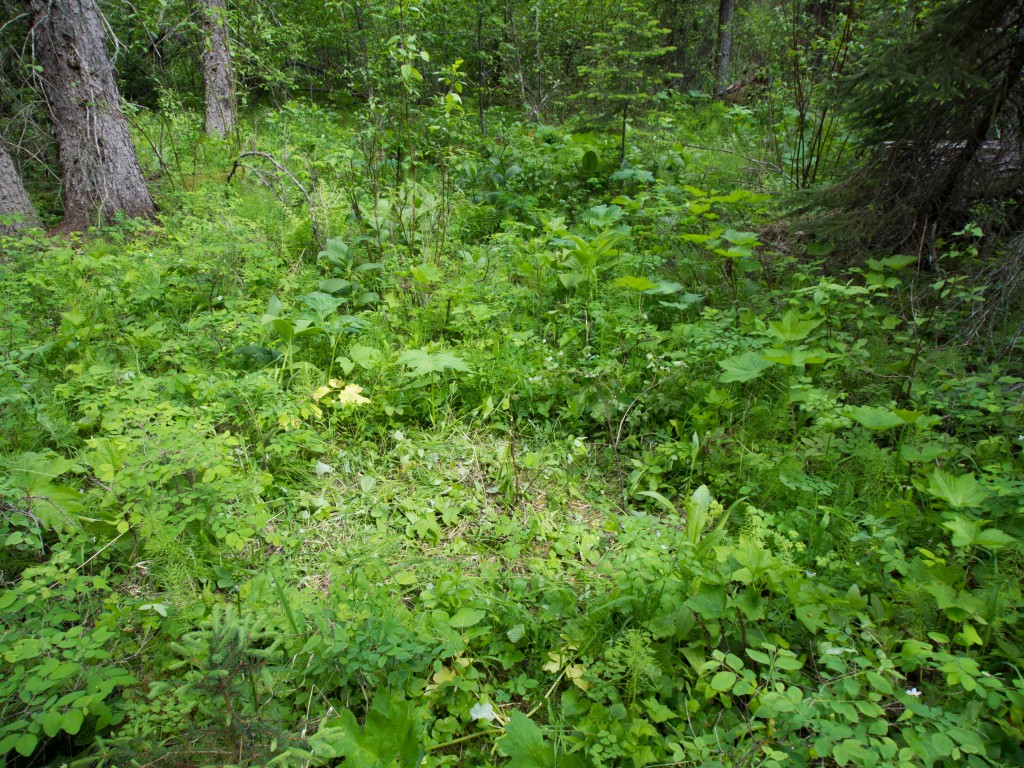 After that all we saw was a mule deer and some bear poop.
Most animals just don't want to be in brush this thick.
They are simply too smart for such foolish antics.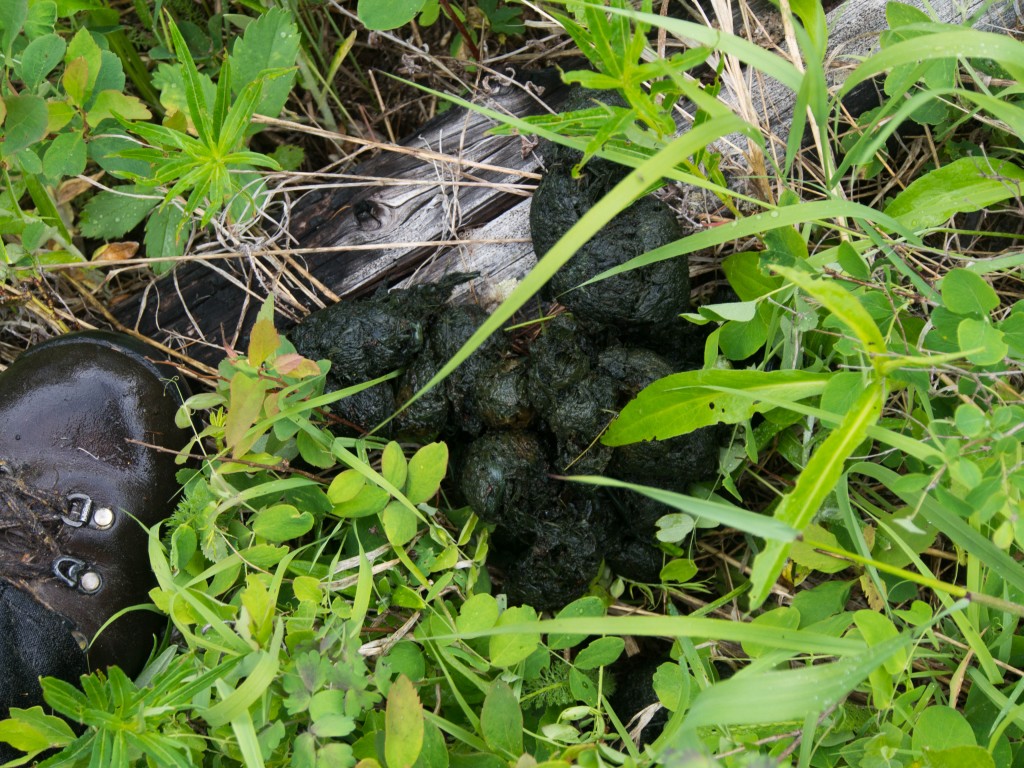 As we pulled ourselves up Adair Ridge, we couldn't see anything but forest.
The comedian Brian Regan has a skit in which he calls woods plural, the Woodesen…
This was the Woodesen alright, or so Pat and I said while laughing manically at the time.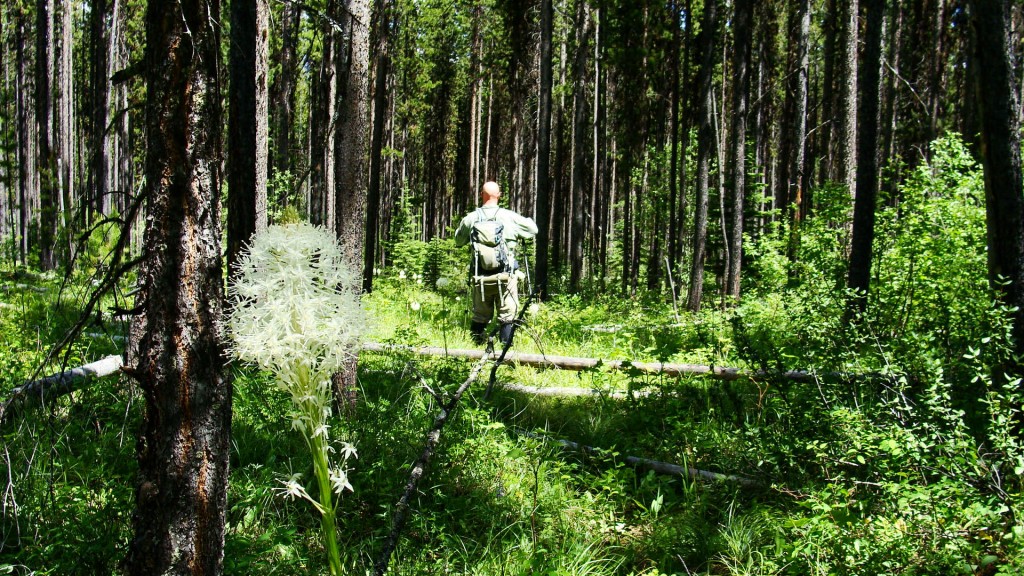 At the top of the ridge we found the post burn regrowth which came in form of five billion baby pine trees all less than 12 inches apart….
We were moving curtains of baby pine trees for hours.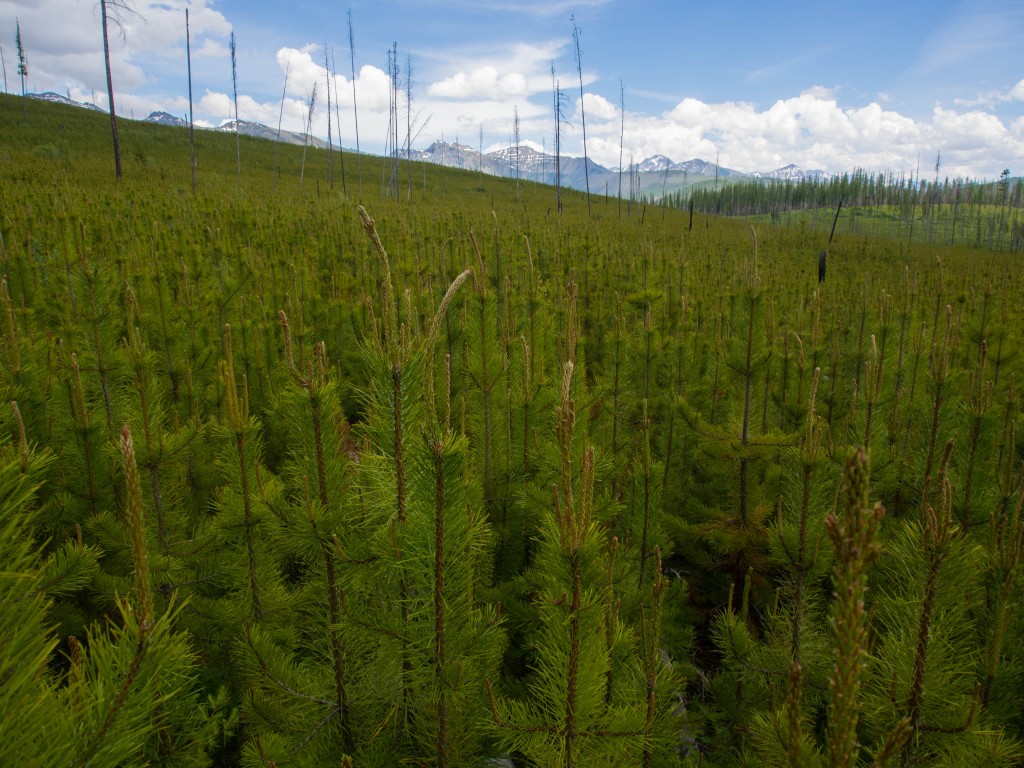 After 4.5 hours off trail we finally got a view down into the Anaconda creek valley but still the lake was nowhere in sight.
There was an obscene amount of land to still cross.
At 2pm we surveyed our future and it looked pretty bleak.
We were still 3.5 miles from the lake or so the GPS said.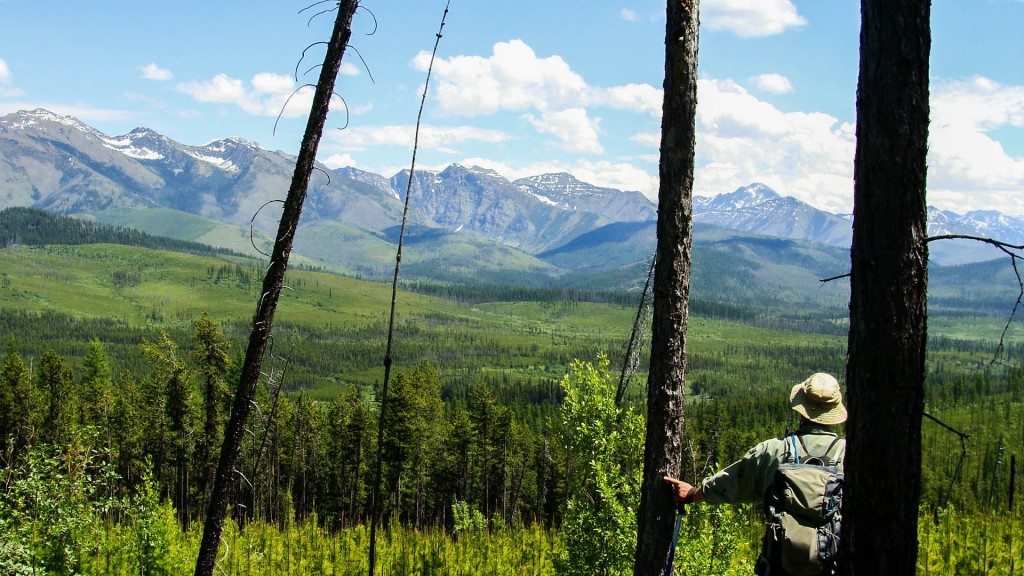 By now it was also getting HOT!
The brush was so nasty that there's no way to not have long pants, long shirt and gaiters on.
Without this wardrobe we wouldn't have legs left, we would have bloody stumps.
For us bald guys, toss in the sweat creator itself, the floppy hat.
I'm was just getting crushed.
Somehow every time I'm thrashing through a old burn which gives no shade, it's 90 degrees and sunny.
What's up with that?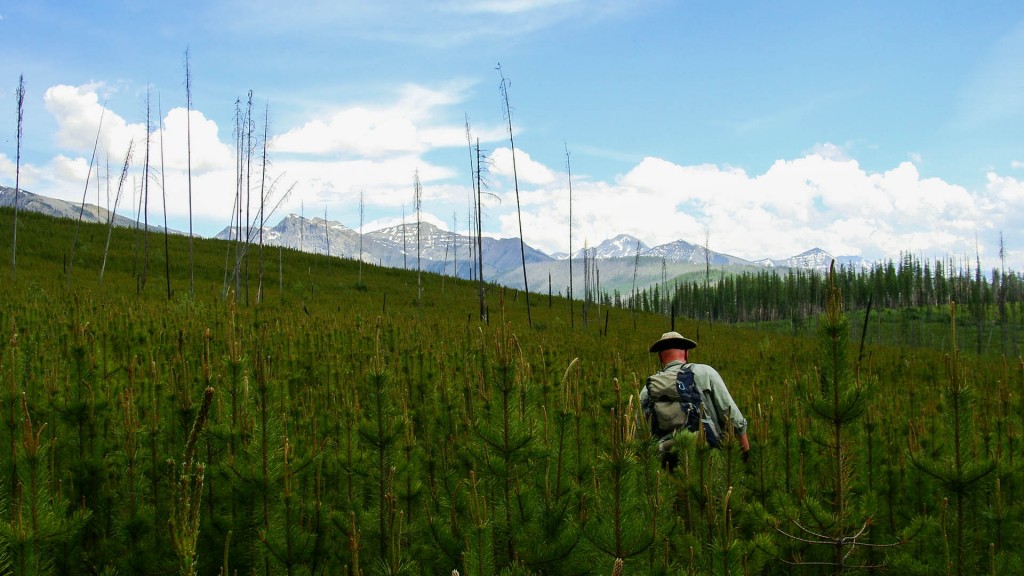 We used a map, compass and GPS to figure out an approximately line.
Without these three tools we would be hopeless.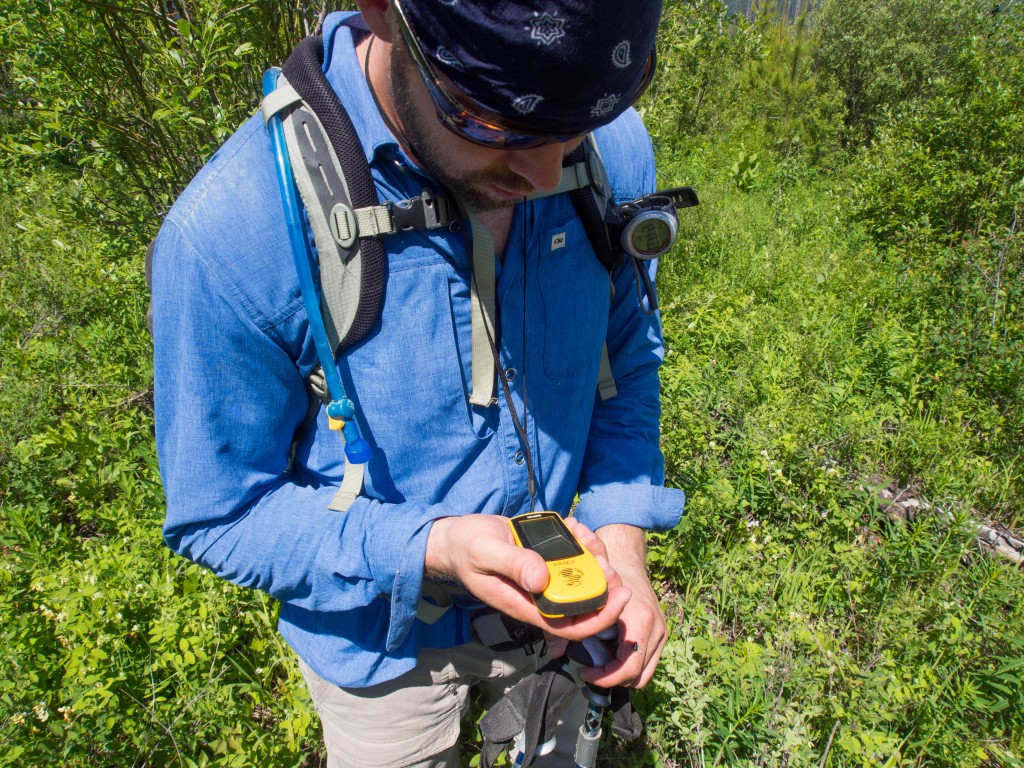 As we B lined it into the Anaconda Creek valley we passed an enormous old Beaver Pond.
This scum pond was the only water, so we declined in hopes of arriving to Lilly soon.
We were both almost out of water but you can't go drinking out of a beaver pond…
So, hot, dehydrated and hours in I started to get cramps in my hamstrings.
I was pouring powdered Gatorade in my mouth and swigging it down with what water I had left.
Cramping in the middle of nowhere is not alright.
I'm pretty sure I ingested 83 servings of Gatorade that day.
It was ridiculous.
Out of water and hobbled we came over a rise to see a very non-descript pond.
So much work for a puddle!
We left trail at 9:30am and got to the lake at 5pm.
Seriously?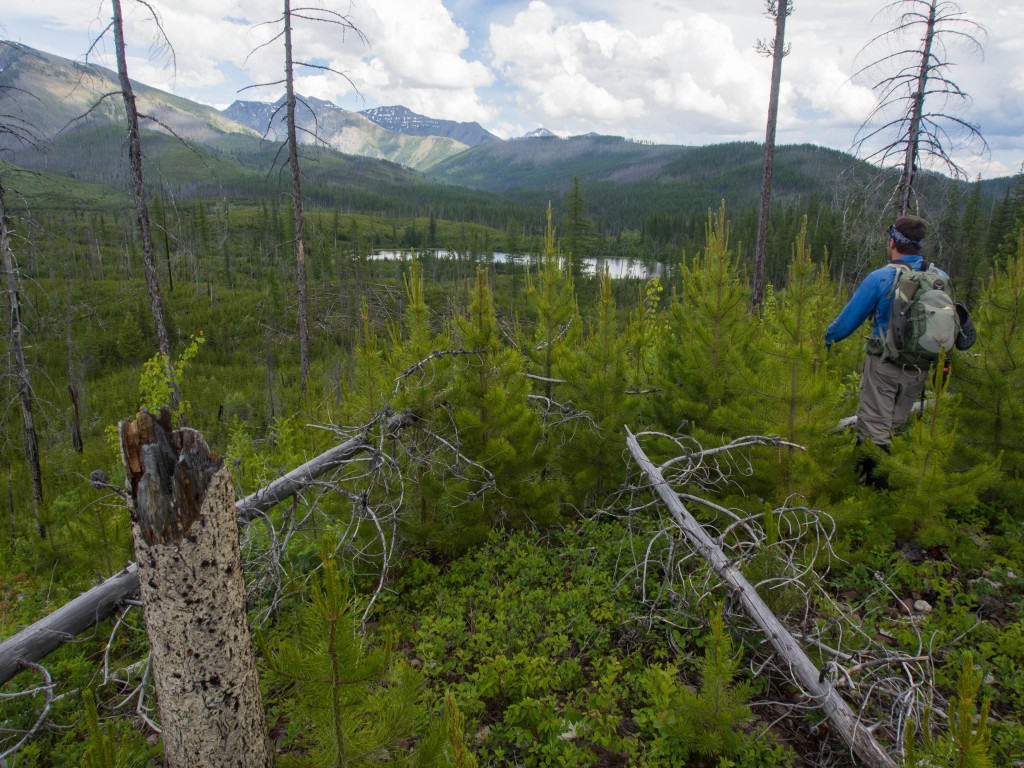 We went into our hyper-efficient lake dip, water pulling, Gatorade pounding, food devouring mode which took 30 minutes.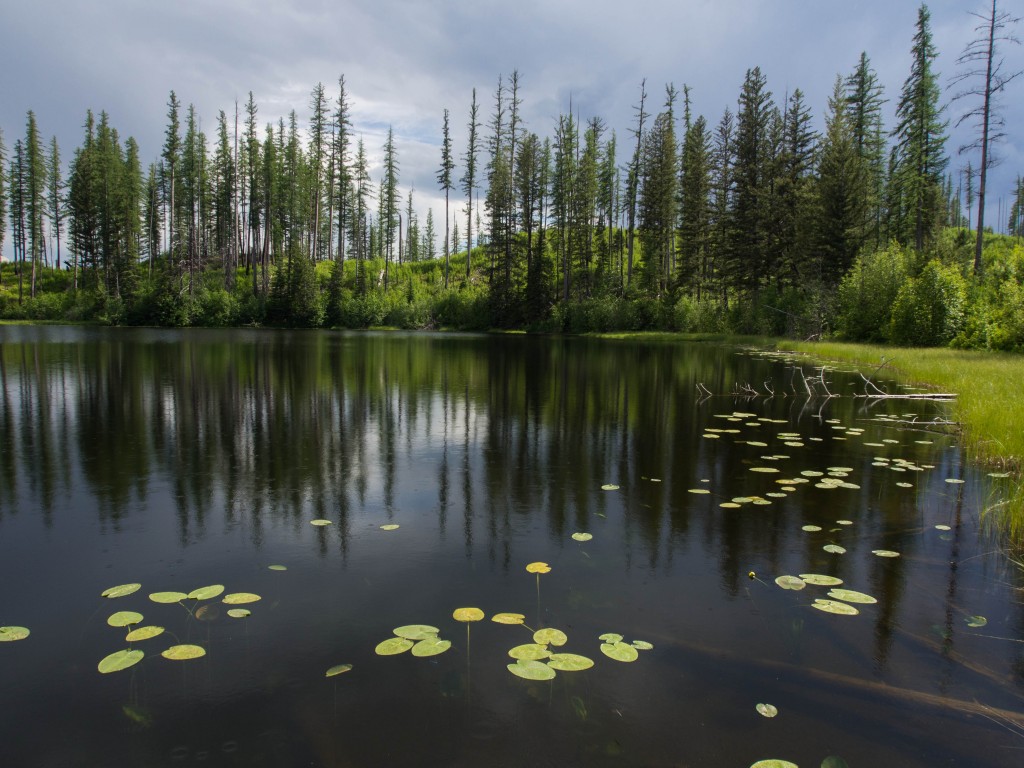 I'm glad I didn't actually see the leeches until after I had slid my body in using a gooey old tree to keep myself from touching too much of the decaying lake bottom.
All that work for a 30 second photo op and some stinky swimming trunks.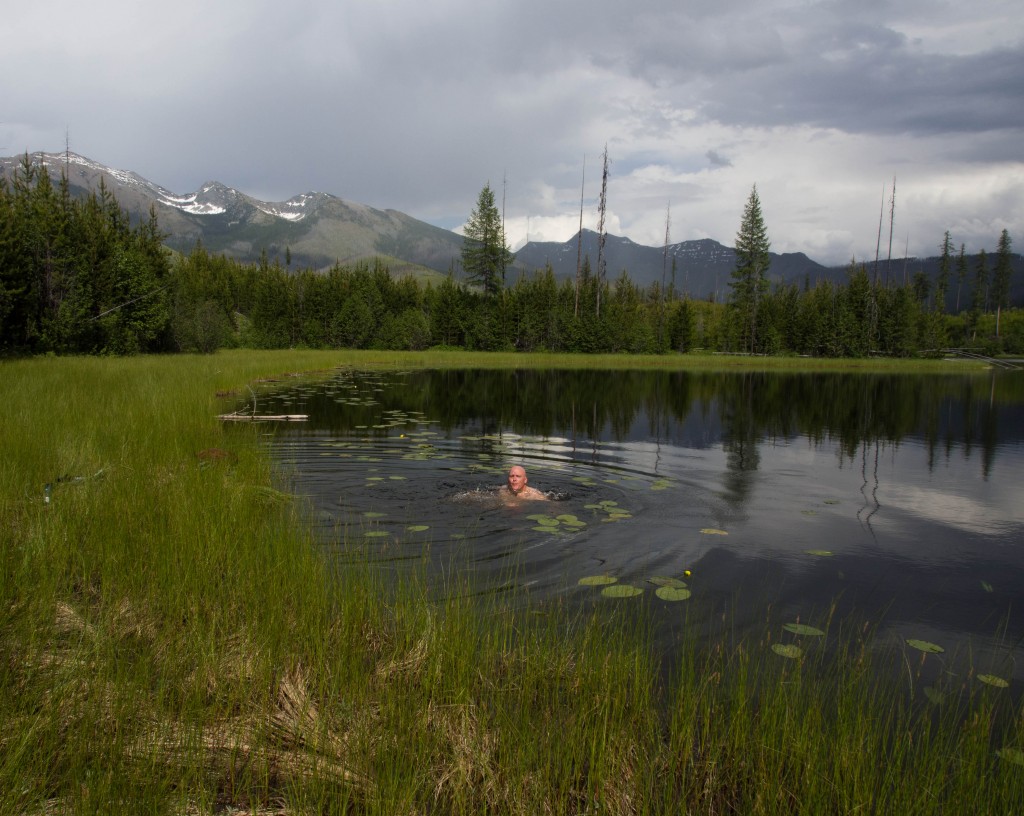 So, wrinkle after wrinkle, baby pine after baby pine was plodded out way in reverse.
Clouds gathered in the Northwest but didn't manifest into anything much.
A thunderstorm actually cooled us off a bit, but was short lived.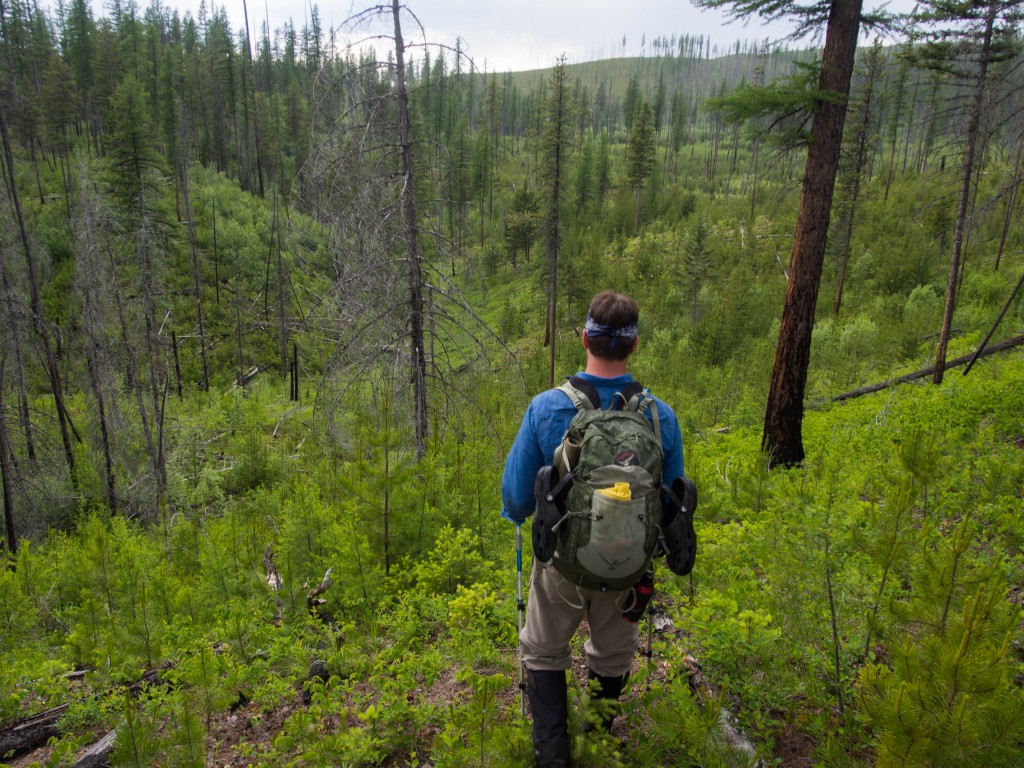 I'm just thankful that we did it when we did, because the next day started the 4 day monsoon that flooded out Calgary.
We got to the saddle of Adair ridge at about 8:45pm or so… and dropped downhill towards Logging lake.
Best possible option was just to hit trail before dark, which we just did.
Thanks to the GPS we were able to cross the creek at approximately the same spot with the old bridge supports.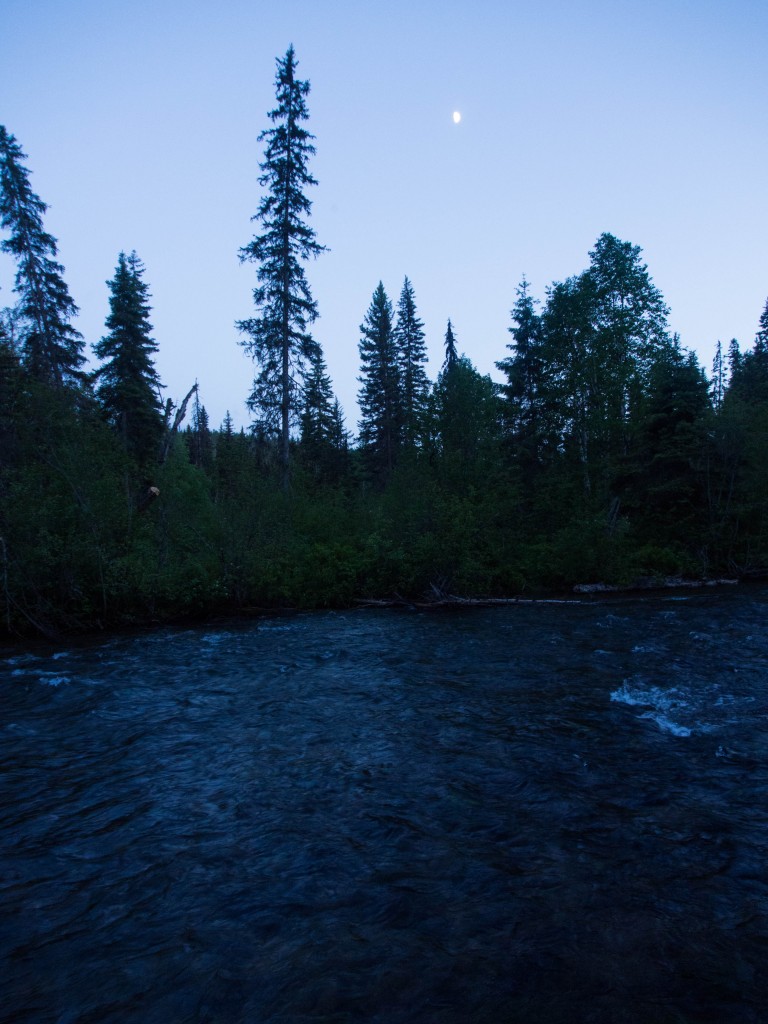 Dusk was turning to plain dark when we finally popped out on to trail at 10pm..
We were daffy but ecstatic.
The large moon helped us for a little bit but mostly we hoofed the five miles back in the pitch black.
We hit the trailhead and my car at 11:45pm.
Almost 16 hours in all…
The drive out to civilization took forever!
It was 2 hours later when we finally stopped for food at the Super One in Columbia Falls.
My eye had been kind of bothering me for hours now.
So, I looked in the mirror and found dirt and an old brown tree needle in my eye.
I was able to pick it out and all is better, but WOW!
What a Bushwhack!
Honestly I'm just really glad to have this lake done.
I wholly recommend NEVER going anywhere near this place.
I certainly will never go back.
It wasn't the prettiest, the most dramatic, the most animal filled or even much fun…
Despite all of that, I still feel extremely lucky to be able to live and test myself in a place so profound.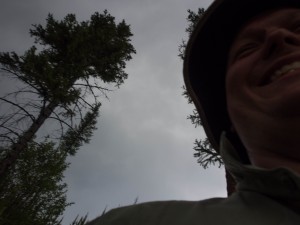 Plus, it's one more off the list!
Eight Left!
Thank You Pat!
To Life!
Marc Ankenbauer