NOTE: The Missoulian article that was written on March 11th, 2013 about the lake project stated that I have 10 lakes left, but up till now the website count still said 11 left.  Pat and I got Bench Lake done right before I left for Antarctica and I was never able to get the story posted before I was whisked away to the Great White South.  So, many months later…Here goes Bench Lake…
Bench Lake has been one of the "hardest lakes"  on my list since the inception of the project.
Since I never know exactly what these places will be like, I can only guess at any point on which is "the hardest lake left".
The "crux" has ebbed and flowed as I checked off lakes, although Bench has stood atop this list for some time.
While this lake was physically very difficult, the logistics made it even harder.
Before our feet even hit trail we had to travel hours and cross two border crossings, one by car and one by boat.
The trip begins by driving to Waterton National Park in Canada.
From there we took a tour boat down Waterton Lake to a place called Goat Haunt which is back in the United States.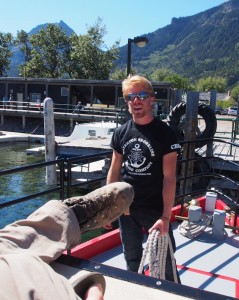 My good friend Keith works on the MV International.
It is the Waterton Shoreline Cruise Company's pride and joy tour boat.
This historical wooden vessel is 85 years old.
There is no classier way to enter the United States.
Halfway down lake, the boat crosses the U.S./Canada border which is designated by the border swath.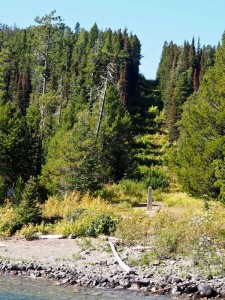 This is a 100 foot wide clearing that runs the length of the border from Atlantic to Pacific.
Trail crew clears it every few years to keep Mother Nature at bay.
Pat and I have entertained making a website entitled "where I ate my lunch".
This photo was taken as we enjoyed the most lovely border crossing in the world.
We even had chips…  Two kinds…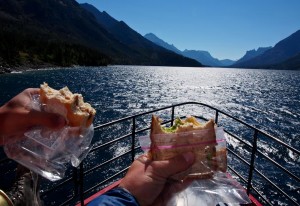 At the southern end of the lake, U.S. Park Rangers and Customs Officials were there to welcome us back into the United States.
They are only welcoming between 11AM and 5PM though,  and don't forget your passport if you want to enter!
The tiny Ranger Station is referred to as Goat Haunt.
The custom goat weather vane makes it very clear where you have landed.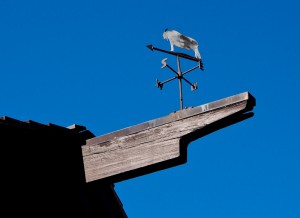 I had forgotten my trekking poles and the kind Park Ranger allowed me to use a mismatched pair they had in the corner.
Thanks Nice Park Ranger!!
Before we left Goat Haunt, Pat and I stopped by and saw the horse corral.
Pat is neither this small nor is this horse this big.  I swear.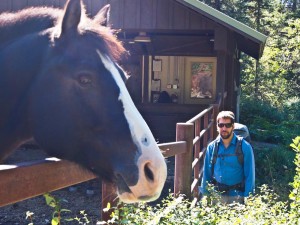 Goat Haunt is the northern terminus of the Continental Divide Trail which leads from Mexico to Canada.
The trail head sign leading south shows the official CDT emblem.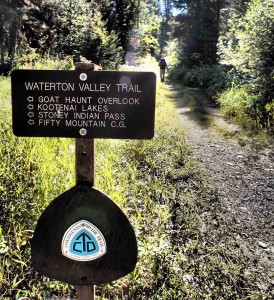 We happened upon a few very excited CDT hikers who were only miles from completing the journey of a lifetime.
Congratulations on your accomplishment folks!
I'll raise my glass while you put your feet up.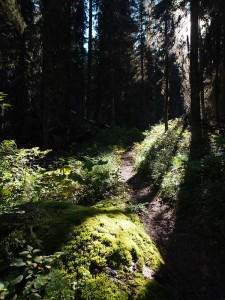 The trail meanders up valley through some of the thickest forest in the park.
Glacier National Park is the wettest part of the entire continental divide and the thick undergrowth and forest in the area show it.
Tomorrow's objective is tucked into the side of Kootenai Peak.
The waterfalls draining Bench Lake become the Waterton River 3000' below.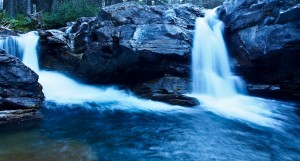 It pools a bit to form Kootenai Lake and then rolls onward into Canada and beyond.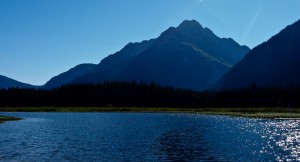 Night fell as we pondered the tomorrow's logistics.  Fingers Crossed!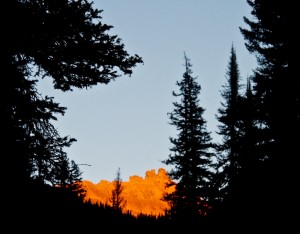 A cold but clear morning met us as we hit the trail early.
The bridge crossing Pass Creek made a nice spot to have a snack.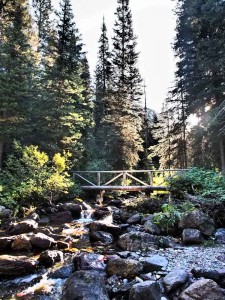 Eventually we struck off into the head high brush instead of continuing on-trail towards Fifty Mountain backcountry campground.
From here, we are talking thick, thick vegetation!
I've had conversations with researchers who agree that Goat Haunt vegetation is the thickest they have ever experienced.
Pat and I found an opening to survey our route options.
The direct frontal attack toward the lake looked horrendous.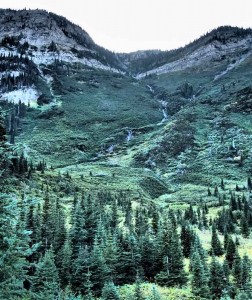 We knew any route would be bad, but this looked worse than necessary so we continued up river.
We headed down a dry creek bed that would have been fine for a garden gnome.
Anything that would get us a moment of reprieve from plant material.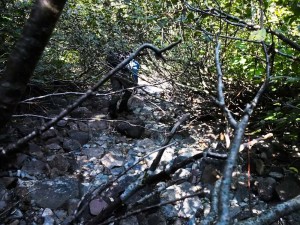 The dry creek bed led us to the Waterton River and a very manageable late season crossing.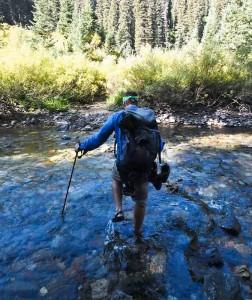 The river and all the waterfall chutes we need to work through would be terrible with higher water.
After crossing we dried our feet, put our boots back on and ate a little snack.
We stood in a meadow staring at what would prove to be the worst part of the whole trip.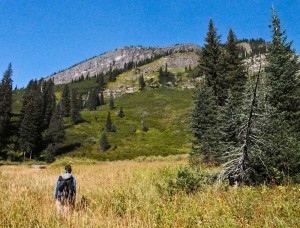 We had a couple thousand feet of what I guess to have been 50 degree angle alder slope.
We literally had to pull ourselves up branch by branch as we were swallowed on all sides by plants.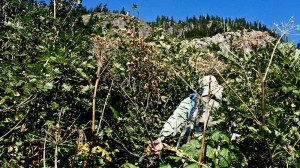 The limbs were interwoven so tightly we literally had to undo the weave to push through.
We had to watch what we were grabbing because the ground cover was made of devils club and strawberries.
Strawberries sound innocent enough but they are covered in awful little needles.
Devils Club is aptly named; it's the worst stuff around.
So if ripping and thrashing up this insane slope of crap wasn't bad enough we had thorns everywhere.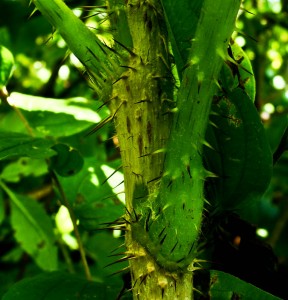 To make things worse, when we finally punched out of the alder we ended up in a steep, wet cliff band.
This is where Pat steps up in like Superman.
Although he has taken to wallowing around in plant material, bushwhacking has always been more my bag.
He's a confident mountain goat and has "talked" me through some pretty hairy moments.
I picked lakes for a reason folks.  I'm not great with climbing.
Thanks man.  I owe you big time.
How about a tall Rouge Voodoo Donuts Bacon Maple beer and a cigar?   Deal!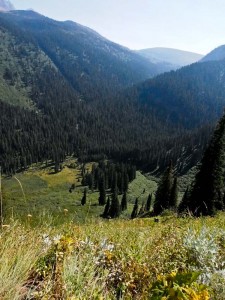 The slope above the cliffs was insanely steep and we had to bear crawl our way up.
Anyone out there that played football, remember bear crawls?
Now try them with a freaky cliff below you on a slope of hard pack dirt and scrubby plant material.
I was grabbing tiny plants and hoping they held as I tried to just keep my feet moving.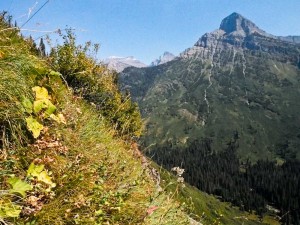 Eventually we popped out on the ridge and things calmed down a bit.
Hoping for a view of the lake we plodded through off angle bear grass and intermittent cliffs.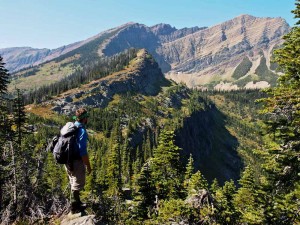 From the top of the ridge we realized that we still had plenty left.
The lake is tucked at the bottom of the main headwall of Kootenai Peak.
Envision that the lake is in the bottom of the pocket of a molar tooth.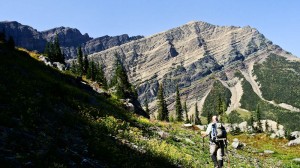 We knew light was going to start becoming an issue so we double timed it to the lake.
Eventually we were greeted by profoundly beautiful turquoise water.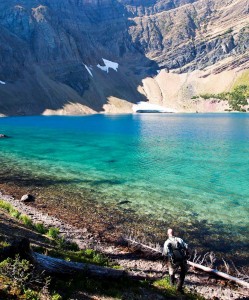 In a rush we both mowed our lunches.
Pat pumped a bunch of water as I got ready to hop in.  .
The lake felt great and helped get the seeds and debris out of my ears.
Seriously though, this was monumental for me.
At the time we were focused on the situation at hand.
But,  I'd been waiting for this moment for a long while.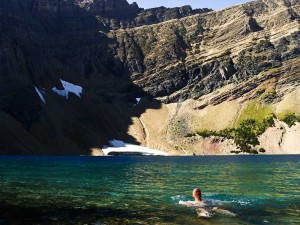 This was BENCH LAKE!!!  My long time arch nemesis!
This thing had been staring me in the face for years.
As I knocked off other members of the "Top 20 List", or wallowed into other lakes in the Goat Haunt jungle, I was always waiting for this moment.
Plus, I now had 10 lakes left.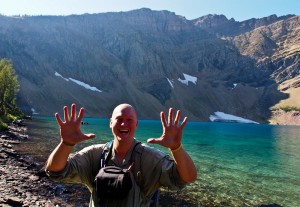 What a great number.
Ten.
How simple and straight forward.
I had ten left.
Not, 67 or 93, or 126 and certainly not 168.
But, 10.
High Five, Bench Lake!
But, now we had to get back before nightfall hits the alder thicket.
We will celebrate later.
The lighting got more and more amazing as it got later than it should be.
We stared off from an odd vantage point in which most never see.
We looked directly across at the parks high point, Mt. Cleveland.  All 10,461 feet of it.
Next to it stood Stoney Indian, Cathedral and Wacheechee Peak all surrounding Stoney Indian Pass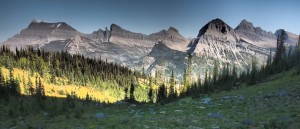 We gazed North into Canada past the Porcupine Spires, Kootenai Lakes and Waterton Lake.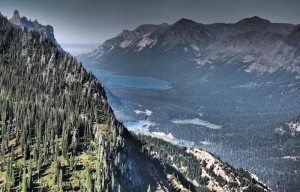 I saw the tour boat leaving Goat Haunt which meant it was 5:30.
And it was not getting any earlier.
As we cruised south along the ridge we stared off at the mountains that shadow the northern Highline trail.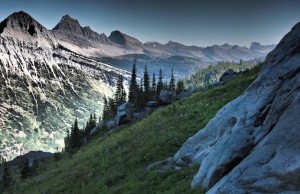 To the West was the remote upper Waterton Valley with Nahsukin Lake, Vulture Peak and the rest of the Livingston Range.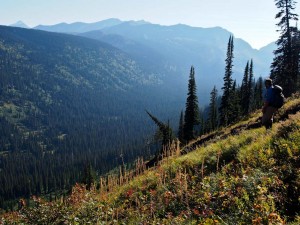 Keep Moving!
Down a steep rocky chute to gain the correct exit ramp.
Keep Moving!
Try to stay upright sliding down slopes of uneven bear grass.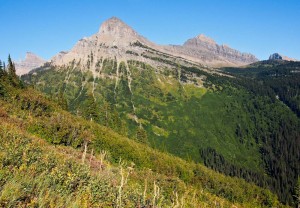 We walked the ridge further south so we could bypass those blasted cliffs.
Keep Moving!
Back into the thickest alder on earth.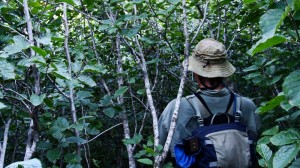 We weren't even touching the ground at a lot of times.
Keep Moving!
Two daffy goof balls yelling "Hey Bear" and laughing in that not totally there kinda way.
In the end our pants looked like we did battle.
A Vegi battle.
A Waterton River Vegi Battle.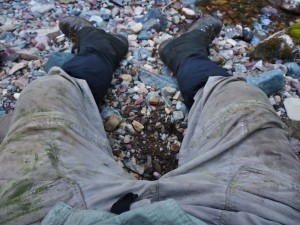 Once we hit Waterton River we knew we were going to be alright.
We moved happily back towards camp which was still miles away.
We weren't in alders anymore and that's all that mattered.
I would like to thank Waterton Valley for safe passage.
She allowed this to happen and I'm forever grateful.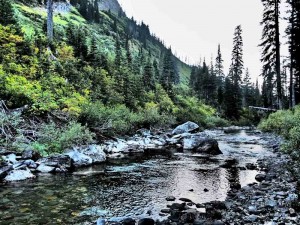 I still can't believe that I've only got 10 left.
I've been waiting for this moment for such a long time.
This project may seem goofy to some of you.
And, while that may be true…
It has taken a whole lot of dedicated, sweaty and painful Goofy to get to this point.
Most of all, Thanks be to Pat.
I couldn't have done this without you.
You're the man!!
Now let's revisit that horse picture.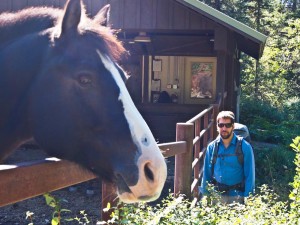 To Life!!!