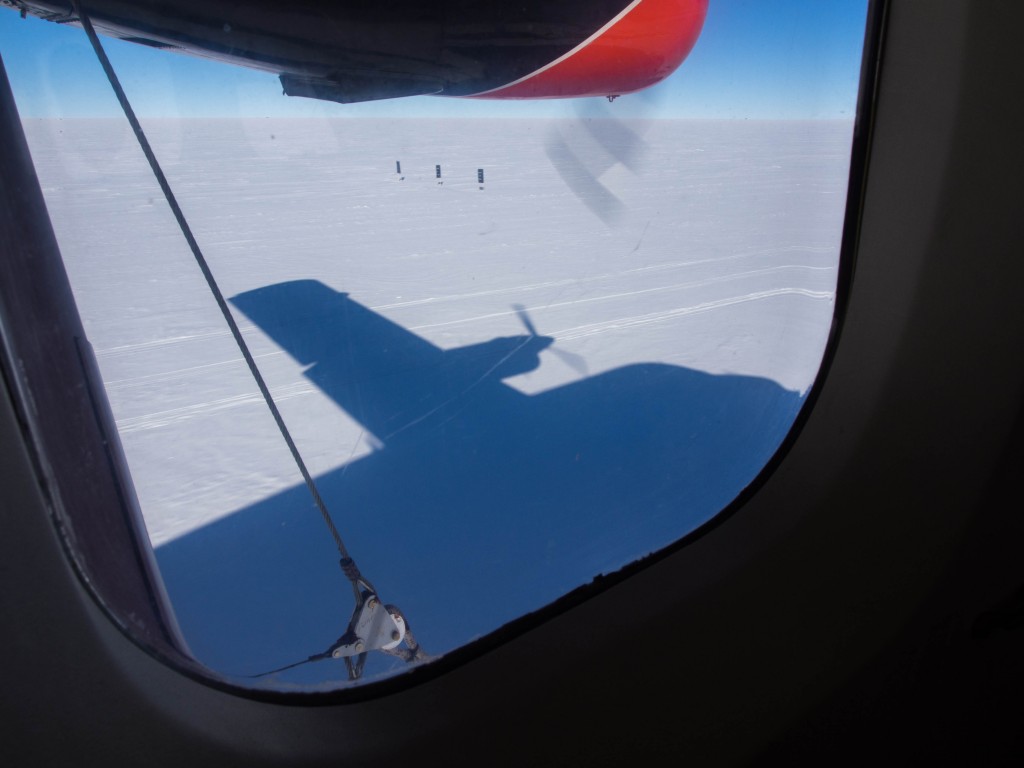 Christmas Eve, one year ago, was profoundly different than today's.
Christmas 2012 was spent with two friendly and brilliant, albeit quirky engineers from New Jersey, in the most remote place on earth.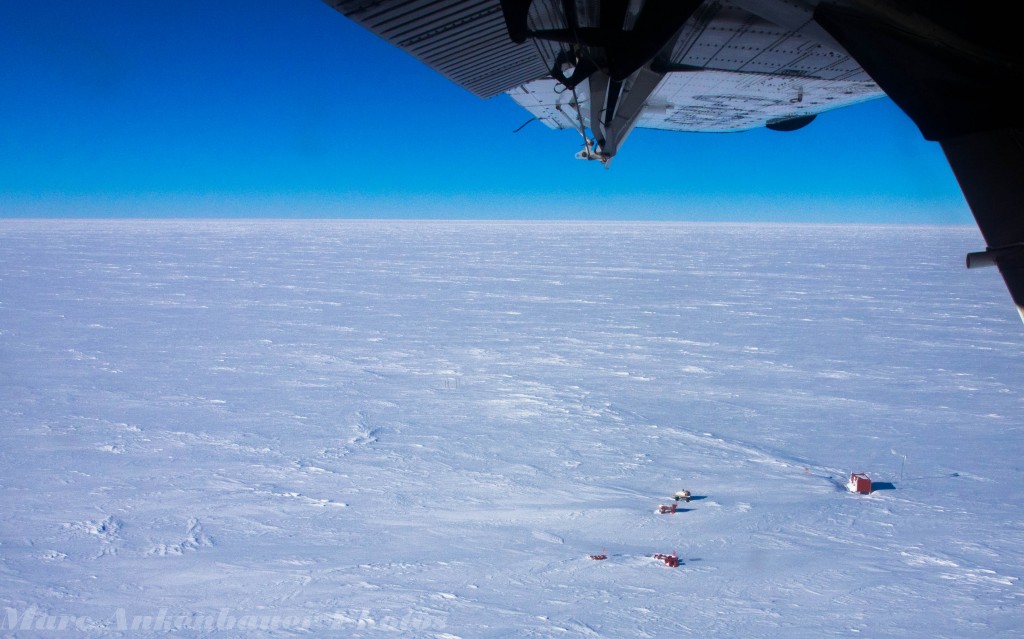 By the time Christmas rolled around, we had become friends.
They are great guys.
We had a fine time.
But, I can't imagine a more bizarrely placed Christmas will ever befall me.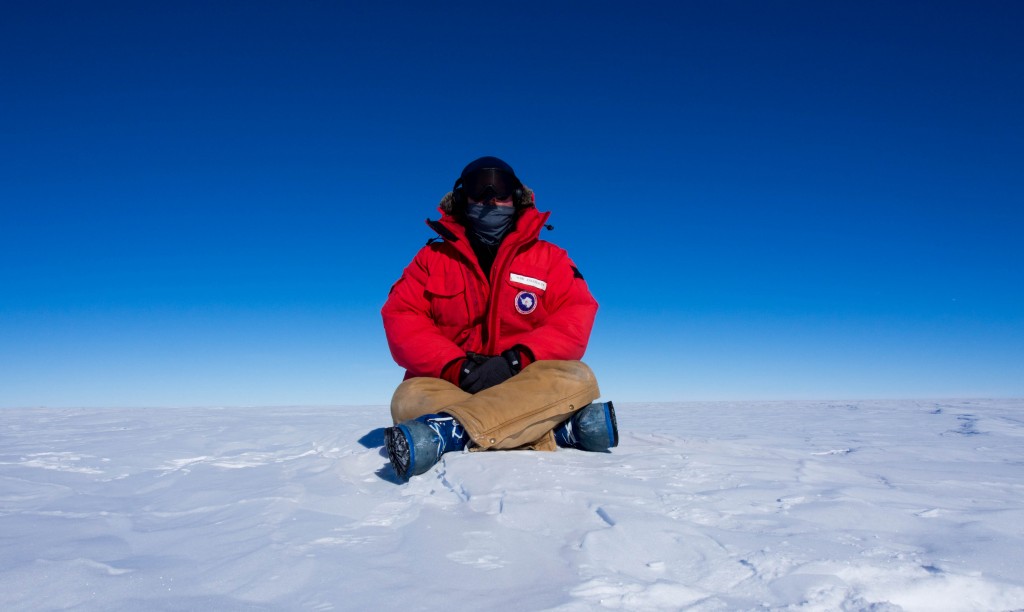 Bob and Andy are the engineers for the AGO project, which work on and stay at five remote  camps in the Eastern Antarctic Plateau.
I was their Field Camp Coordinator.
They've spent a whole lot of time holed up at these "camps".
During my season, we never broke ten days at any camp.
But, they have been stuck for two to three weeks before waiting for a pickup.
The name of the game in Antarctica, is patience.
You have to be ready to make the most of your time while marooned, no matter where or when it happened.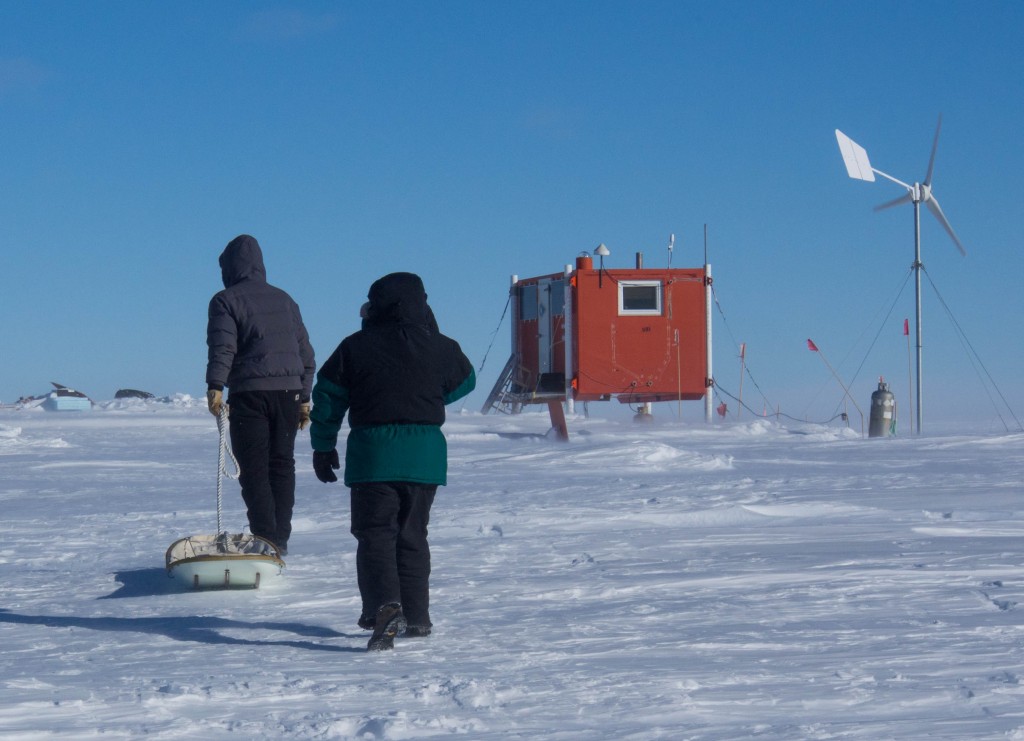 The AGO sites aren't even field camps, they are dots on a map…a very, very small dot.
They consists of an 8' by 16' building that resembled a red single wide trailer on stilts.
They are made of five inch thick fiberglass insulation and closed up with a freezer door.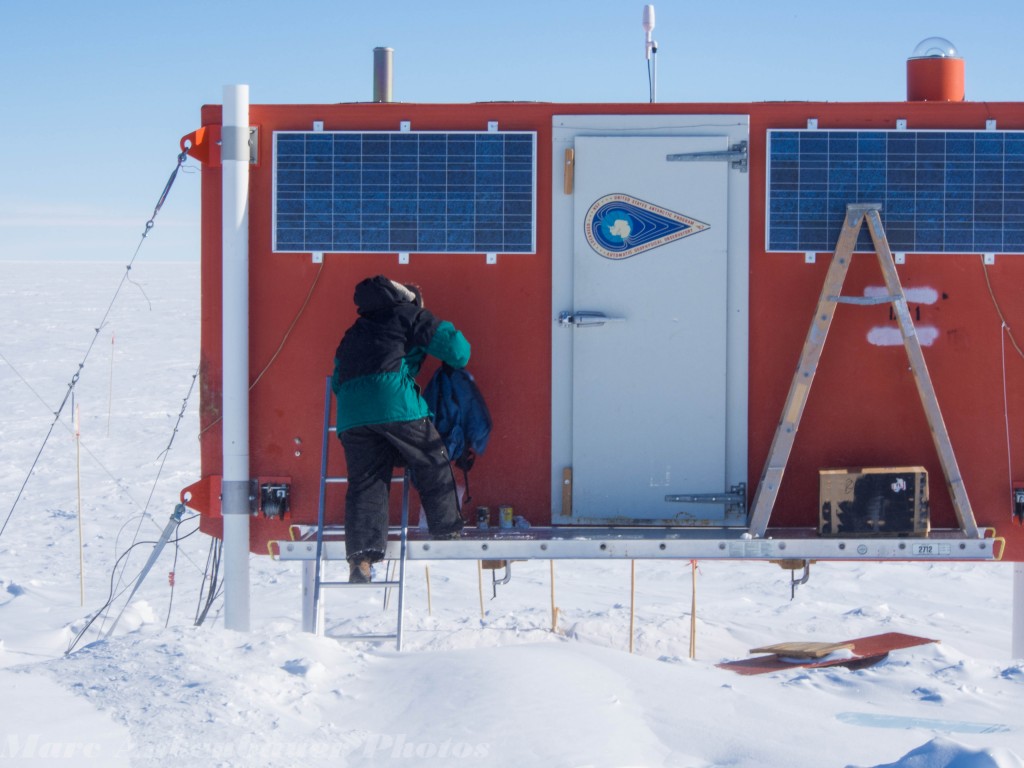 A wind turbine and propane heater, make it a manageable temp inside.
Eventually, that is.
When we arrive it is -25F inside, just like it is outside.
The structure holds all the electronics, but doubles as a tiny common area.
We sleep in two person mountaineering tents in the "front yard" and use the building to keep warm during the day.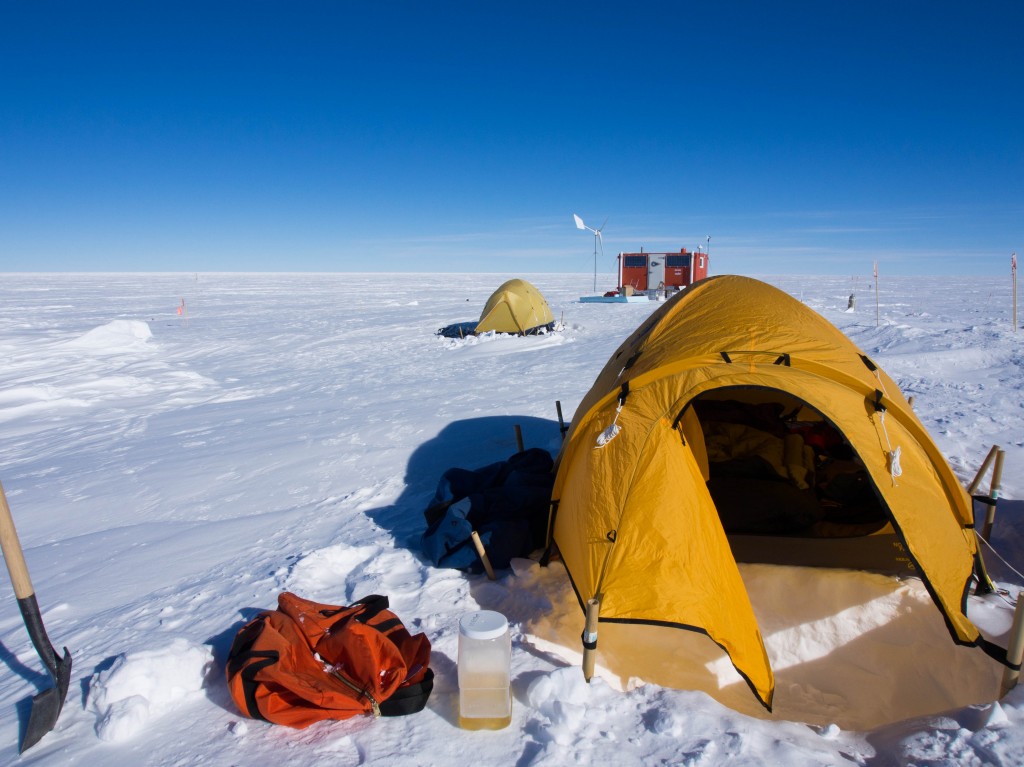 There are five of these structures,  and they were placed strategically throughout the Eastern  Antarctic Plateau.
Well, there is actually six of them.
The sixth one got covered by blowing snow and has since been lost in time, never to be unearthed.
Crazy!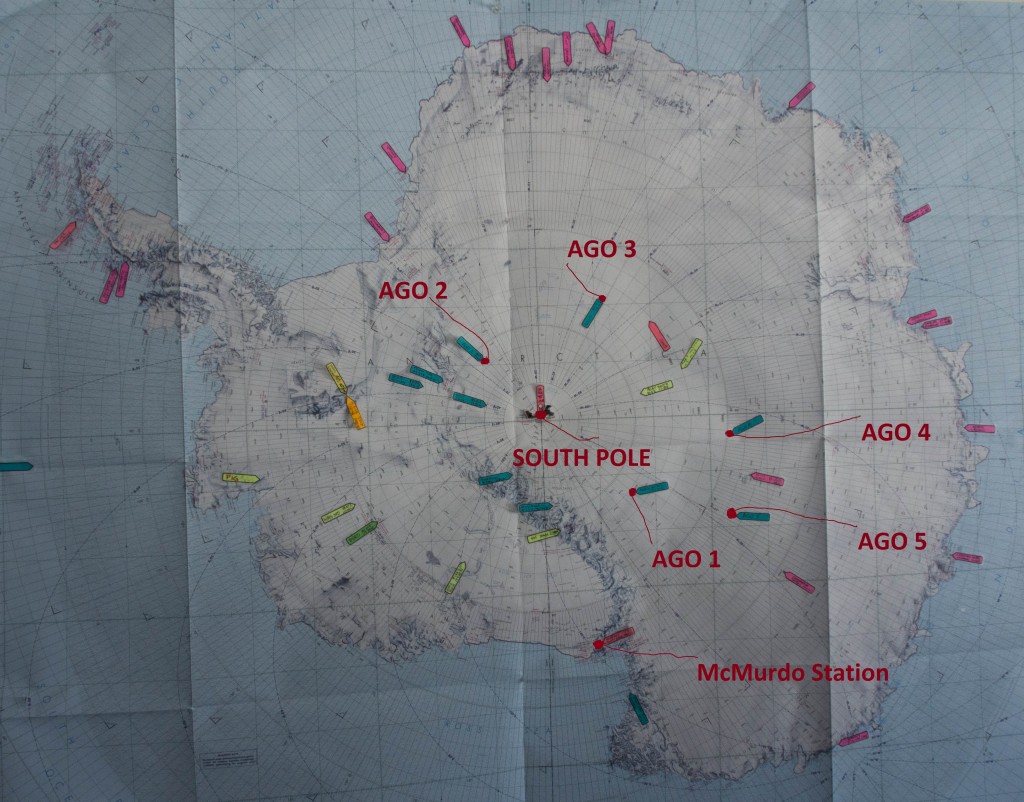 We had been dropped off at AGO 1 by a Twin Otter, along with supplies and gobs of electronics.
We had all of our work completed after about four days, and were ready for pick up.
But, it was now day nine.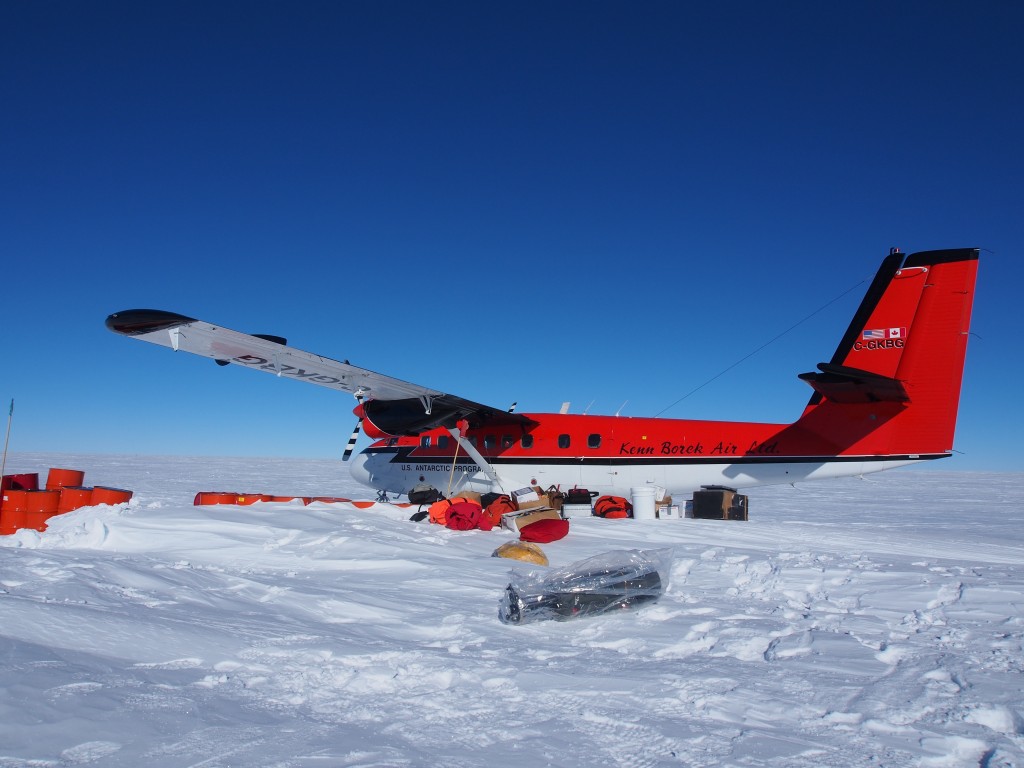 We had plans of spending Christmas at the South Pole.
While The Pole, is still a wild place to spend a holiday, it is quite the event.
There is an elaborate dinner with deserts and a few cocktails.
Christmas lights line the walls and it's as "Christmas" as it can be, while essentially being in a space station.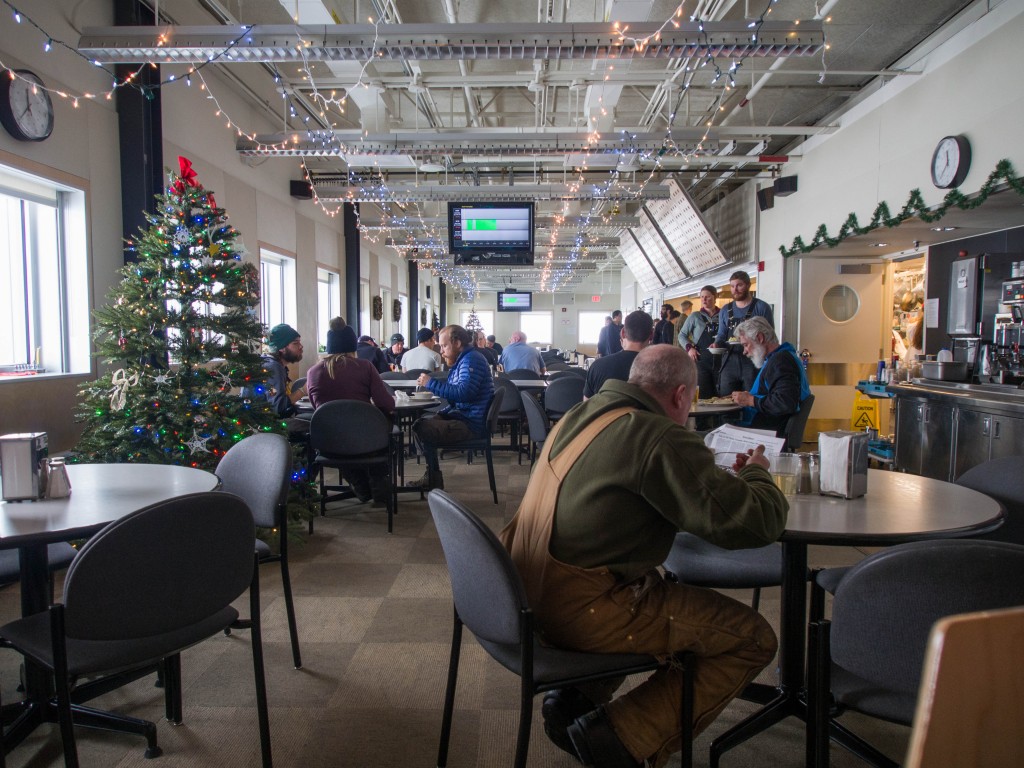 Over 150 unique and wonderful faces were waiting to eat well, and enjoy a Christmas party fit for the South Pole.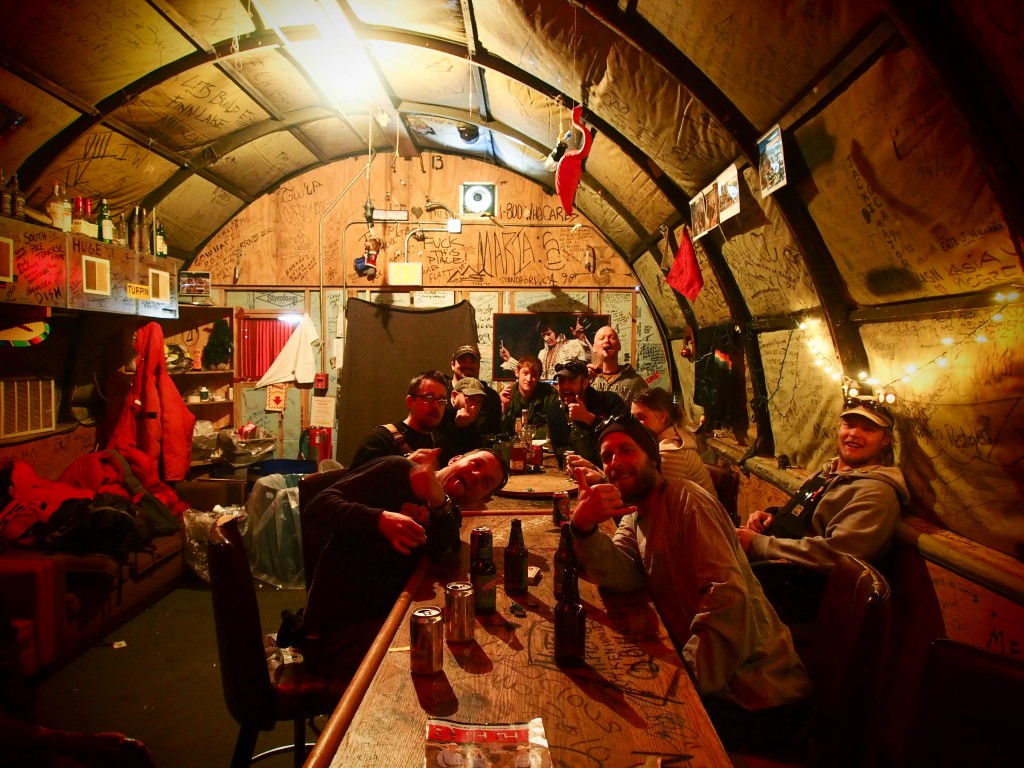 The South Pole Station even has a Christmas tree and Santa-like thing.
I don't know the dolls story, but it is odd to say the least.
The tree has been crafted out of pipes, wrenches and other odds and ends, all welded together.
That's as good as it gets,  seeing as the closest tree is 2500 miles away on the coast of Chile.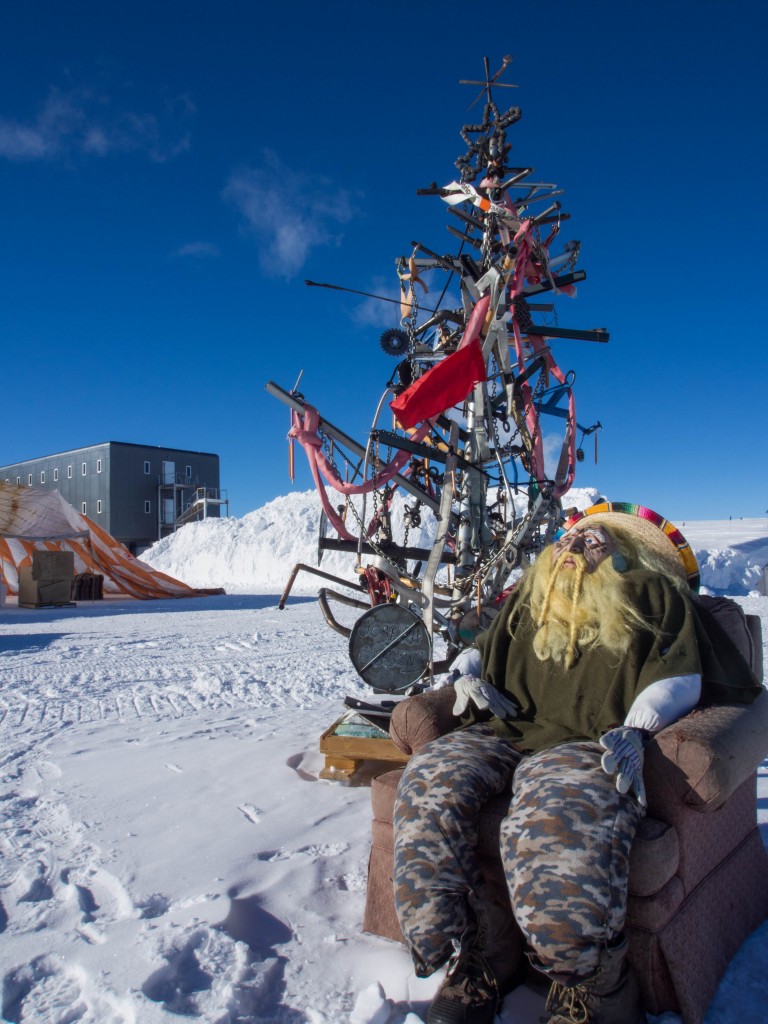 The Twin Otter pilots had plans to remove us four days ago, but a nasty weather pattern had rolled in, stranded us in camp.
Every morning, I woke up, called in weather observations and hoped to be pulled out.
With no success.
This morning was no different.
By mid morning, we were aware of our holiday fate.
We were spending Christmas at good ol' AGO 1.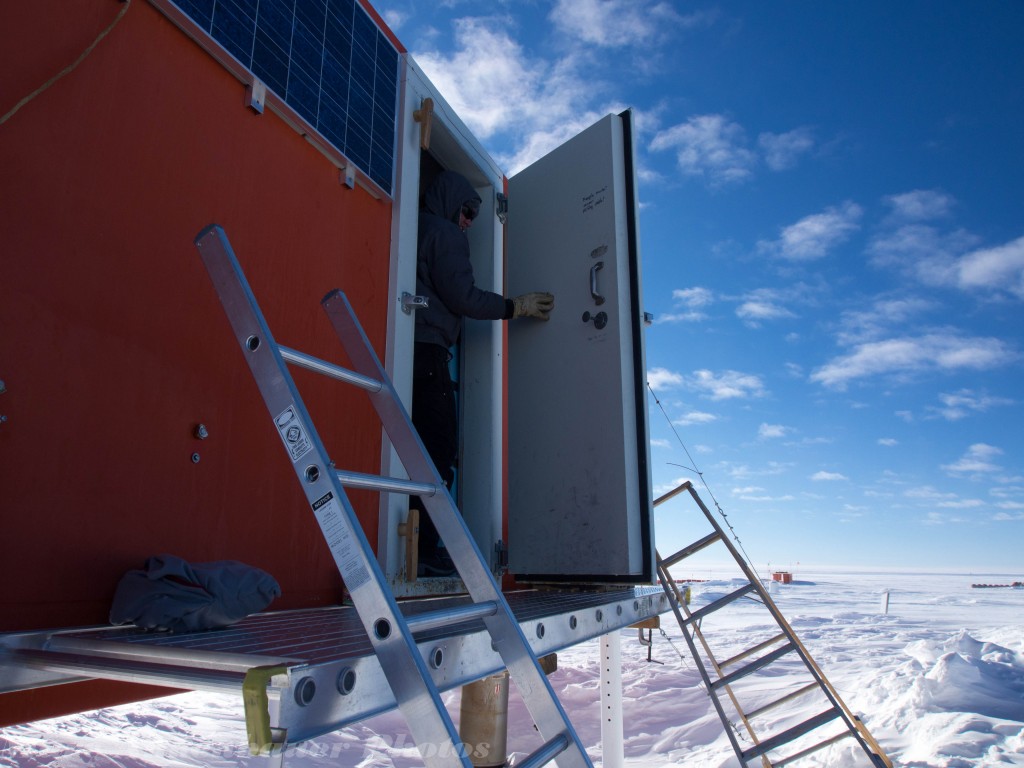 So, here we sit in the absolute middle of nowhere.
The closest humans were 500 miles away, rockin' in the holidays at the South Pole.
We were actually the only three human beings in an area about the same same size as the entire western United States…or larger.
These camps are "near-ish" to a point called "The Point of Inaccessibility".
It is the place on any continent that is furthest from a coast.
In Antarctica, that's saying a lot!
It's essentially the most remote place on earth.
And we were gonna "celebrate" Christmas in all its splendid, frozen remoteness.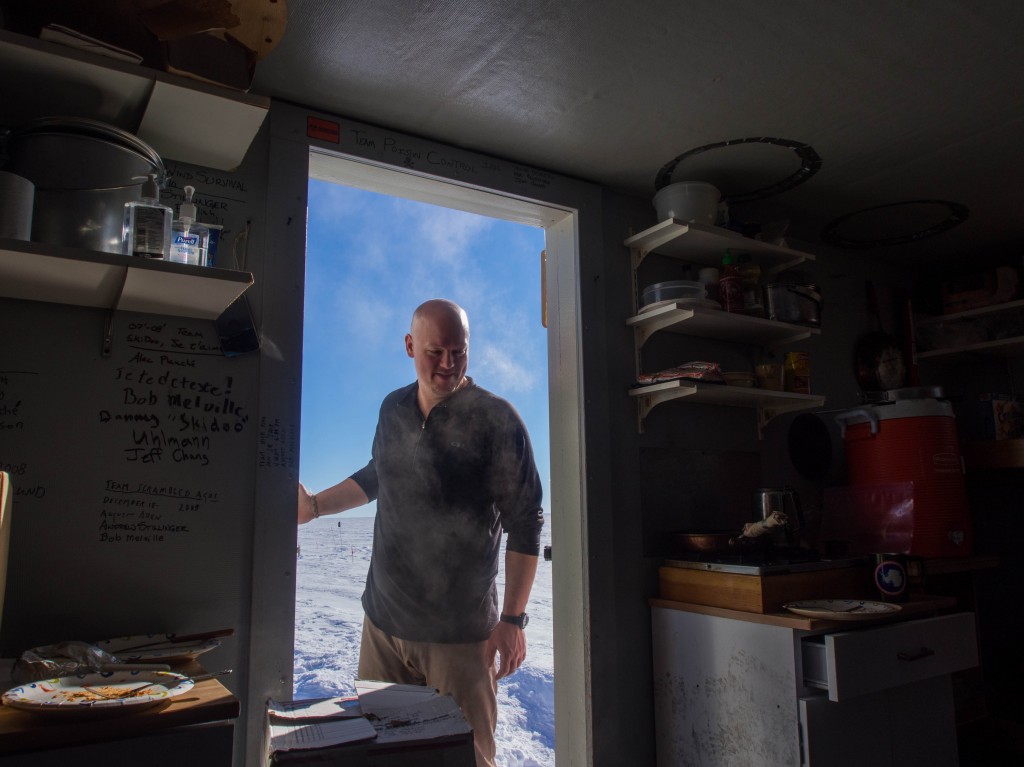 Trying to breathe a bit of normalcy into my holiday, I stole away and made some calls on the Iridium Satellite phone.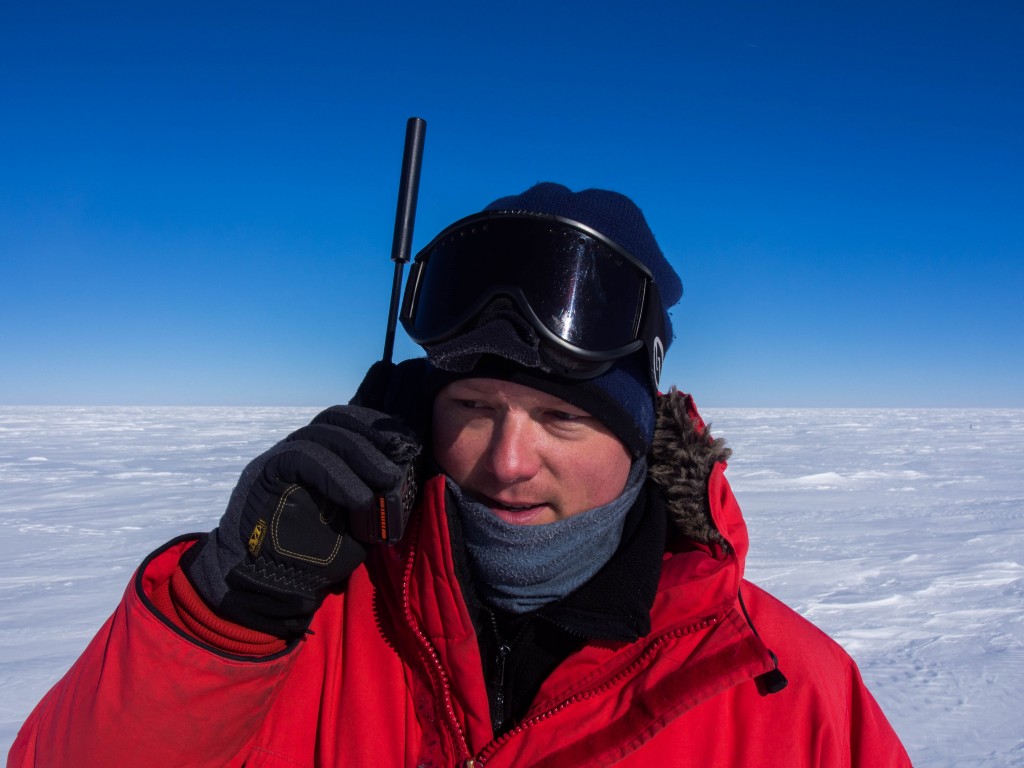 Some of you reading this, were the recipients.
I appreciate the loving conversations which for a moment placed me back home.
My tent was a lot more cozy while chatting with all of you.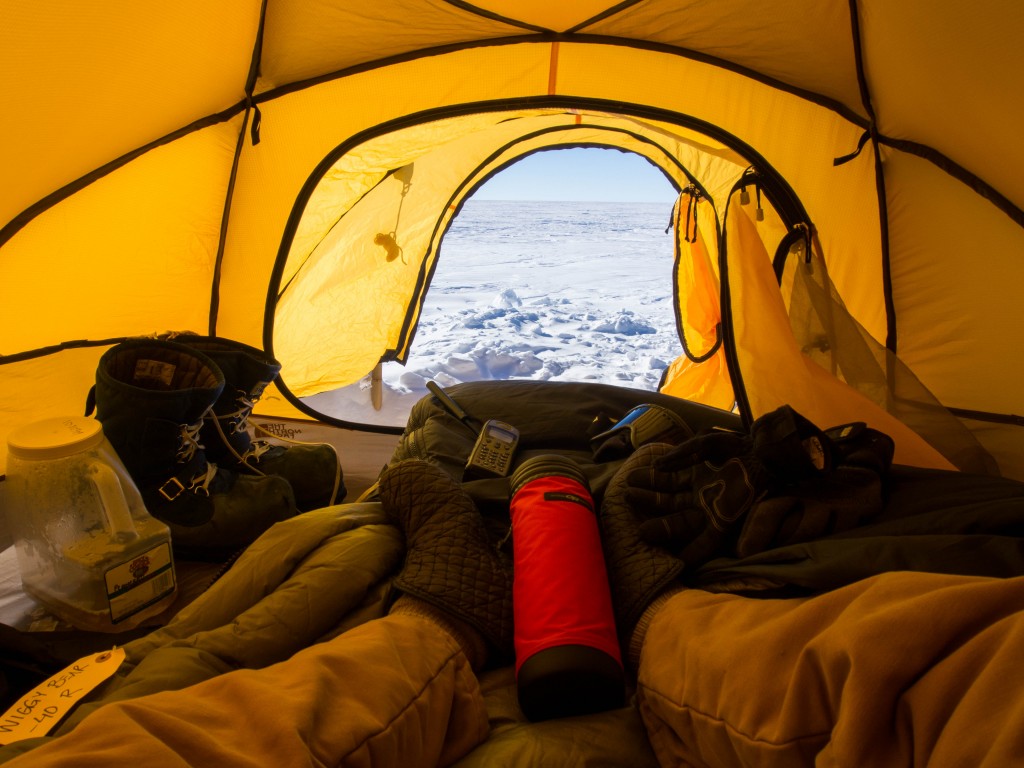 Later, I went for a meandering walk to photograph the alien, ultra white landscape.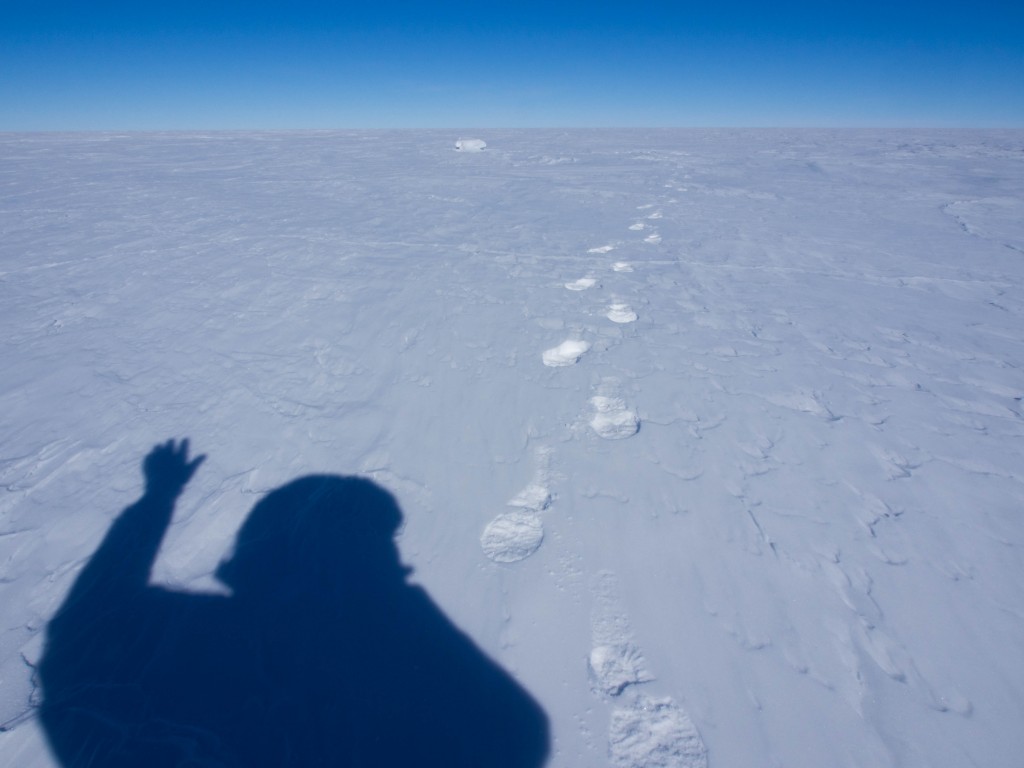 Now, it would have been nice to enjoy dinner back home, in a nice warm house.
But, I was fully aware, that this was an epic, once in a lifetime experience.
To spend Christmas in such a odd situation, is something I couldn't have even dreamt up.  .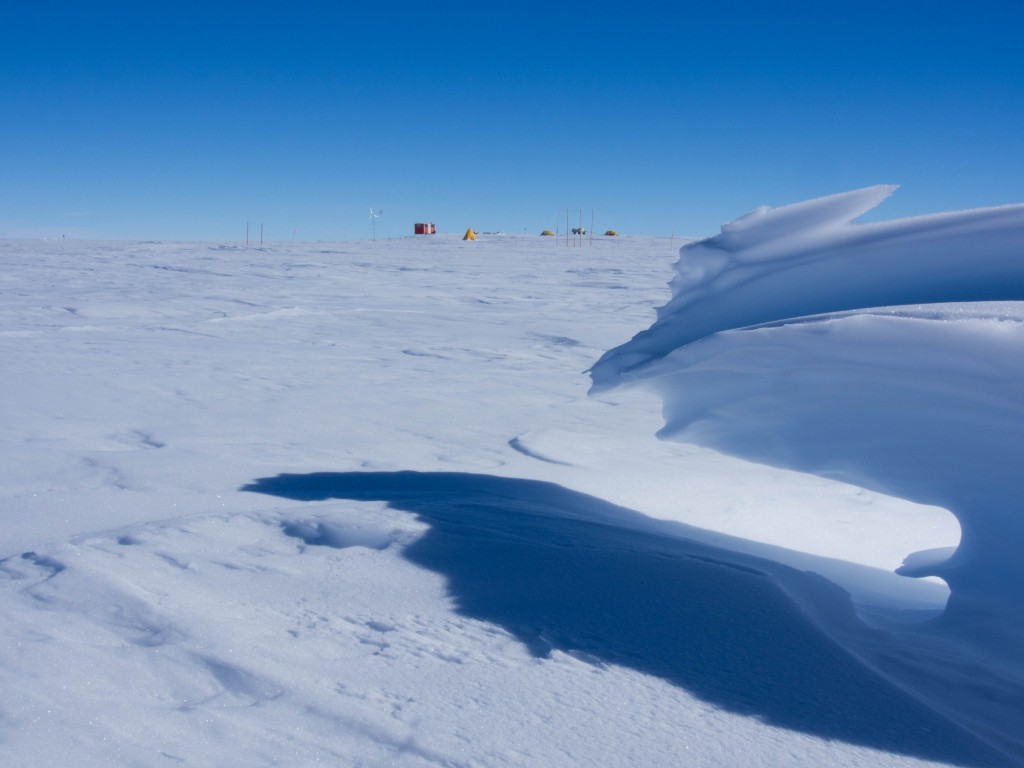 An odd phenomenon called a Sun Dog occurred while I was out wandering around.
It creates a massive ring around the sun.
I figured that was my Christmas present.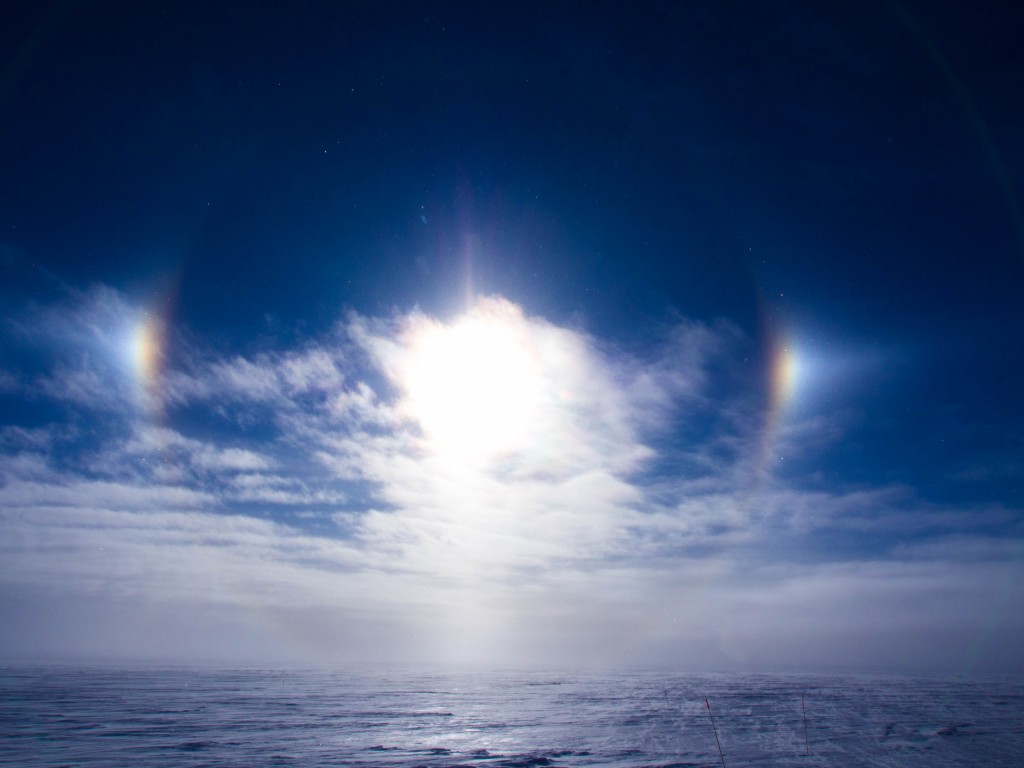 Obviously unprepared, we didn't have much of a Christmas vibe to the shelter.
We signed the wall,  making sure to point out that we were the Christmas shut in crew.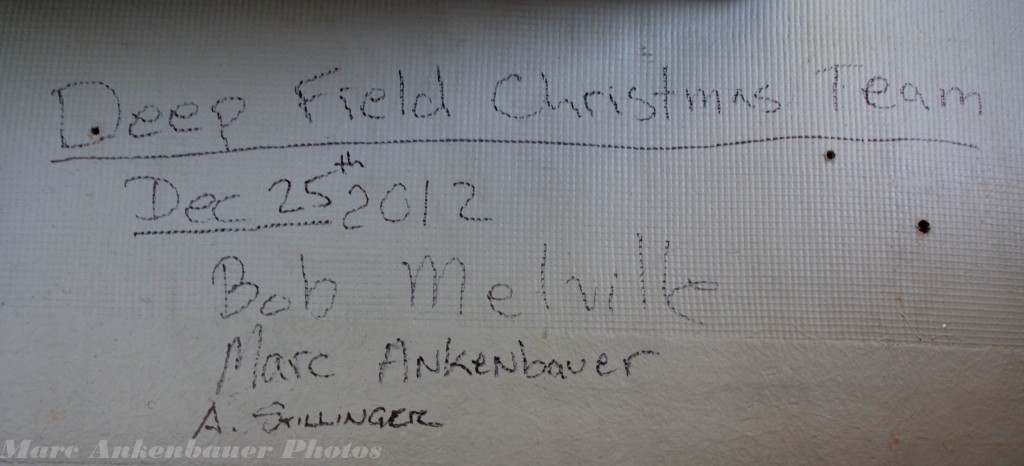 The evening was spent eating the best frozen burritos that the government can buy.
More importantly, a Christmas isn't complete without gathering around a movie while letting your dinner settle.
This time Bob, Andy and I huddled around my laptop and watched Marty McFly save the day in Back To The Future.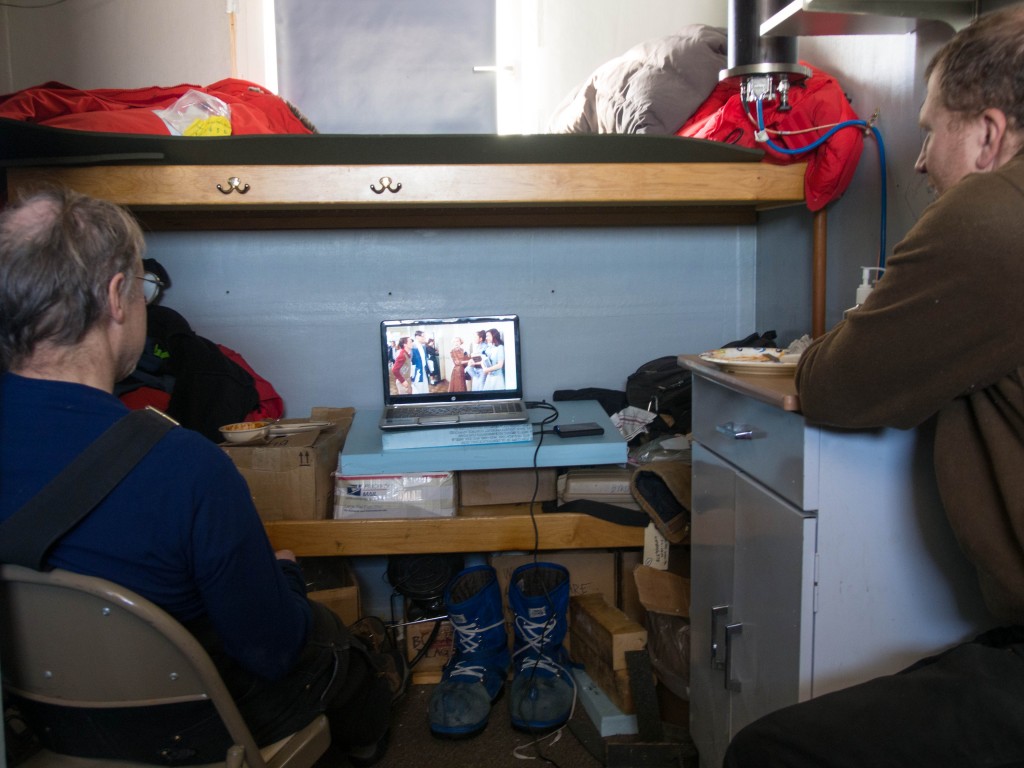 I will never forget that Christmas.
Ever.
But, Wow it is wonderful to be back in the U. S. for this round.
Ironically, the weather in the Northern U.S.  this winter isn't much more hospitable than the Antarctic Plateau.
But, it does have Christmas trees, yummy cookies, my lovely wife and egg nog.
Oh, the Egg Nog!
I hope this finds all of you happy, healthy and surrounded by those you love or maybe a dedicated puppy dog.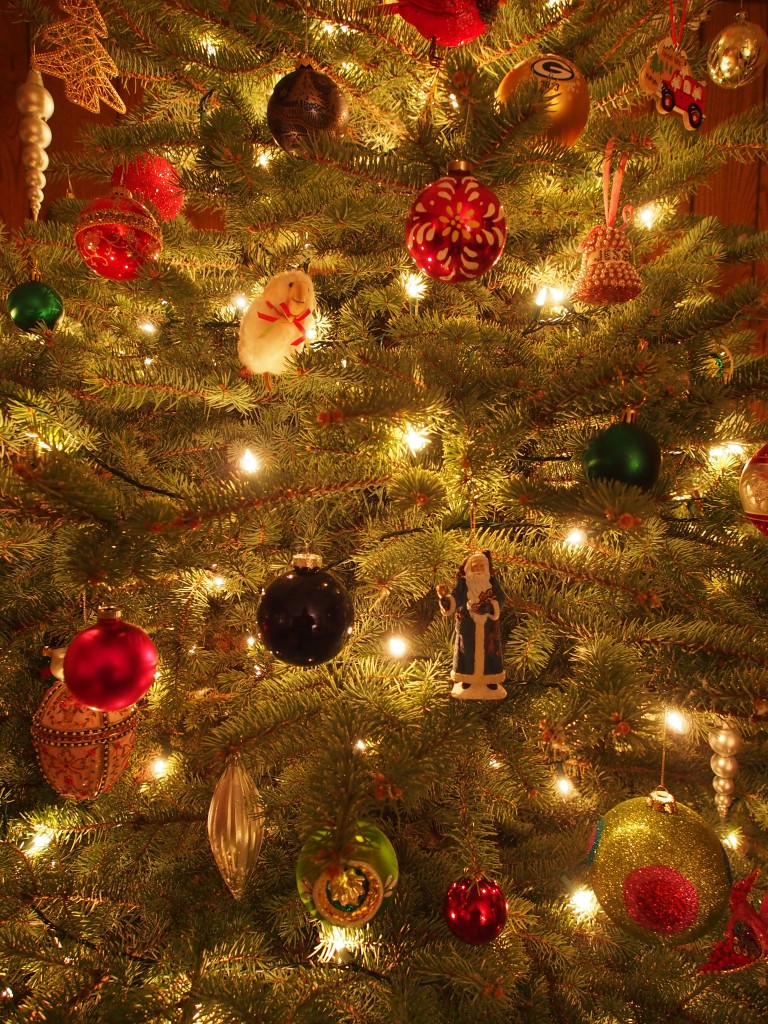 Happy Holidays Folks!
It's great to be home for this one!
(Comment Subject)
"What was the wildest, most bizarre, most remote, most unique Christmas you ever spent"!
Tell me about me it in the comments!