Remember in early July when it was like 5 million degrees in the Western United States?
Obviously an exaggeration, but it did break records in Las Vegas and Death Valley of 117 and 129 respectively.
This was also when Glacier's already hot summer took it to the next level.
It was breaking 90 daily for a couple weeks.
That is very hot here.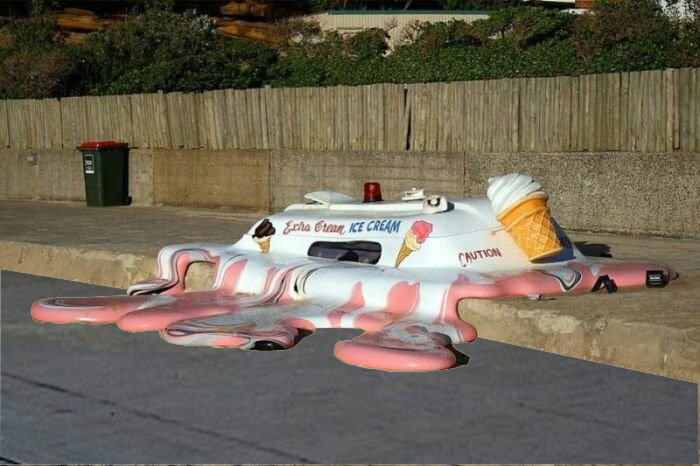 I was still recuperating from the brutal Lilly Lake outing.
And with temperatures like this, I didn't really want to hike much of anywhere.
But I had to choose something from the list.
They weren't going to jump in themselves. ..Now were they?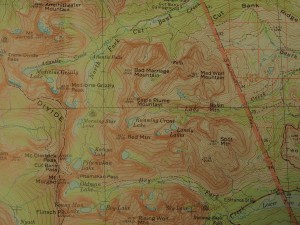 So, my friend Captain Clint and I decided that the best thing to do on a hot day was to go swimming.
Come to find out, Running Crane Lake was the cure for this summer time scorcher.
There would be very little bushwhacking and lots of lovely clear lakes.
But there would also be absolutely no shade on an outrageously hot and sunny day.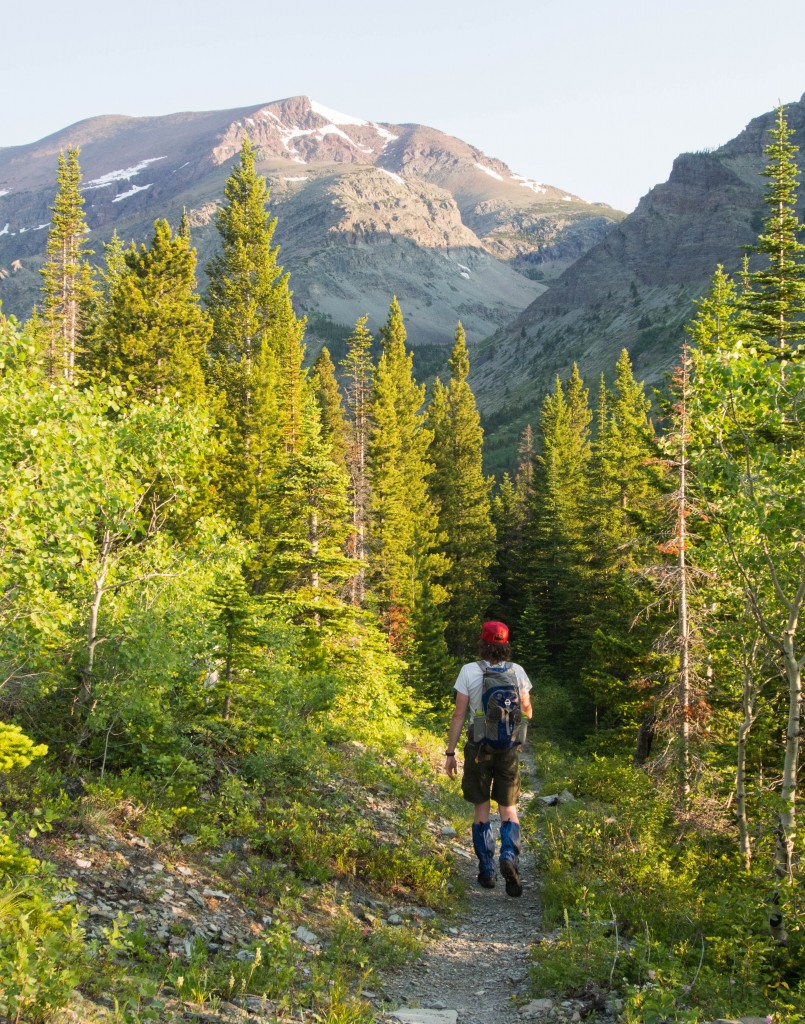 Captain Clint, is actually a Captain.
He heads the Two Medicine faction of the Glacier Boat Company.
Countless visitors have experienced the park through his brand of intimate knowledge and sharp, witty banter.
He is one of the biggest characters I've ever met and we were "goinona mission".
It was gonna be a good day…
Two Medicine to Running Crane Lake and return in a day.
And lay our overheating bodies in as many pools of water as possible.
This was our task…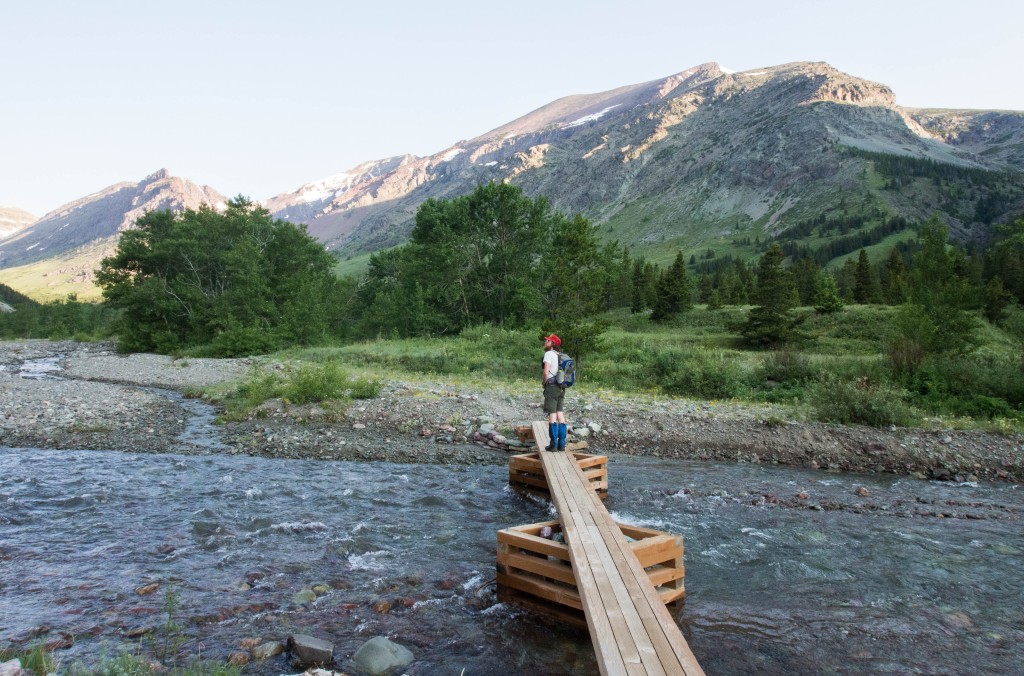 We left Two Med at 6:15am and B-lined it to the Dry Fork Junction which is on the way towards Old Man Lake.
We paused to rest by the creek for five minutes before continuing on.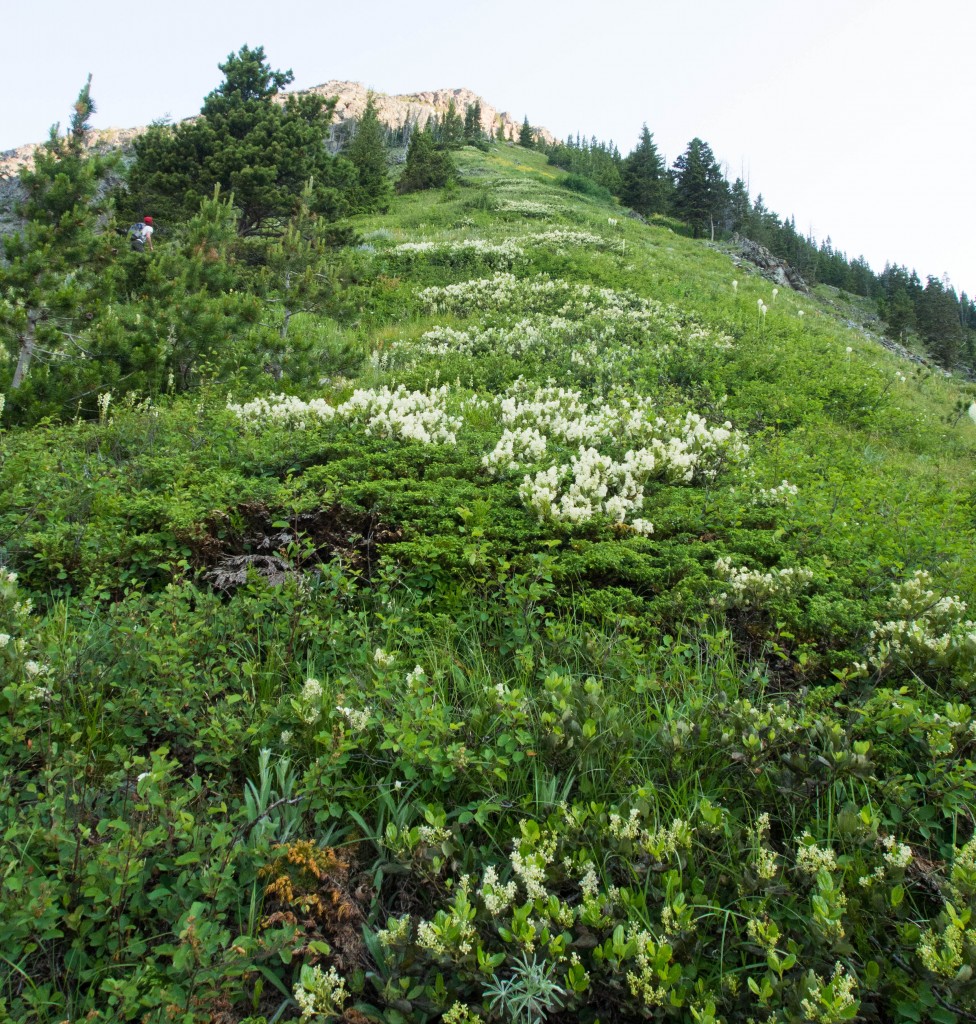 As we walked up hill slightly, we looked down where we were just sitting and saw a bear cruise down valley.
He was literally in the exact same spot we had just been resting five minutes earlier.
I'll call that great timing for everyone involved.

From here on it was all off trail as we headed toward the saddle between Spot and Red Mountains.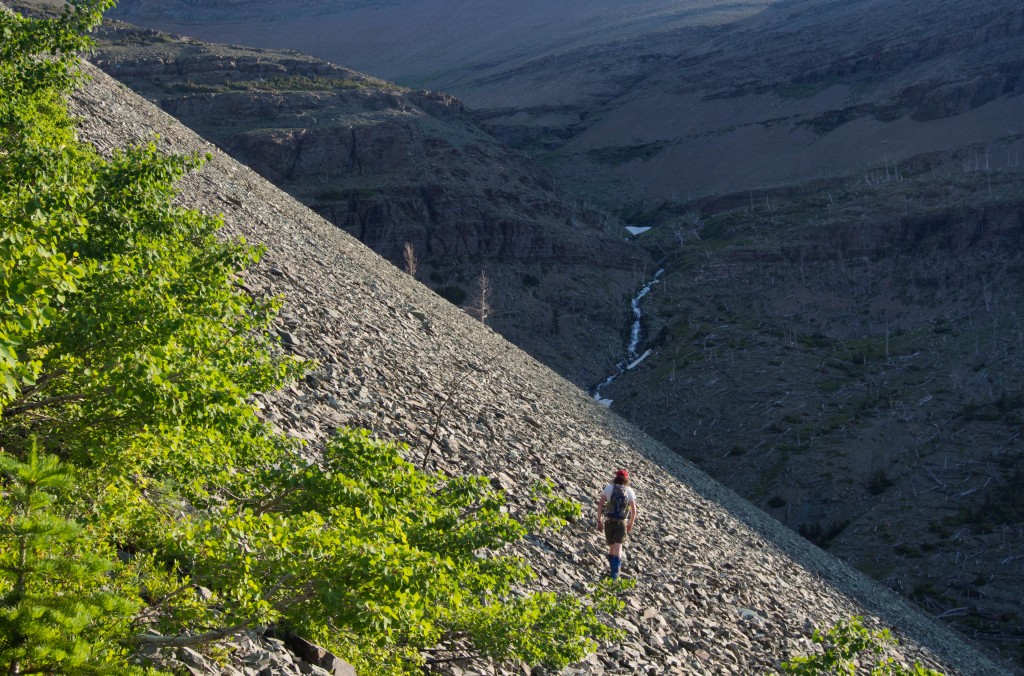 I had been up there once before when my good friend Josh Paulson and I went to Lonely Lakes in 2005.
Josh is a well more comfortable climber than I was or still am.
I knew at the time that I had to start working on the off trail lakes and Josh helped work me into that era of the project.
He also turned me into a trekking pole believer!
Eight years later I owe the project to trekking poles, gaiters and goat trails.
Thanks for all your help and insight.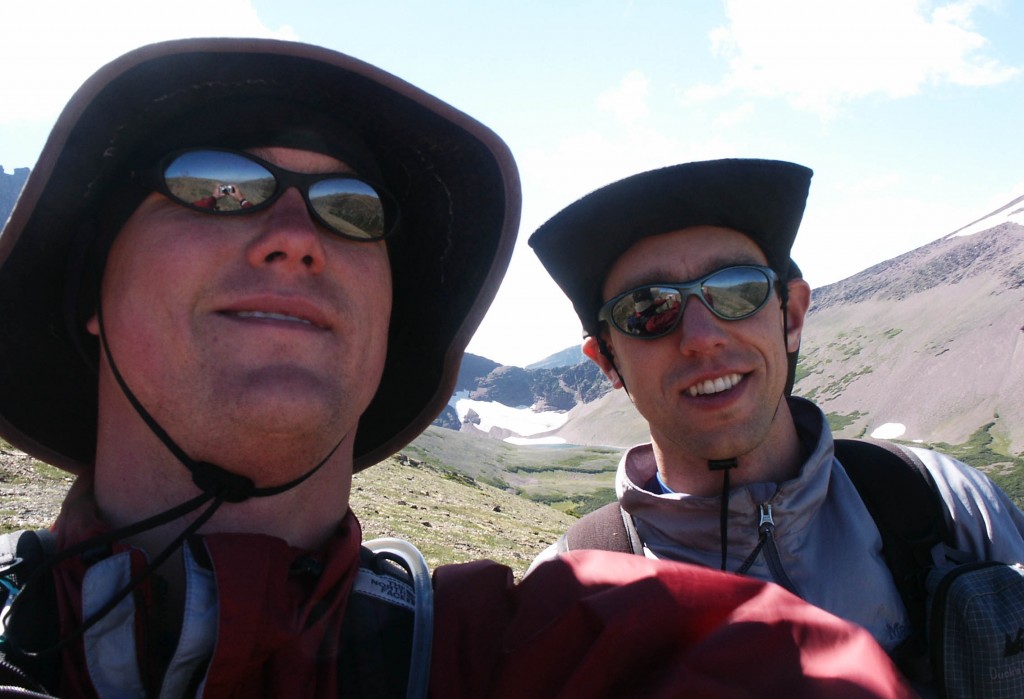 Josh and I in 2005.  It was windy… Really Windy…
This is an extremely windswept and barren valley.
In winter, the winds must absolutly howl through here.
There was a tiny rivulet stream running through flower filled scree.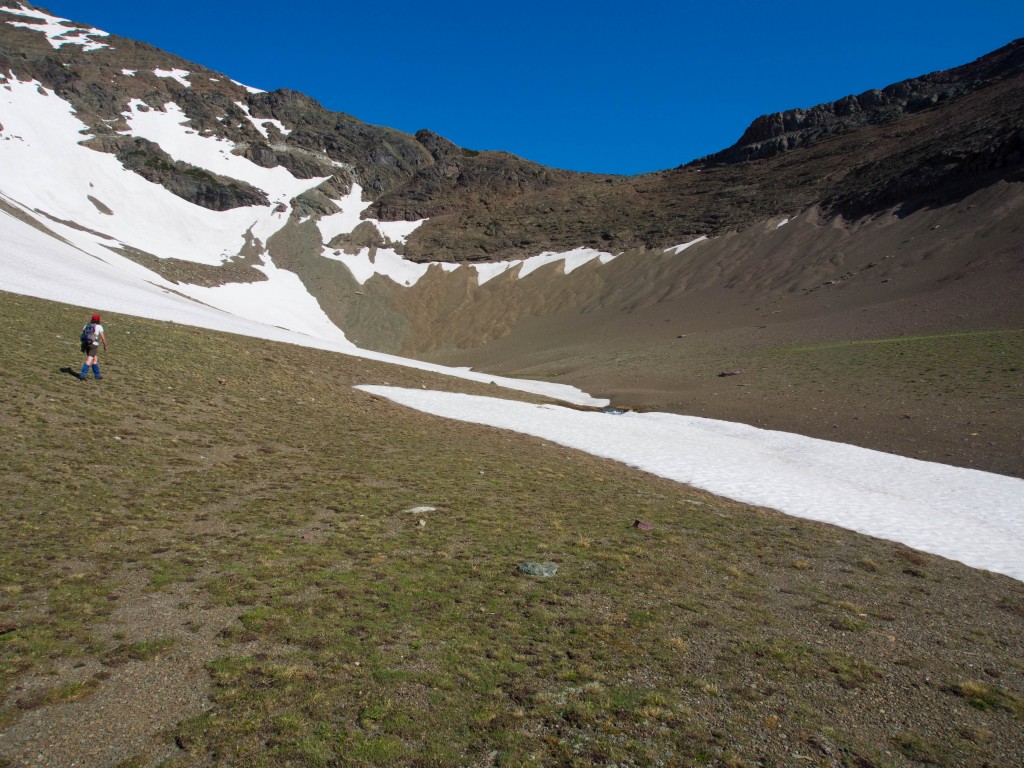 Our early start allowed us to have shade until almost the saddle.
That was huge!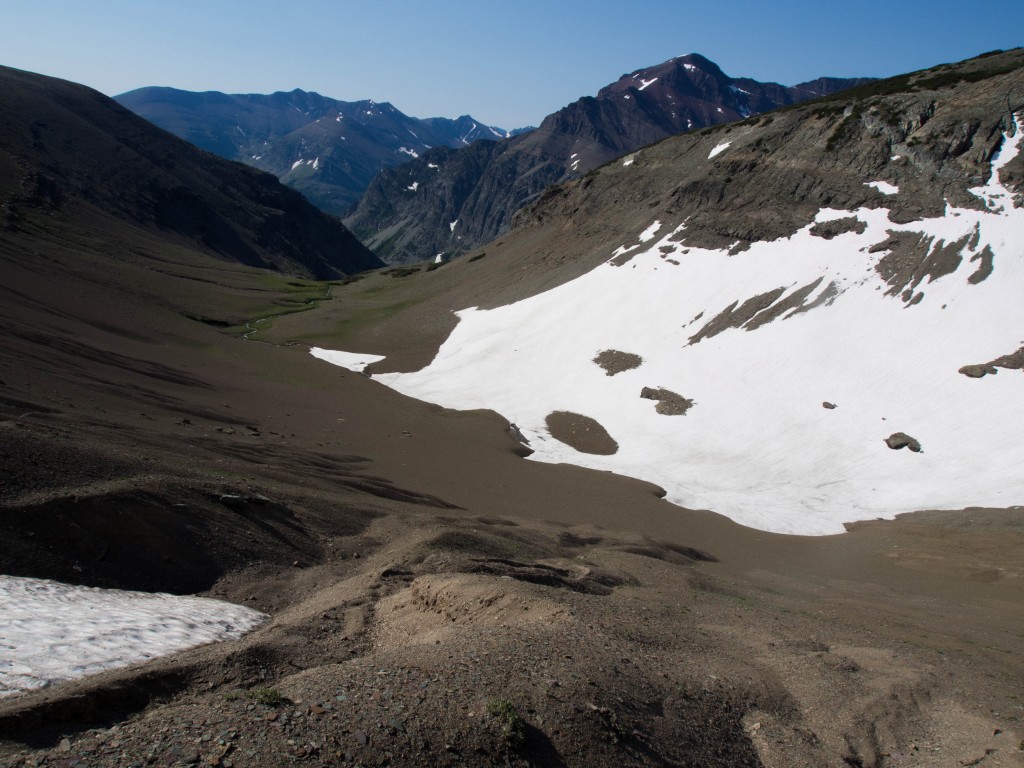 At the top we paused to take it all in.
Many climbers have stared down at the Lake Creek Valley, but few ever roam around in it.
Clint and I both knew how special this area and today was.
We had a lot of distance to cover, but were excited about the opportunity.
Seeing as it was July 2nd  and we had the opportunity, we both made a snow ball to throw over the cliff before dropping in.
That kind of stuff still makes two boys from Ohio and Texas smile.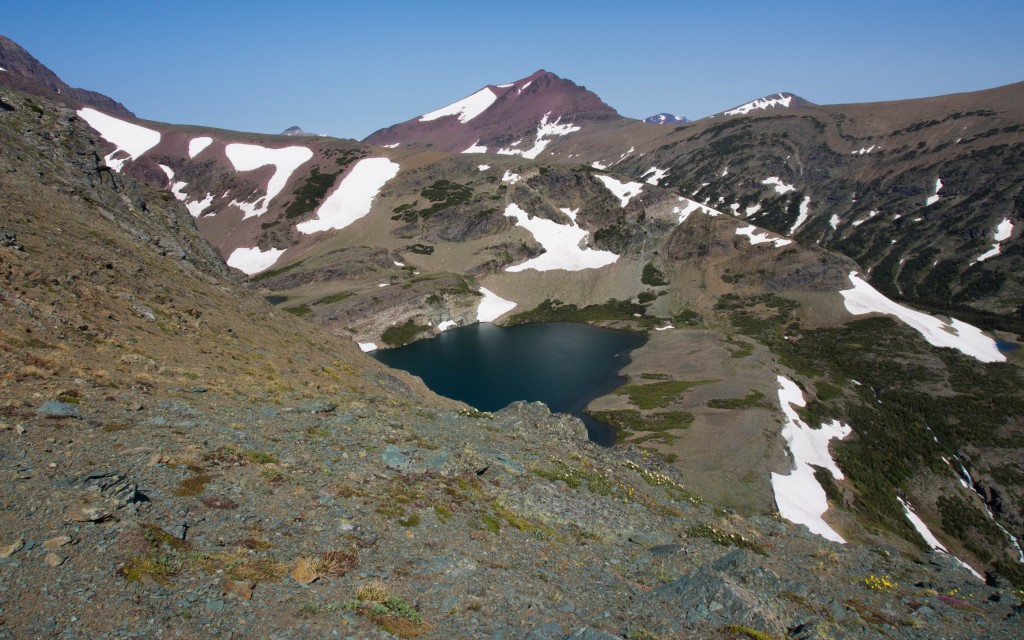 We dug our heels in and scree skied directly down towards the Lonely Lakes.
Halfway down we had to choose a gulley and luckily chose correctly.
Once down at the lake we looked back at our descent and found that we took the only "good" way.
We kind of funneled down to the ideal cliff exit, which was consistent with how our day progressed.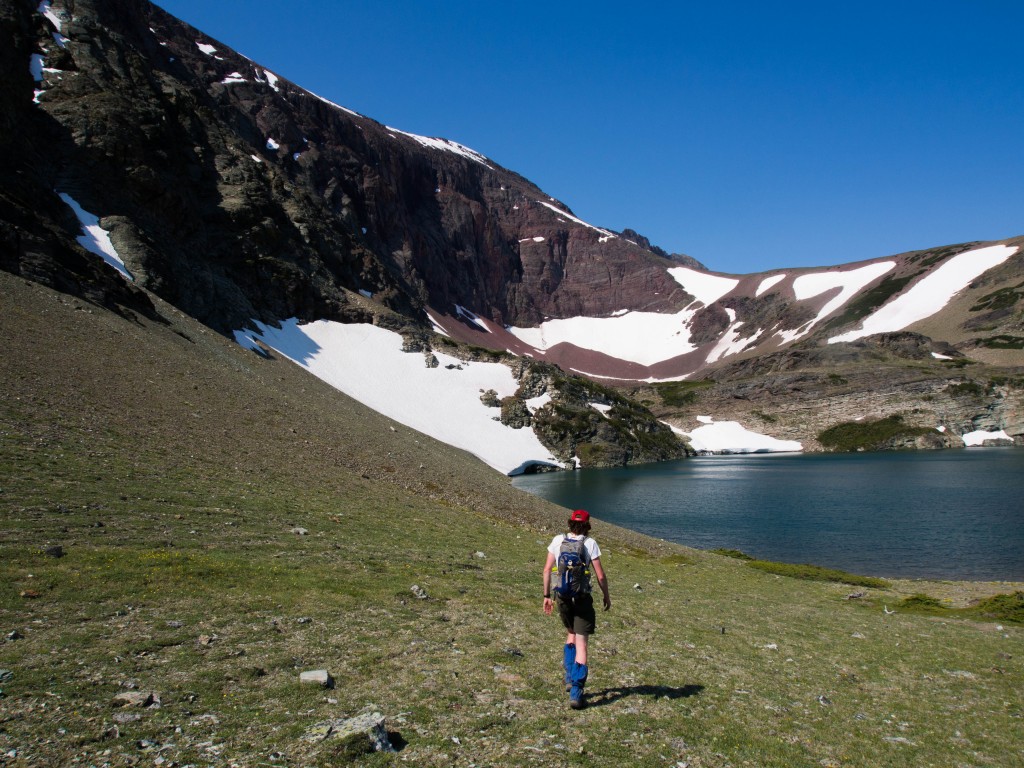 Since our real objective was Running Crane Lake, we resisted temptation to hang out at the Lonelys and pressed up the next ridge.
We rose above Lonely Lakes which were cradled by Red Mountain's namesake hues.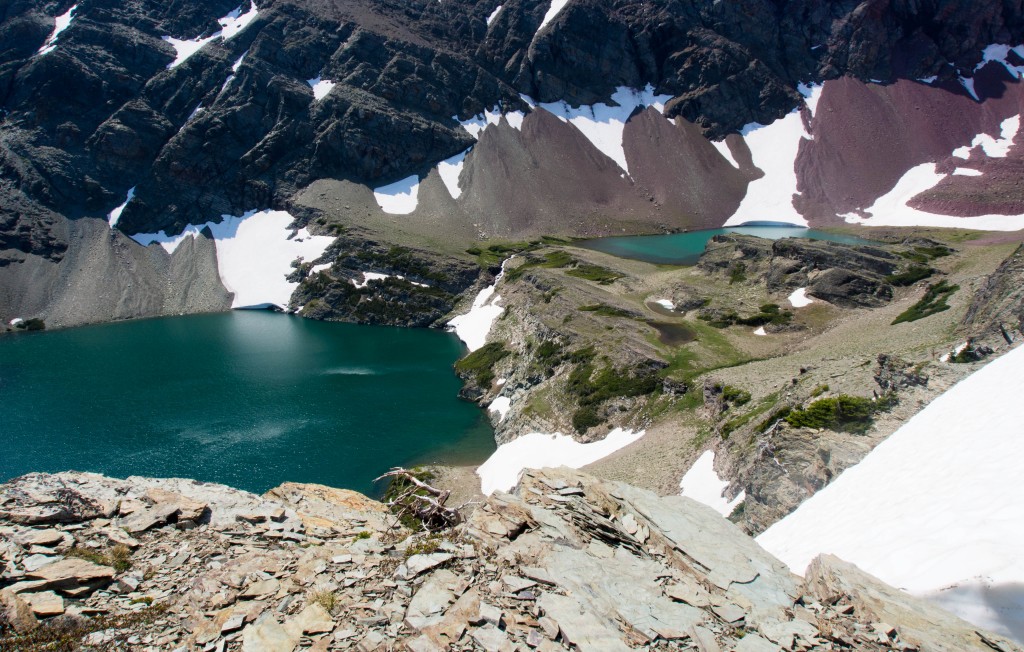 Eventually Running Crane came into view tucked high into the upper valley.
Josh and I peered out at Running Crane in 05' but short on time, we left it for another trip…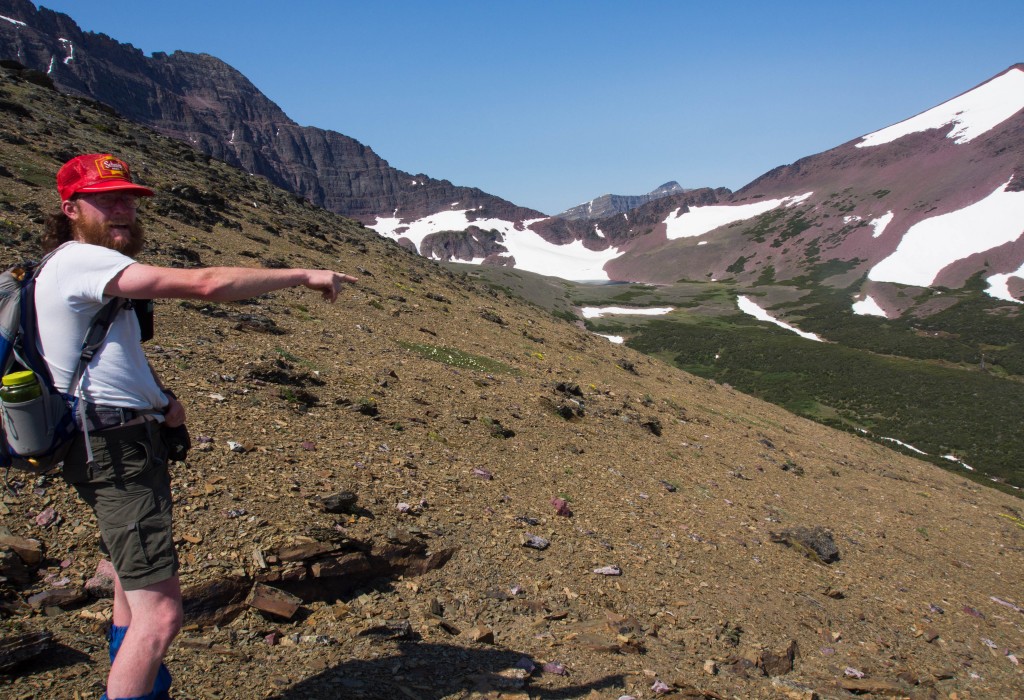 Eight years later Clint and I hardly broke stride past my previous stopping point.
Onward across a couple snow fields and down bright red scree filled slopes.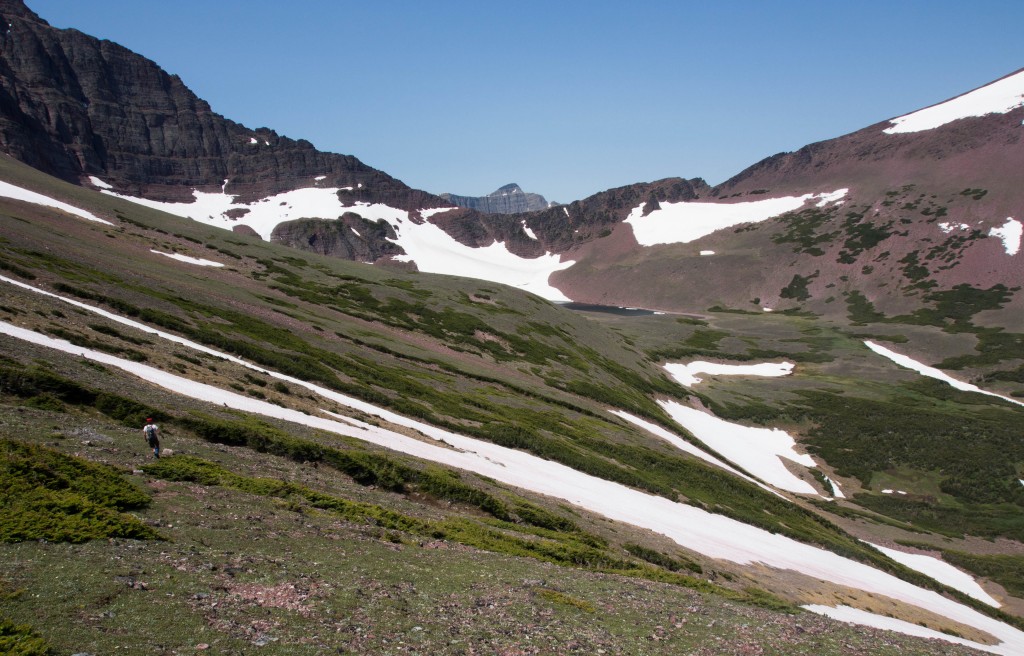 As the lake came into view we noticed icebergs floating near the beach.
We both looked at each other and knew that those bergs were our destination.
How often do you get to climb out on icebergs on a 90 degree day?
This was going to happen!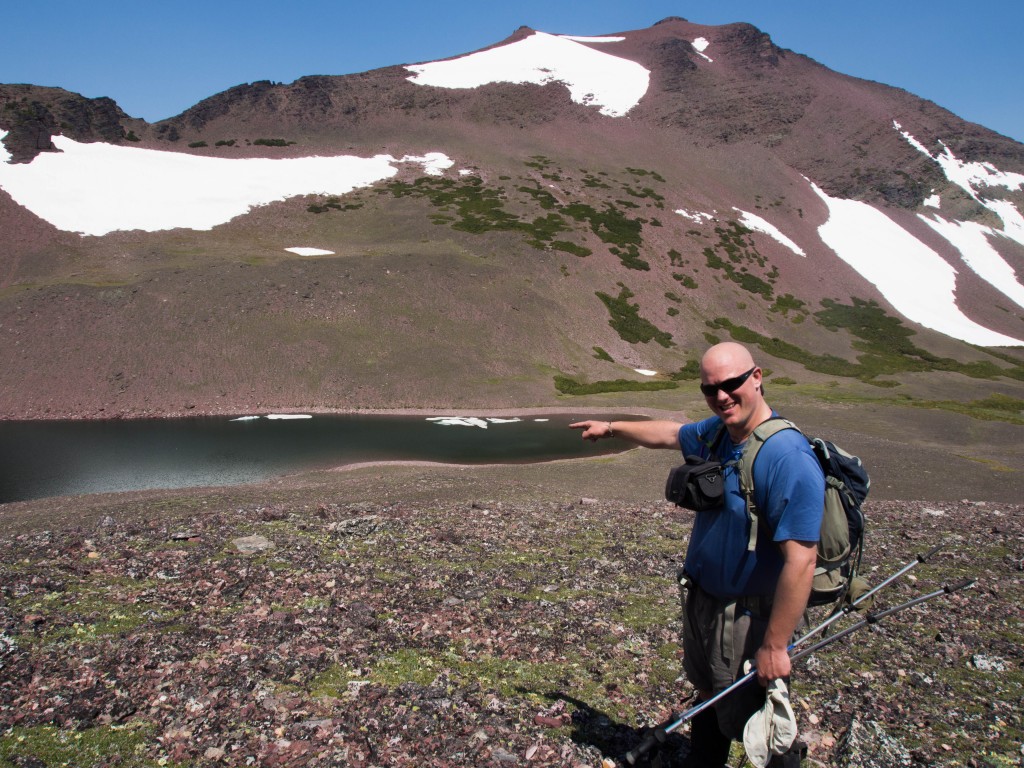 The snow beyond the lake had a melt spot that looked exactly like a soaring eagle.
Clint liked the Eagle…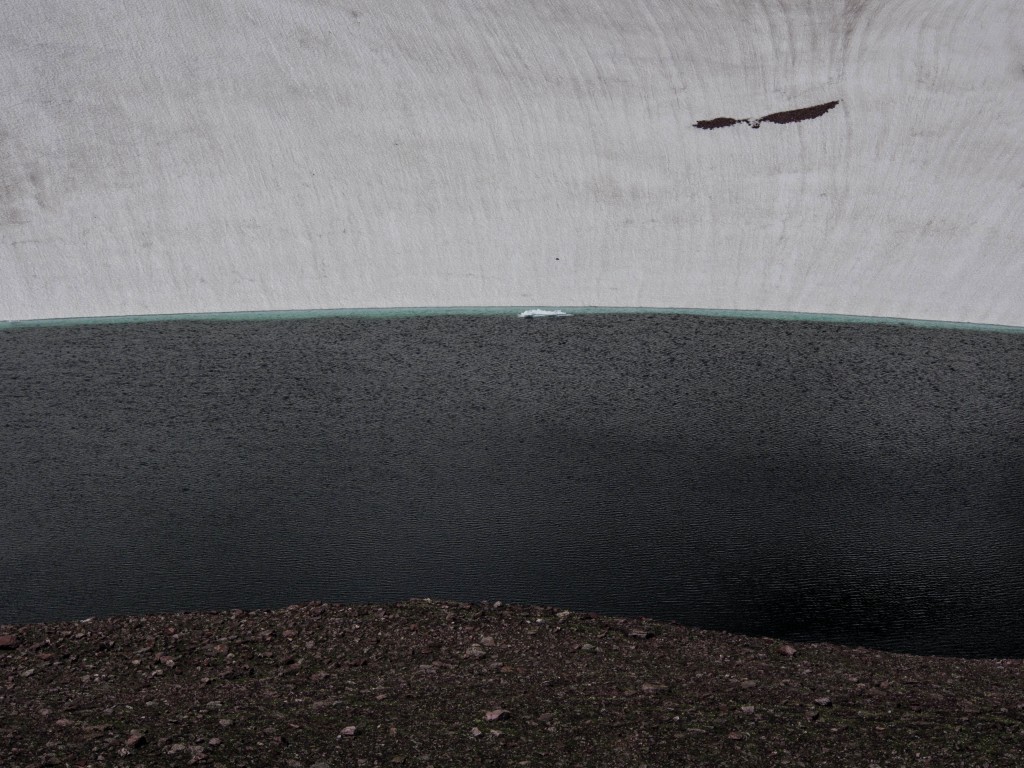 Hot from our hike here, we jumped in immediately and dealt with lunch and photos later.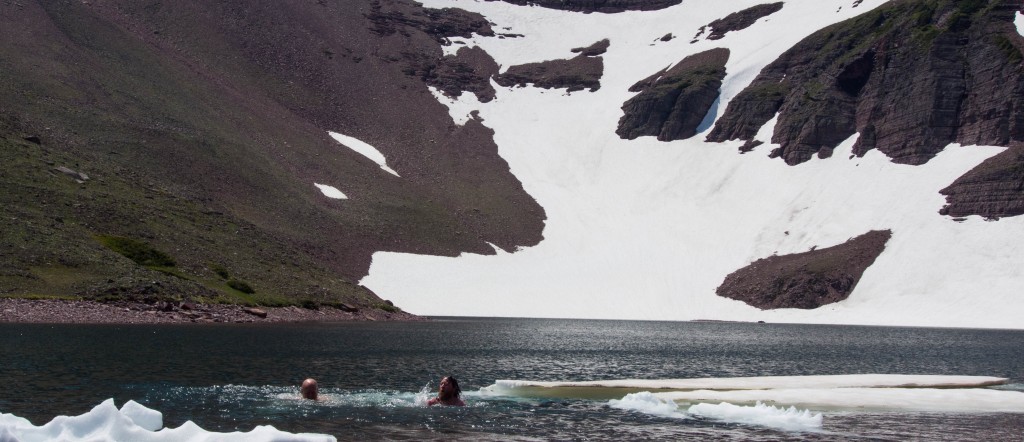 Sprawled out on the rocky shore, we ate our lunch and smiled widely.
Clint was telling an animated story and threw his hands in the air.
At that exact moment, we looked left and saw two sub adult grizzly bears running away from the lake.
I don't think they saw us until Ol' Captain Clint told a rousing story about lord knows what!
I'm guessing they had some swimming plans of their own and they weren't expecting that two loud humans got to the pool first.
I certainly do appreciate them letting us continue.
Thanks guys.
Obviously, from that point on I kept one eye out for the bears and one on my icebergs.
They never returned, which is good… but what an amazing sighting.
With the time we had left we hopped up on the icebergs which had started to float around by now.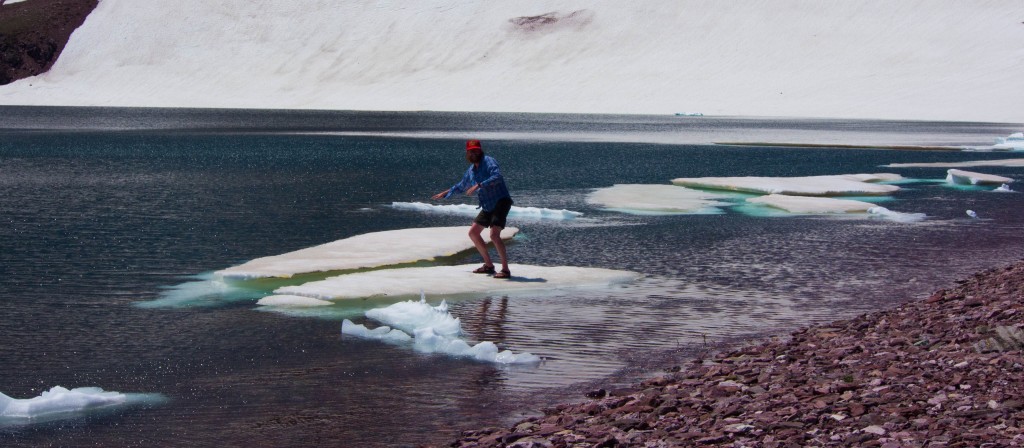 We had to jump off before the wind blew us down lake.
Ah, July 2nd in Glacier National Park.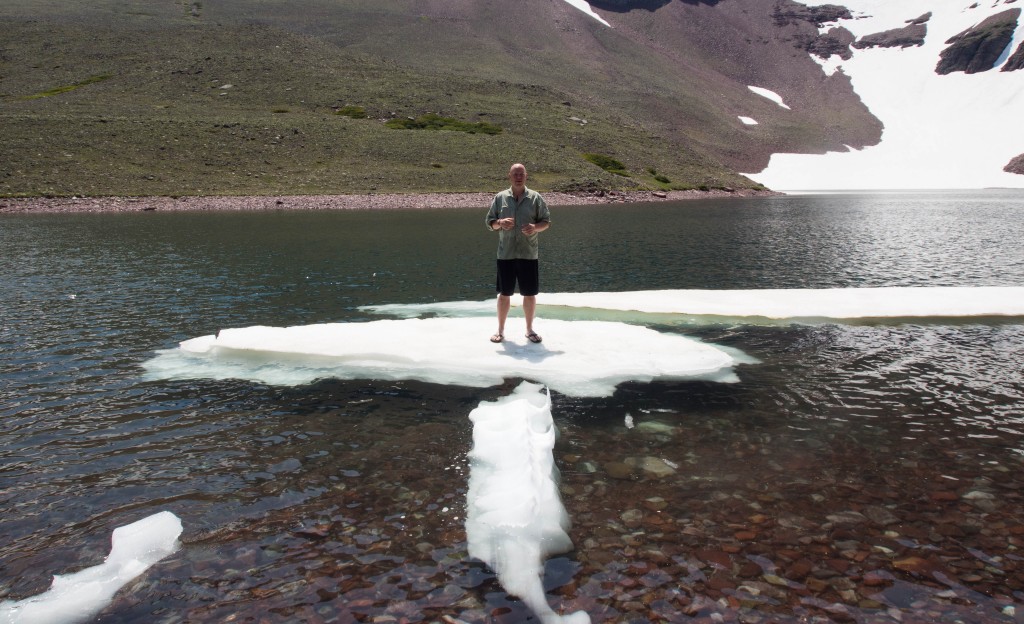 Clint eyed a high point on the ridge off Red Mountain and we pushed for it.
The views were amazing!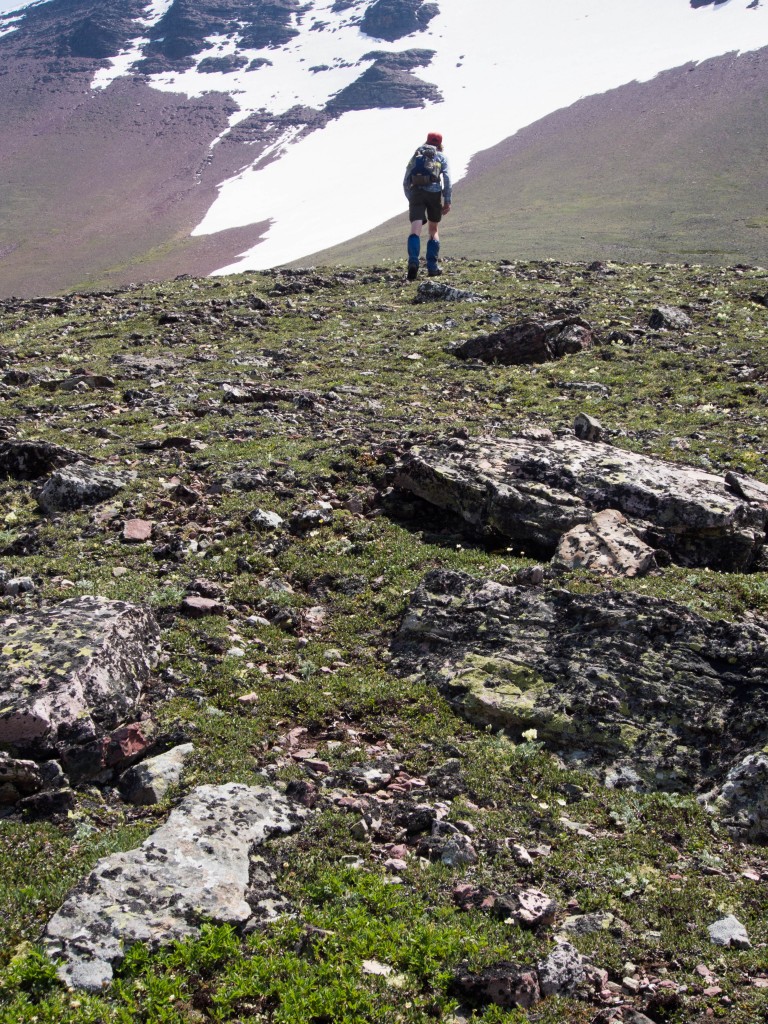 The skyline to the west was the Cutbank Valley and a sea of layered peaks.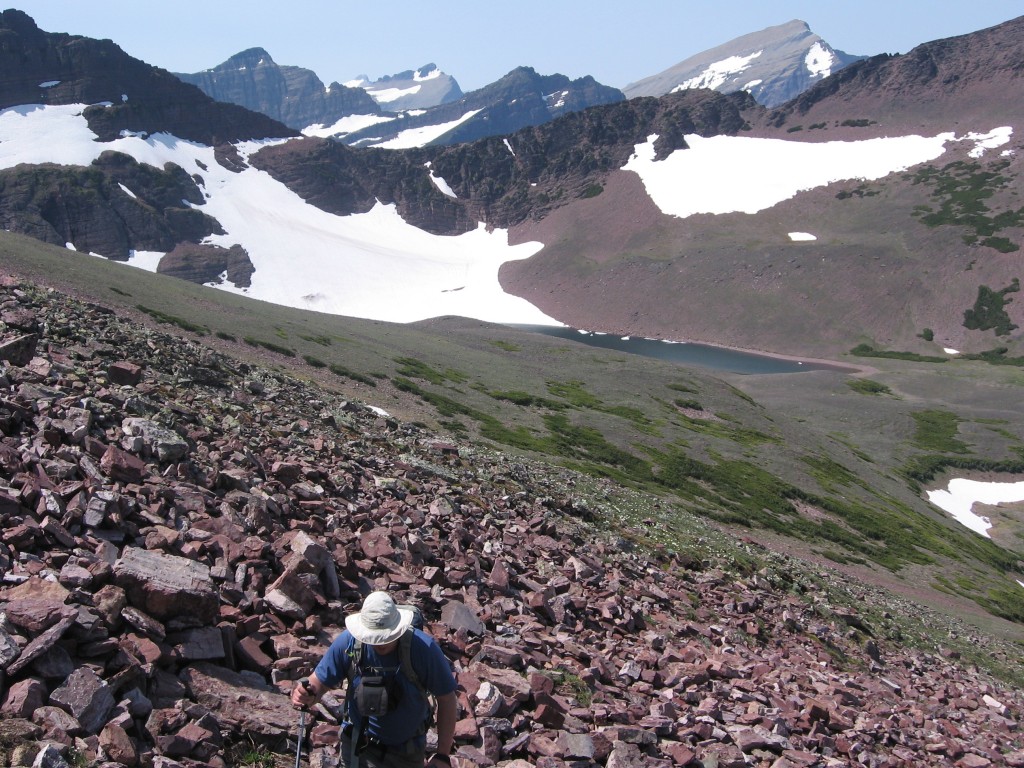 To the north was the Madwolf Circuit with Eagle Plume directly above Running Crane.
The South was Red Mountain and the ridge we had just come over.
And, to the East was the Great Plains stretching past Browning and the Sweetgrass Hills all the way to Chicago…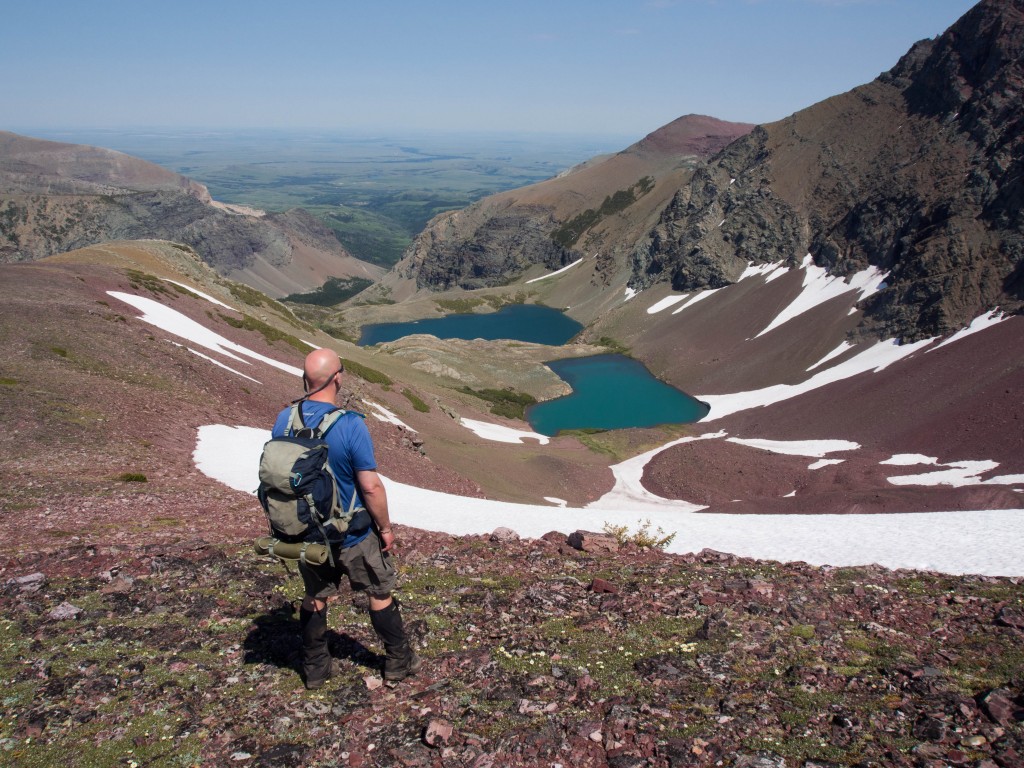 Red Mountain is obviously red but the Eastern part of the ridge is tan.
At one point, there is the transition and it looked like the red and tan rocks had a fight.
Fallen rock soldiers strewn about, making the transition very chaotic.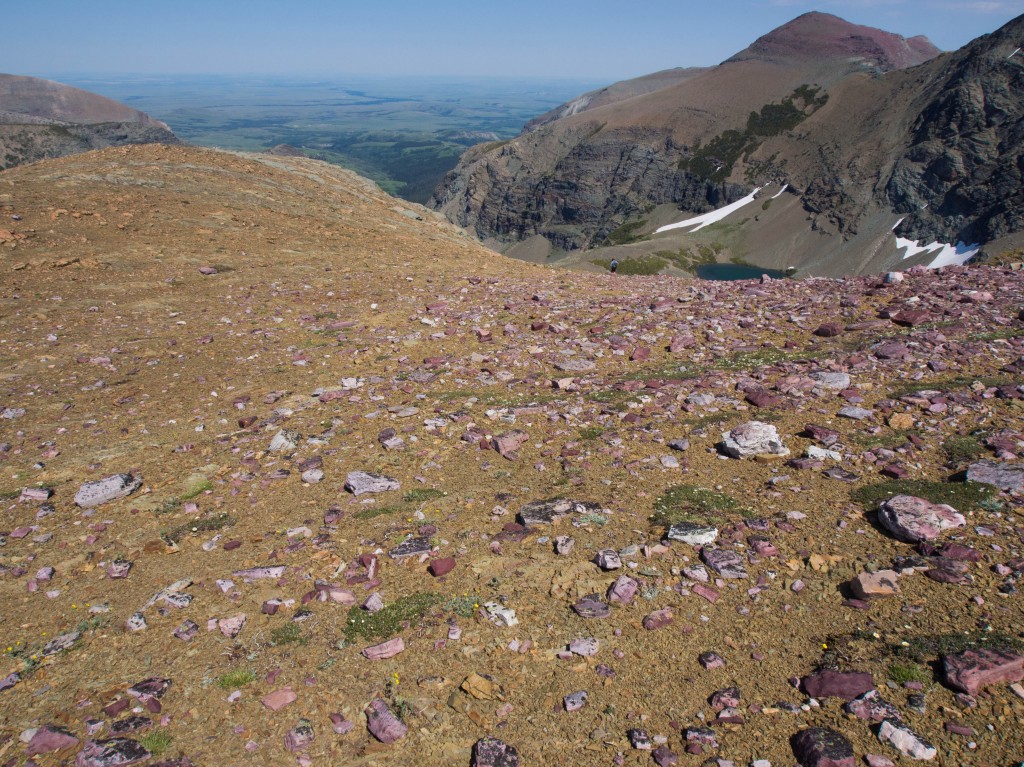 As we wondered down the ridge it had officially gotten HOT!
The sun beat on us making the idea of the Lonely Lakes extremely inviting.
We made really good time by starting early and knowing the route from last time I was back here.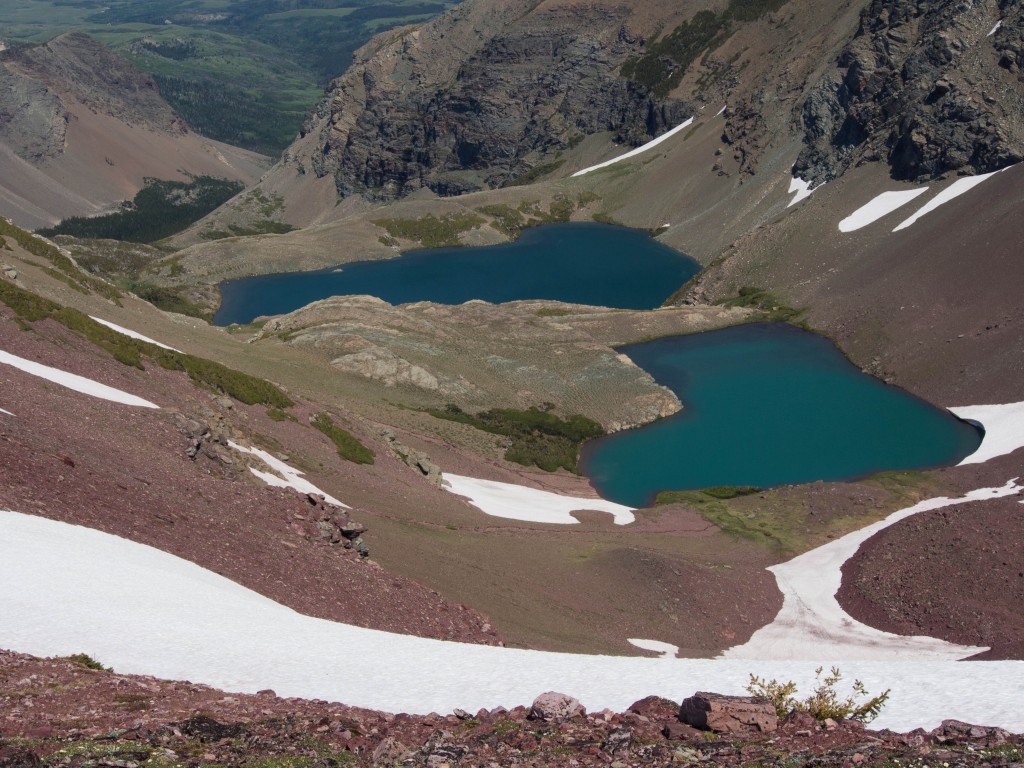 Just beyond the red and tan rock battle, we found a nice ramp back down to the lakes.
Clint had beaten me to the upper Lonely Lake.
While I was still high above the lake, I watched him cannonball off a lakeside boulder.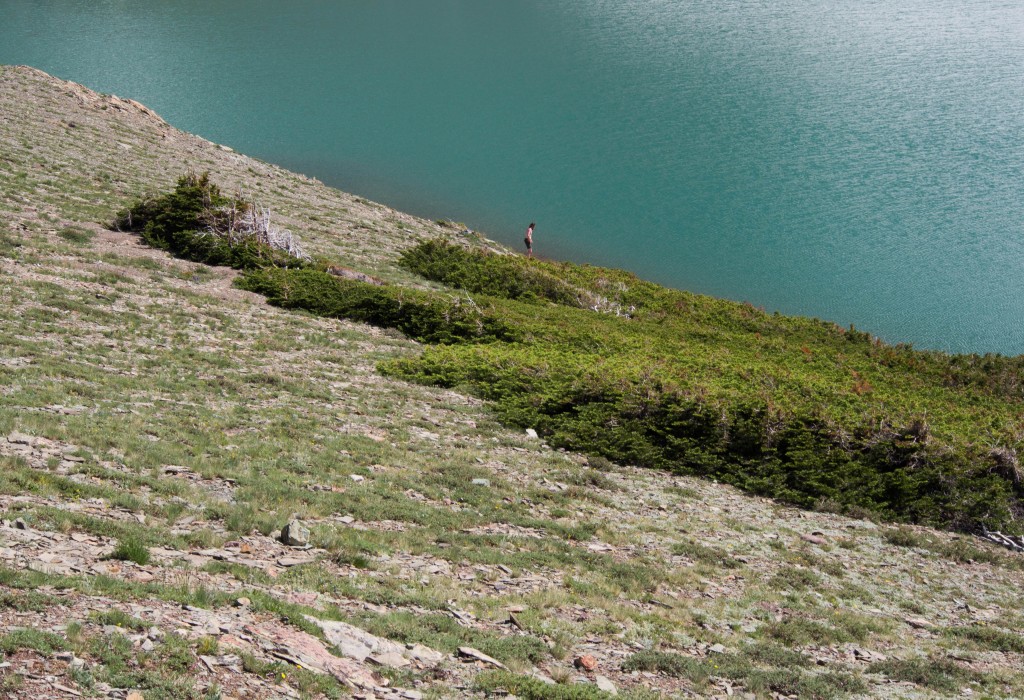 Thus began a two hour, swim, snack, swim, drink, swim, kick it fest at the Lonely Lakes.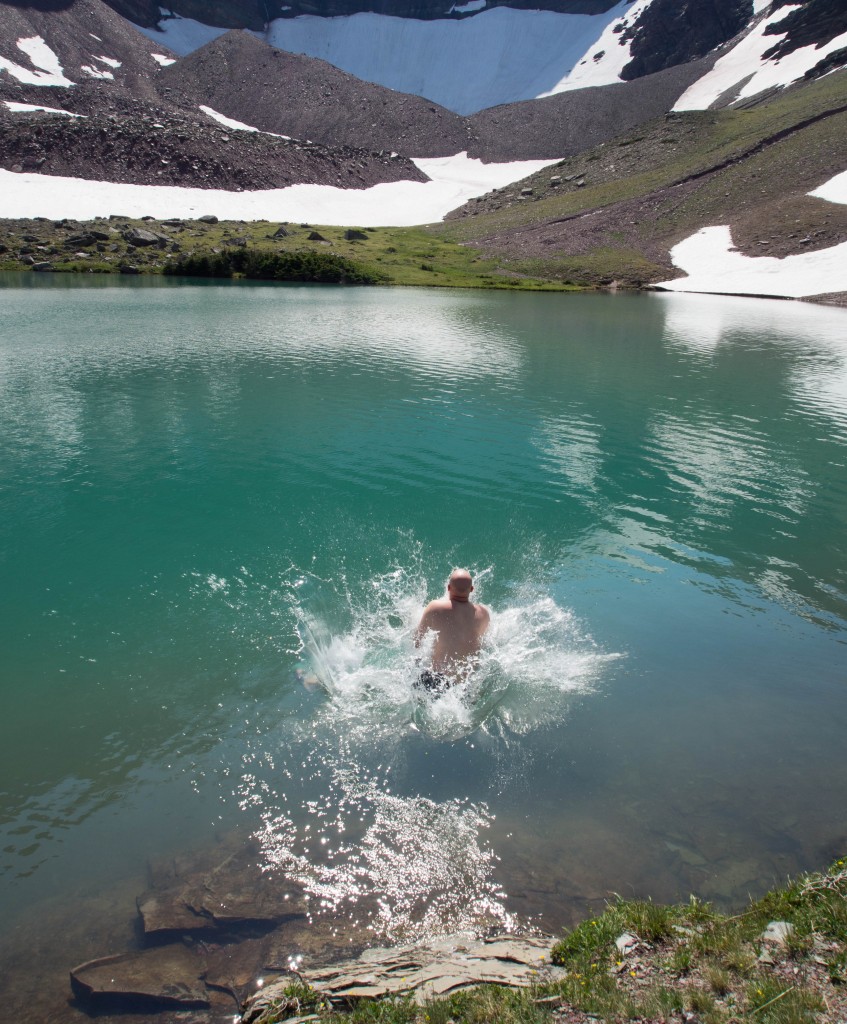 There is a flower filled rock shelf separating the upper and lower lakes.
Between them are two tiny ponds which we named the Upper and Lower – Middle Lonely Ponds.
It's a catchy name.
I know.
They were comparatively quite warm, but only about two feet deep.
Clint skied down a snow bank into the Upper Middle Lonely pond in his Chacos.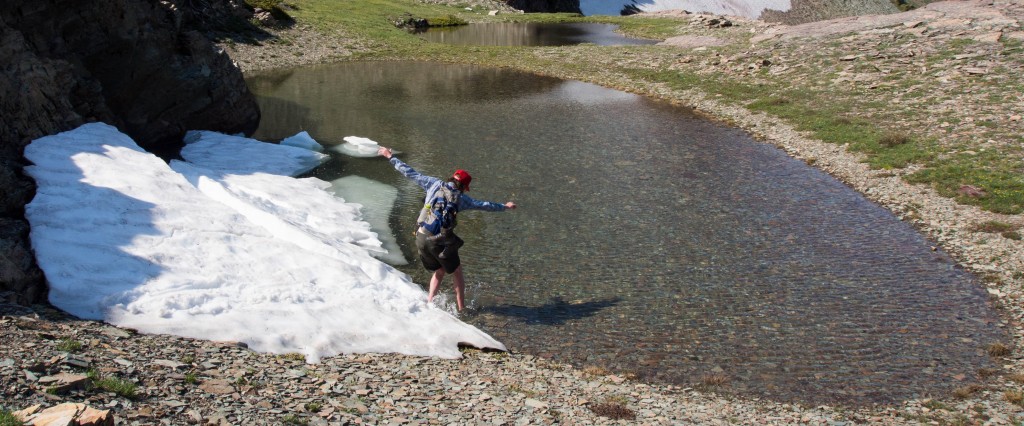 The lower Lonely Lake was spectacular also.
We continued our lazy, swimming ways while tucked into a piece of shade made by the rock shelf.
We must have said, "This is amazing" 763 times throughout the day.
We just somehow earned the perfect high elevation, mountain lake swimming extravaganza!
And on a hot day.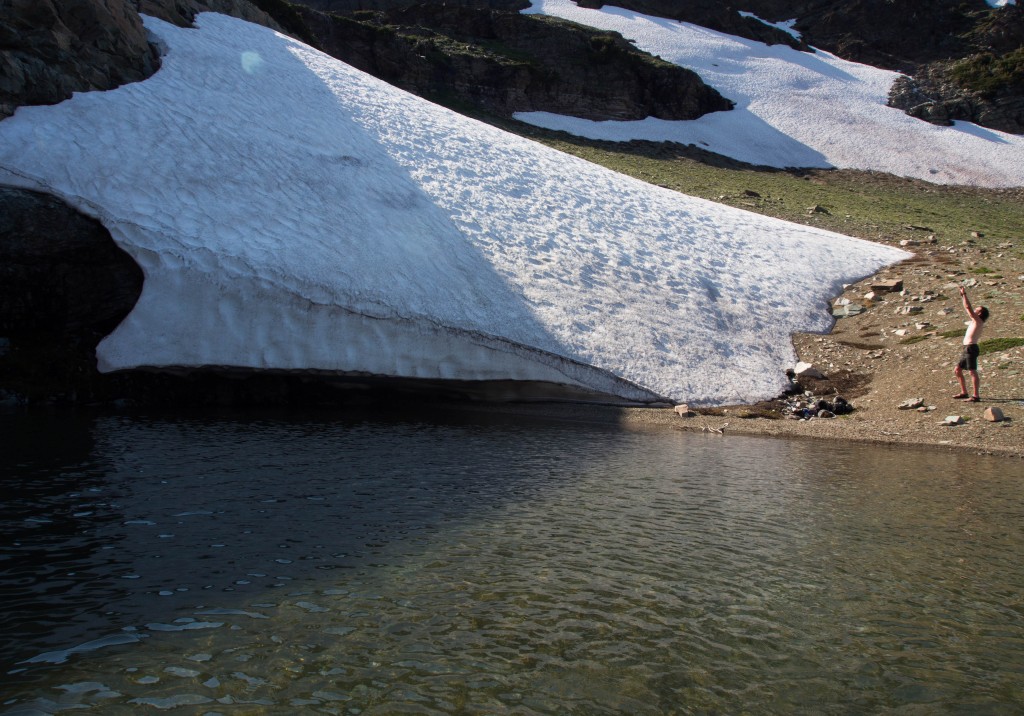 Last time I was back here it was 50 degrees and the wind was blowing so hard that I had to put rocks on my clothes so they wouldn't fly away.
The swimming conditions were much different.
I would like to thank Good Juju, Glacier Park and a hot weather pattern for this one.
Eventually we left our cooling salvation and headed up the rocky ridge towards Two Medicine.
We took a slight detour to check out a vegetation filled waterfall chute.
Today was a good day!
The scree was soft, the ridges sound, the views extensive and crisp, and the water cold and clear.
A couple miles from Two Medicine we bumped into what we believe was the same black bear from this morning.
He didn't seem to have any time for us.
We stepped off trail behind some trees and he cruised past us bound for his next destination
Clint and I mused about how he was headed home on his work commute.
This morning he headed down valley to his 9 to 5 and tonight he was headed back up valley.
Headed back to the casa to have a bear beer and put his paws up.
I figured we should follow suit.
Thanks for a great time Clint.
We got a hold of a great lake trip and four bears in one day.
That is certainly a Waterton Glacier Lake Jumping Project single day bear record.
Most of them aren't this good and it was even better with the great company.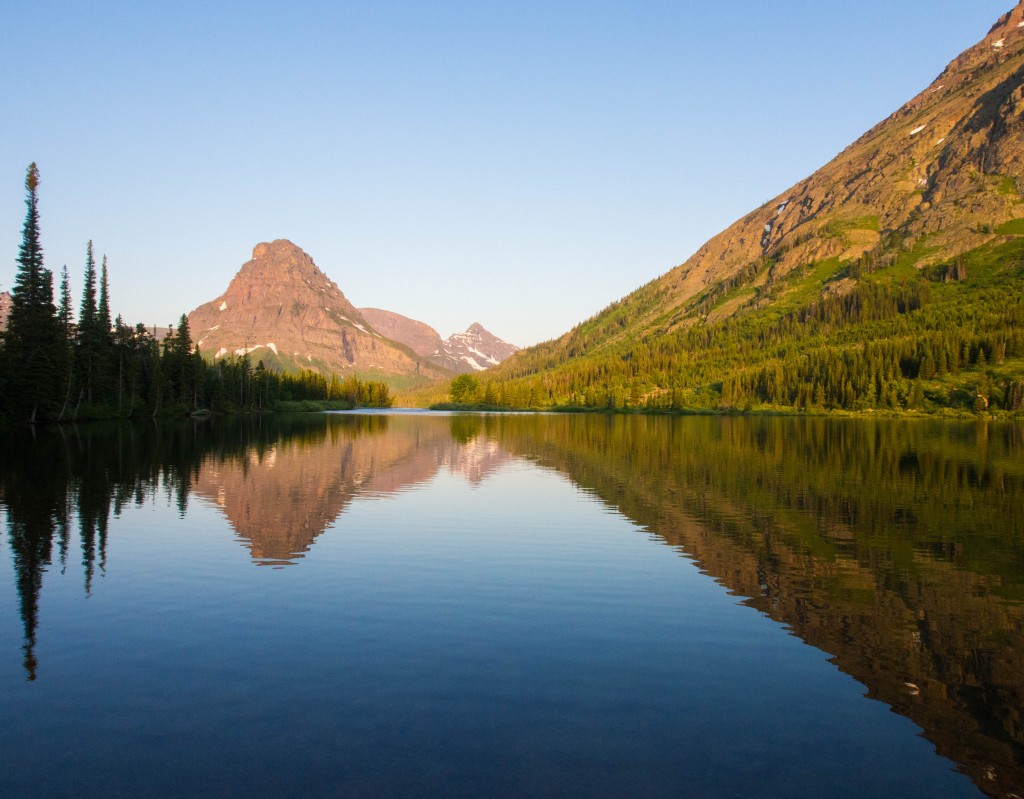 Josh Paulson, thanks for showing me the way on this one.
You're the man.
May you all be having a great summer and enjoying your bear beer and your commute.
To Life,
Marc Ankenbauer