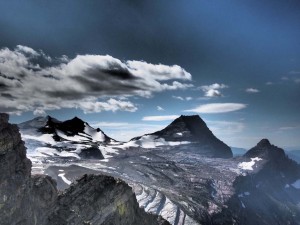 Gem Lake sits high atop Comeau Pass.
Comeau Pass is equally high atop the single most amazing day "endeavor" I have ever been on in my life. I say "day endeavor" because it is no "day hike".
To call it that implies that it is a straight forward walk that takes nothing more than legs, time and nice day.
Floral Park has grown to have a dubious reputation in the park. It unfortunately has been featured in magazines next to things that are just "day hikes". This has allowed for first time visitors, newbie concession kids and weekend warriors to address it like it's just another outing.
It has claimed lives. Please don't ever attempt this trip solo.
THERE IS WAY TOO MUCH COMMITMENT TO DO SOLO!
My condolences to the families of those who lost their lives over the last few years.
*On to the Story*
Jump Stats
---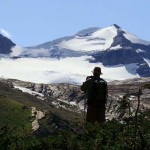 Lake Jump: #157 of 168
Hiking distance: 20 miles
  -On-trail: 12 miles
  -Off-trail: 8 miles
Difficulty Rating: EXCEPTIONALLY HARD
In 2006 I went with a bunch of friends and had an amazing time. It took forever and we hiked out the last couple hours in the dark, but it blew my mind.
I took a dip in four lakes, Hidden Lake, Mary Baker Lake, Feather Woman and Akaiyan Lakes…
So it seems there are five named lakes on the route
I didn't know about Gem Lake.
It's not labeled on the map and at the time I hadn't looked at the USGS list of "Named Lakes in Glacier".
Although surprised, I've been looking forward to doing this route again.
Thanks Map Labelers!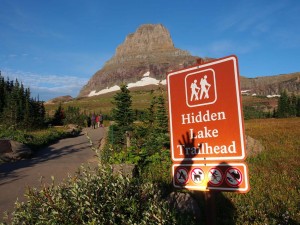 Often when people accompany me to an off trail lake, I feel guilty for putting people through the often brutal endeavor.
This is a once in a lifetime, bucket list trip for anyone involved.
The evening before we left, a wildfire was reported in the Avalanche Lake Valley.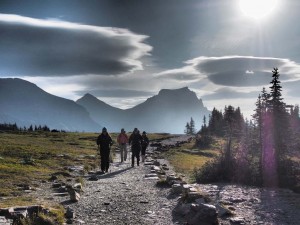 It kind of spooked us, as the route goes directly through the Sperry Glacier Basin which is the head of the Avalanche Lake valley.
A High Wind Advisory found Logan pass more than brisk, but we were able to make early morning miles fueled by some of the best breakfast sandwiches I've ever had. THANKS PAT!
The light was amazing as we hiked up to Hidden Lake Overlook.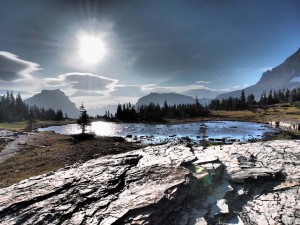 Millions of people have looked down upon Hidden Lake, but comparatively few ever drop down to it.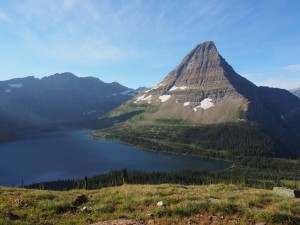 Twice I've been to this amazing lake, and both times were to begin Floral Park.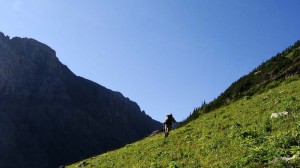 Once you leave the foot of Hidden Lake there's no trail at all.
Once you begin wrapping around Bearhat Mountain you have to be able to read a map and know the route.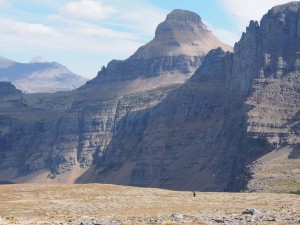 A lot of people expect a path, but for hours and hours you are simply on your own.
The first main objective is to gain a huge ridge that separates Hidden Lake from "everything else".
From the top it was obvious that the fire was not going to be an issue for us as it was far away from the route.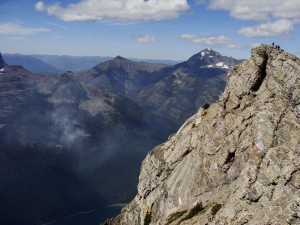 It made for a historically memorable day though. I will always remember that I did Gem Lake on the day of the Avalanche fire.
From the top of the ridge we stared down a chasm that dropped 4000' feet directly down to Avalanche Lake.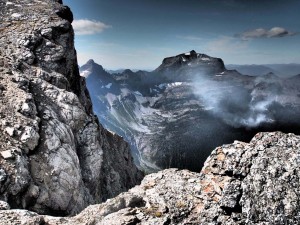 It made my stomach flip and flop. But, at least there were enormous gusts of wind kicking us back and forth…At least we had that, huh?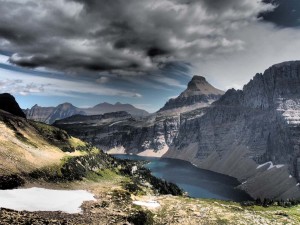 As we looked back on our last views of Hidden Lake you can understand why people linger down there.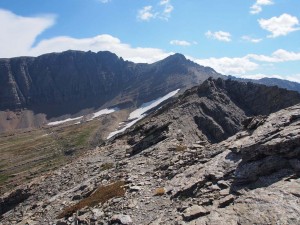 It's amazing! But it truly is the "beginning".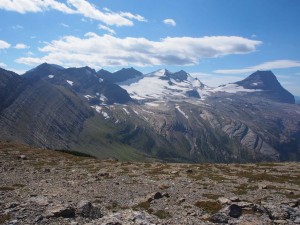 The first time doing Floral Park, you don't really grasp how much more is beyond this Dragons Tail ridge.
There is countless hours of ridges to drop, bear grass to side hill up and down, bedrock ribs to climb over, scree to battle, streams to cross. It is profound!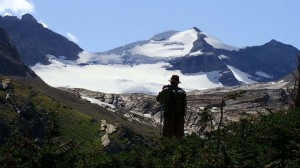 Comeau Pass looks like forever from the top of the ridge.
Then when you finally get to Comeau Pass, there is still 10 miles of trail and 5000 feet of elevation drop before you get to your car that's parked at Lake McDonald Lodge.
There is one way down from this huge ridge and its a really steep hill of bear grass all the way down to Mary Baker Lake and the rest of the route.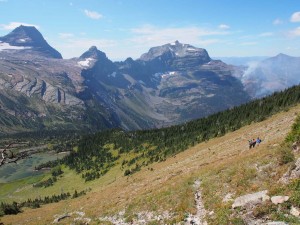 It is fondly referred to as B#!ch Hill for its obviously enjoyable nature. This is the point of no return.
Once you drop this huge hill, you will never want or hardly be able to turn back.
I think this is one of the biggest issues with the route. There is a total commitment that many novice hikers are not used to.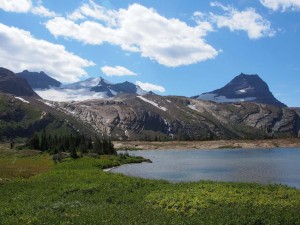 At the bottom is lovely little Mary Baker Lake.
We quickly pulled water, shoved Gatorade and food in our faces. We had accomplished something here but there is SO much more.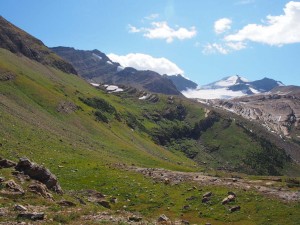 The next step is side hilling up more bear grass and scree towards the Sperry Glacier Basin.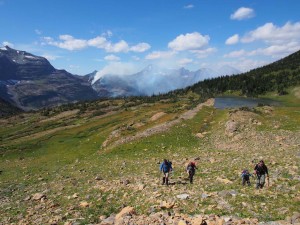 The fire burnt on the side of Mt. Brown and from our timely perch we had a great view.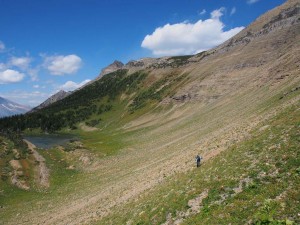 Helicopters were flying around and surveying the situation.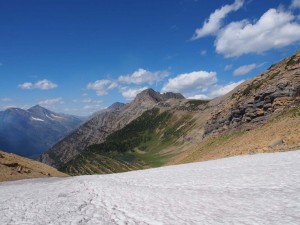 At the top of the slope we started hitting snow and rock. We could see our entire route from the top of the ridge down that ill named hill and back up the latest slope of vegetation.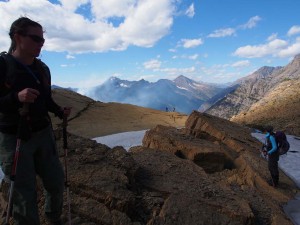 This is where the real payoff begins.
All those moments when you feel like you are not giving the route the time it deserves.
You have stored up all your borrowed time so you can spend it in this paradise of half moonscape/half heaven.
A route this long forces you to keep moving.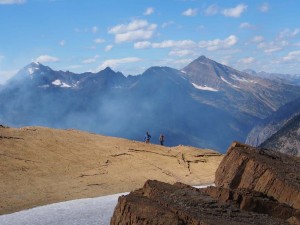 It's ironic though, you want to constantly linger and take pictures.
You are in the depths of one of the longest hardest days you have ever undertaken, but you are simultaneously having your mind blown.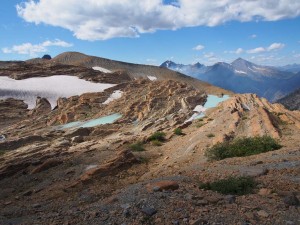 We could hardly even take time for a legitimate lunch, but we did so at an amazing little melt pond of glacier water shortly after having gained the glacier basin.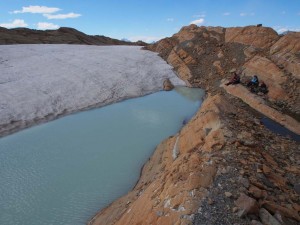 Pat and I have entertained making a website called "where I ate lunch today". This would be a good entry.
But, we absolutely HAD TO KEEP MOVING.
The sun has only so long to light our way and we had to get out of the Glacier Basin and back to normal trail before it stopped.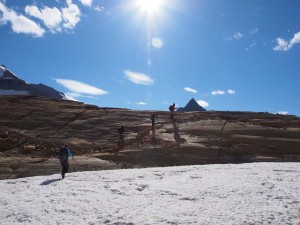 As Robert Frost said,
The woods are lovely, dark and deep.
But I have promises to keep,
And miles to go before I sleep,
And miles to go before I sleep.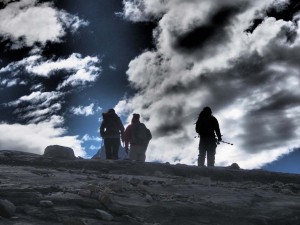 To Be Continued…
Tune in next week….
Same lake jumping time….
Same lake jumping channel….
For the startling conclusion of…
Bear grass meets Bedrock! The Floral Park Saga!!
Update: Part 2 is available here